Ret Gloriaxx [3/10/2021 12:00:00 AM]
Galactic Hour News Roundup: Expertise and Monumental Achievements Edition
The Scope's Galactic Hour with Ret Gloriaxx brings your roundup of the latest news from around the cluster as PKN Interstellar launches its gelbrain-based Expert Systems service, the Amarr Empire celebrates the erection of imposing memorials to past rulers, and capsuleer achievement is glorified in monumental installations.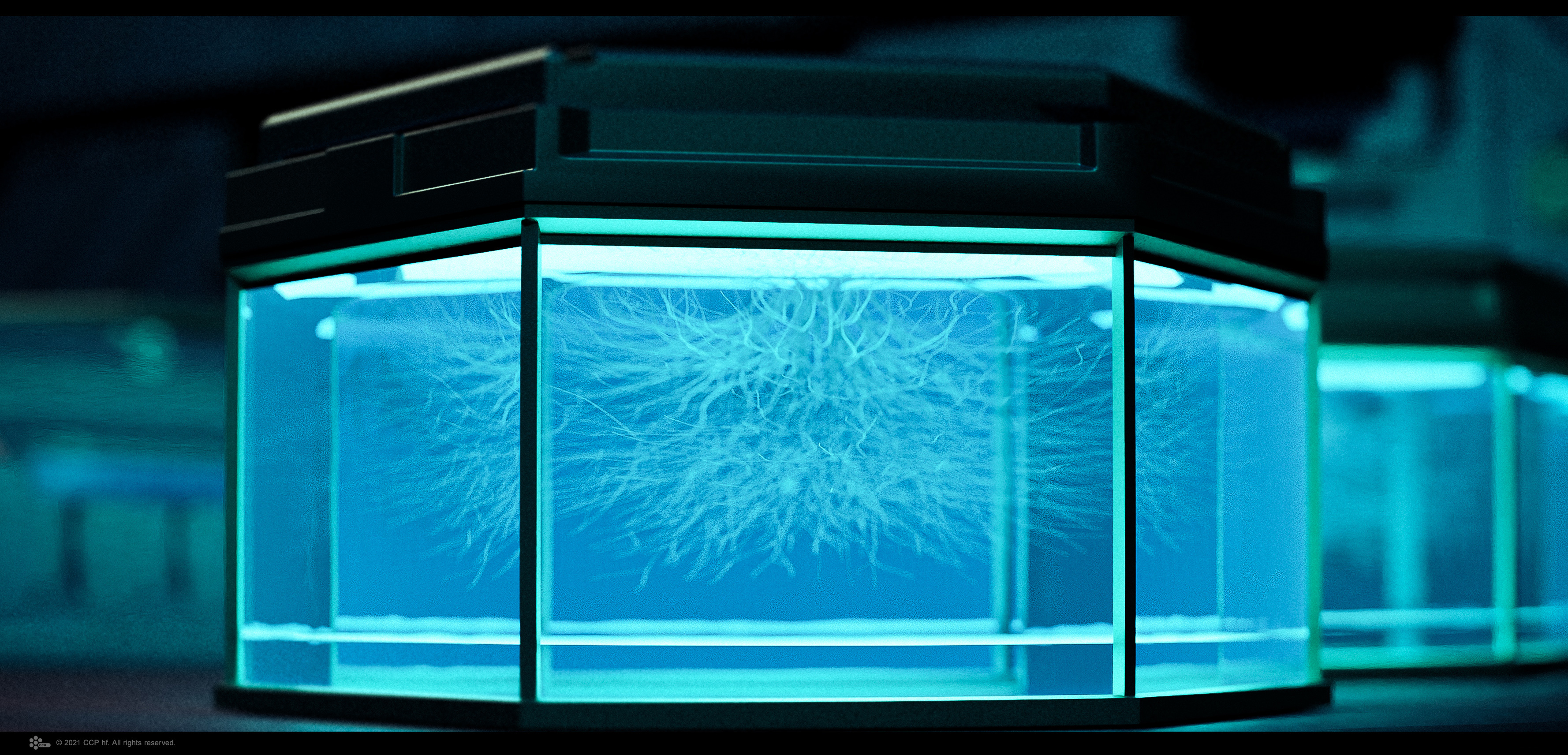 Above: Gelbrain-based biocomputer array with "Expert System" slice installed and running.
PKN Interstellar Launches Expert Systems Services for Capsuleers
Jita, The Forge – Capsuleer Expert Systems providing supplementary access to pilots skills are launching today as the latest radical new service offered by the PKN Interstellar consortium. Based on clone gelbrain and skill injector technology, together with Lai Dai's subcranial nanocontroller technology, the "Expert Systems" are specially configured biocomputers that remotely add their skills to those of the capsuleer renting time on the service. PKN Interstellar is believed to be guaranteeing real-time communication via its proprietary HyperNet FTL communications network.
Despite the appearance of advanced artificial intelligence being used in contravention of the Yulai Accords, the PKN Interstellar consortium has responded to criticisms along these lines by noting the certification of "Restricted AI Compliance" it has received from CONCORD's Department for Enforcement of Restrictions on Artificial Intelligence and Life (DERAIL).
PKN's Expert Systems services are initially being made available in a variety of packages supporting core ship operations, mining and exploration. PKN member and media powerhouse Nugoeihuvi megacorp is taking a leading role in marketing the services under its existing "Expert" branding but the services have been developed with contributions from a number of PKN members and partner corporations.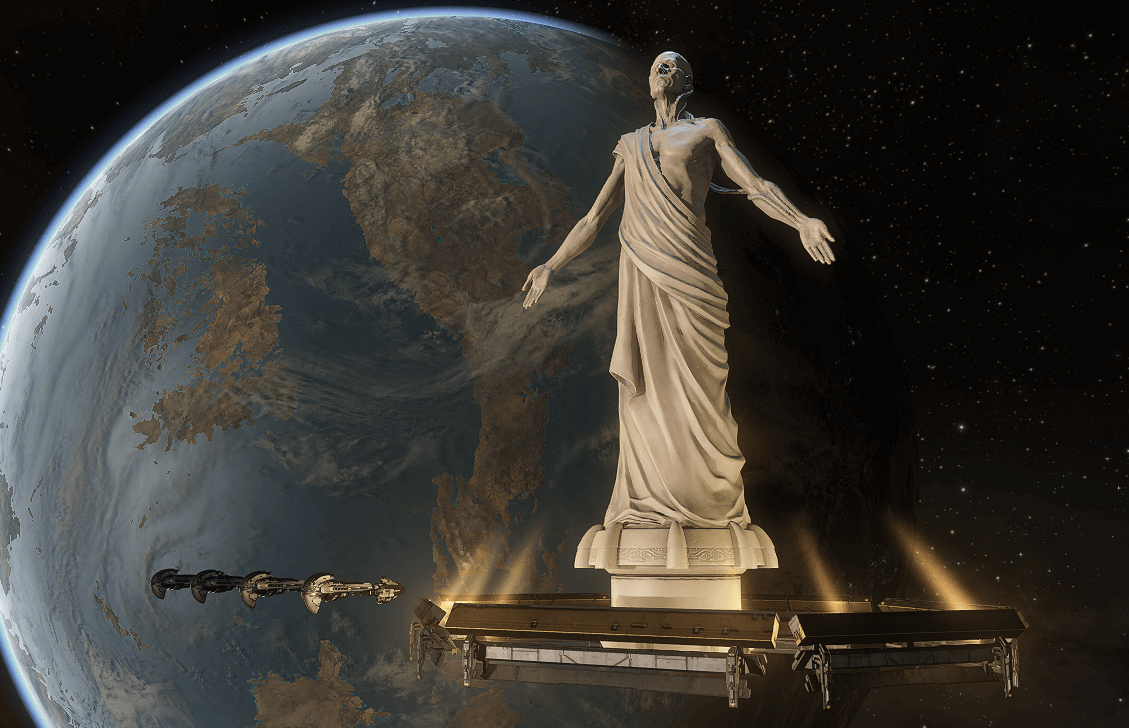 Above: Emperor Doriam II monument in orbit of Eclipticum (Kor-Azor IV)
Amarr Empire Completes Monuments to Emperor Doriam II and Empress Jamyl I
Amarr, Domain – Monuments to two past rulers of the Amarr Empire have been erected in key systems of the Amarr Empire, according to reports from Amarr Certified News (ACN). Emperor Doriam II reigned from YC105 to YC107 and a monument to him has been placed in Kor-Azor Prime system at the order of Royal Heir Ersilia Kor-Azor. Empress Jamyl I reigned from YC111 to YC117 and a monument to her has been placed in Sarum Prime system at the order of Royal Heir Arrach Sarum.
The monument to Emperor Doriam II orbits the planet Eclipticum (Kor-Azor Prime IV), named for the capsuleer champion who led the Kor-Azor team to victory in the YC105 Amarr Succession Trials. Emperor Doriam II carried out a successful foreign policy based on the peaceful policies of his predecessor Heideran VII. His reign also saw a campaign to reclaim systems in the Bleak Lands overrun by Blood Raider cultists. While this campaign was overwhelmingly successful, Emperor Doriam II was subsequently assassinated in the Imperial Palace. It is now believed that members of the "Red Chamberlain" Dochuta Karsoth's cult cell were behind the YC107 slaying of Doriam.
The monument to Empress Jamyl I has been placed above Mekhios (Sarum Prime III), amongst the wreckage of the ship graveyard marking the Battle of Mekhios, the occasion of her dramatic return, apparently from the dead, and her victory over a marauding Minmatar fleet. Jamyl was acclaimed Empress in the aftermath of the Elder Fleet invasion's defeat, and instituted a number of innovations in the administration of the Amarr Empire. Her reign was marked by the appointment of Royal Houses to oversee various arms of the Imperial bureaucracy and outlying territories, and the reunification of the Khanid Kingdom with the Amarr Empire. Empress Jamyl I was killed when her personal Avatar-class Titan was destroyed by a Drifter strike force in YC117.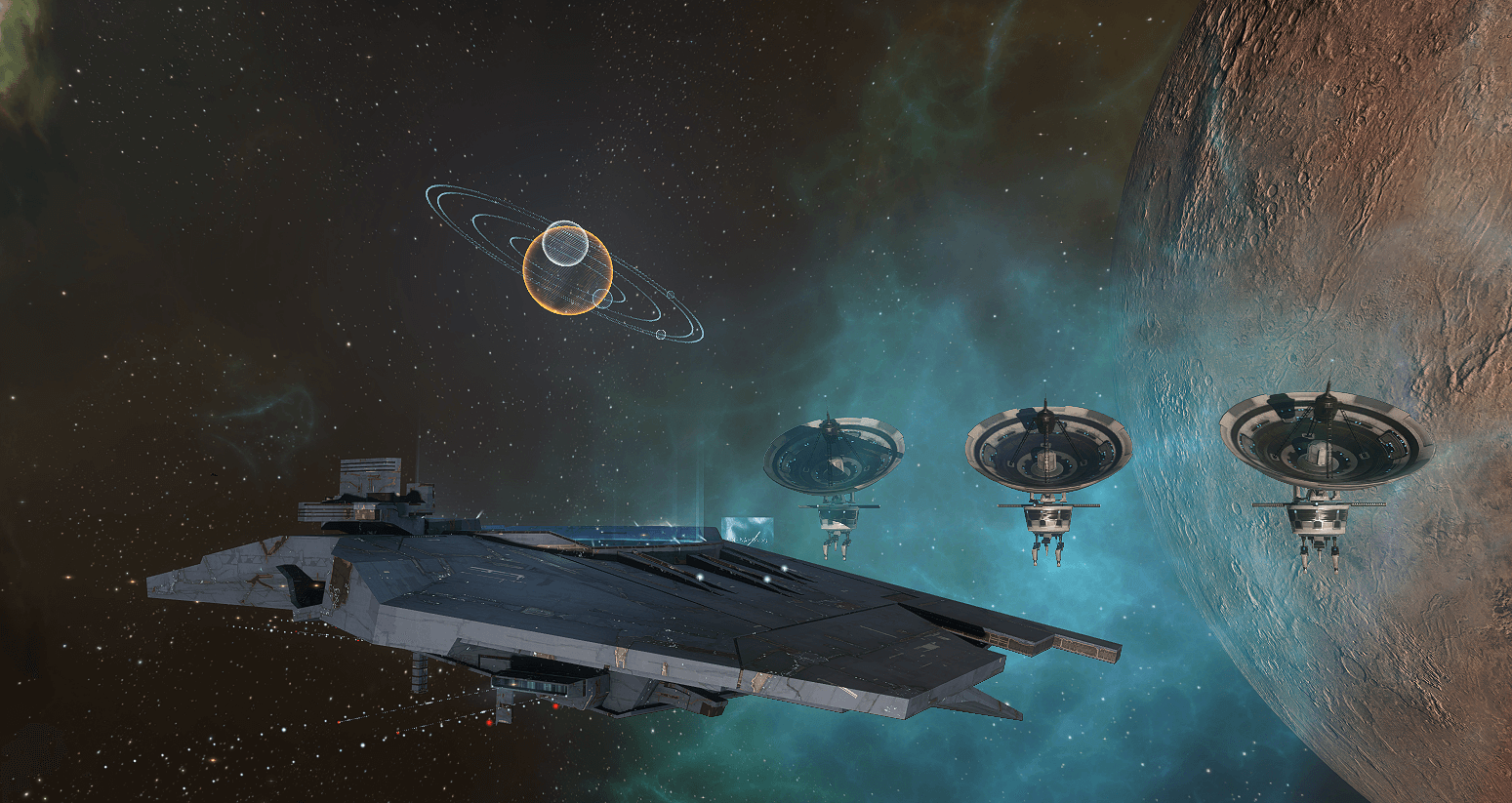 Above: Project Discovery Phase Two Monument and Astrometrics Facility in orbit of Pakhshi IX Moon 20
Monuments to Capsuleer Achievements Installed Across New Eden
Yulai, Genesis – CONCORD's Project Discovery and Independent Gaming Commission divisions have unveiled their own monuments to the achievements of the capsuleer community in recent years. A monument to Project Discovery's second phase, the exoplanets hunting effort led by Professor Michel Mayor, has been established in the Pakhshi system, orbiting the twentieth moon of Pakhshi IX. The Independent Gaming Commission has established its monument in the form of statue personifying "Victory" and an array of pedestals marking the winners of the popular capsuleer Alliance Tournaments, placing it in orbit of Manarq V.
In addition to these monuments, the legendary capsuleer industrialist Chribba has been honored with a statue in the Amarr system. A joint project of the HZO Refinery corporation and the Upwell Consortium, the statue of Chribba was authorized for placement in the first asteroid belt of Amarr VIII by the Court Chamberlain on behalf of Empress Catiz I. The monument honors Chribba's services to the industrial development of Amarr, his work with Amarr mining corporations, and his many efforts to promote ethical capsuleer trade.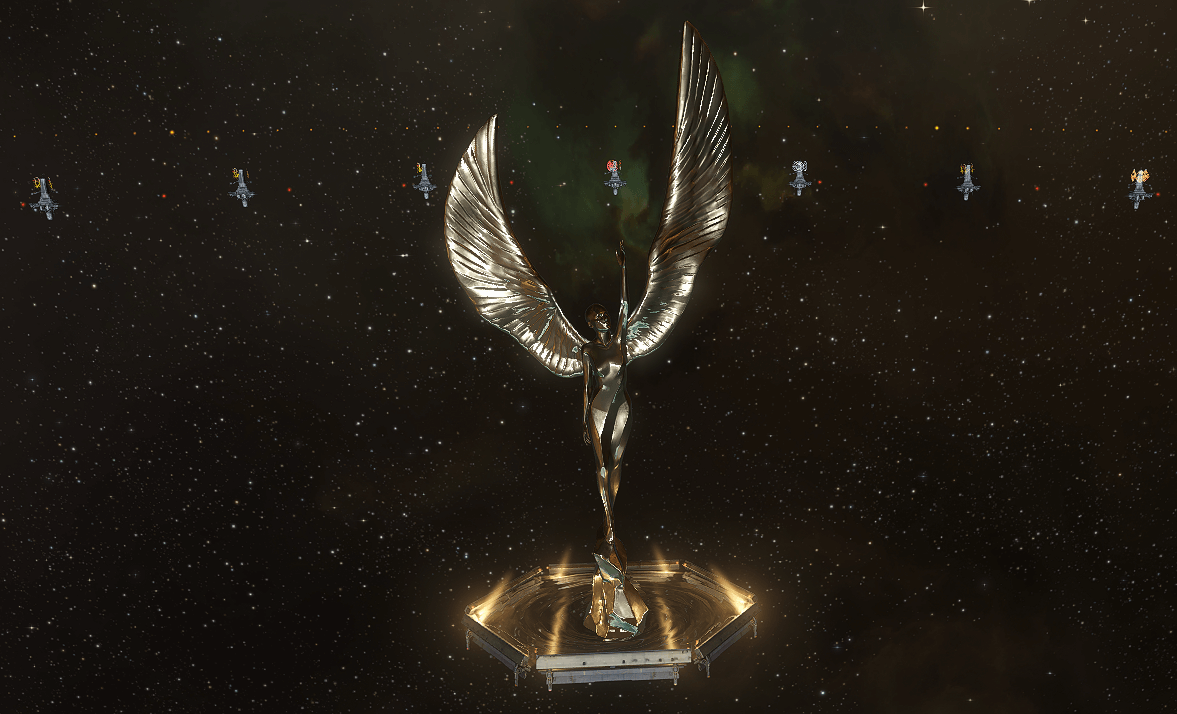 Above: Alliance Tournament Monument in Manarq V
BREAKING NEWS: Empress Catiz I Begins Unannounced Tour of Ammatar Mandate
Tanoo, Derelik – Empress Catiz I has begun a previously unannounced tour of the Ammatar Mandate, according to reports from ACN. The visit is being reported as a "lengthy tour of inspection" of the Ammatar Mandate, a territory controlled by the Royal House of Ardishapur and administered by Lord Governor Ekroz Salaf, the first Ammatar to be elevated to the Amarr holder nobility.
Empress Catiz I travelled to the Ammatar capital world of Tanoo II with her personal honor guard fleet and is being accompanied on the tour by Royal Heir Arim Ardishapur. Imperial Navy and Ammatar Fleet units are on high alert across the Ammatar Mandate, with border patrols by local forces supplemented by Imperial Navy and Imperial Guard units.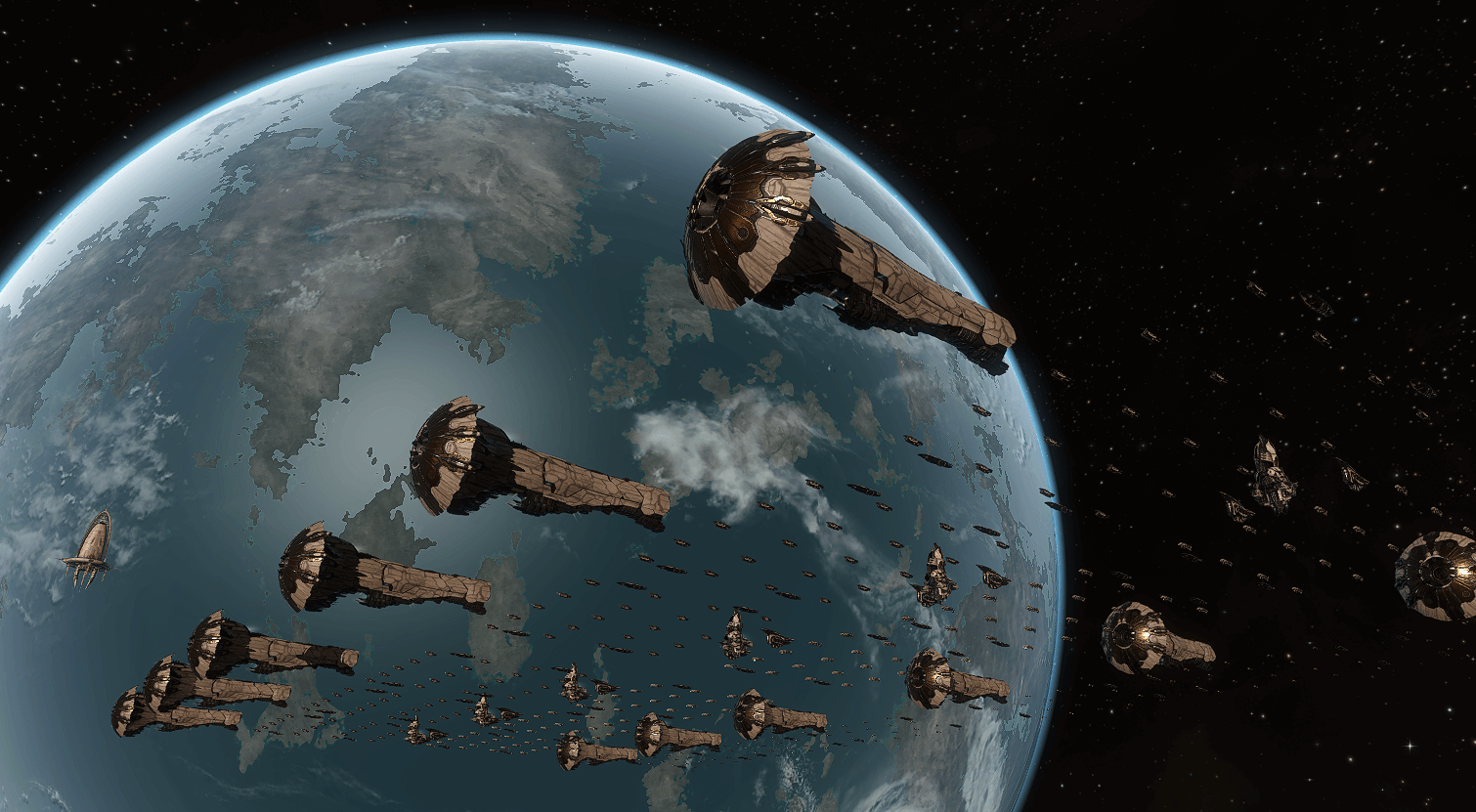 Above: Empress Catiz I Honor Guard Fleet in Orbit of Tanoo II
In Other News
Angel Cartel Turf Wars with Krullefor Organization Heat Up Again as Ennur System Sees Increase in Smuggling Activity
Republic Command's Military Control of Floseswin IV "Under Pressure" as House Sarum Builds Bases in Occupied Metropolis
Mikramurka Coastal Clan Elder Found Murdered in Ritual Sweat Lodge, "Black Dagger" Reported Used in "Gruesome Slaying"
Over 12 Months Since YC122 Federal Election Attacks the Clamour for Answers Grows as Anniversary of Investigation Commission Approaches
Federal Intelligence Office Sends Taskforce to Eugales with "Mandate to Counter Subversion and Terrorism"
Aenebra Assassins Strike on Intaki Prime as Drug Gangs Jostle for Lucrative Spaceport and Station Territories
GalNet Association Denies Petitions to Remove "Divinity Social" Adverts from Broadcast Channels Citing Freedom of Expression
Caldari Navy Deny Triglavian Threat Led to Torrinos V Mining Colony Quarantines of "Severe Disease Outbreaks"
Sarum Police Guards and MIO Inquisitors Raid "Heretical Cult Cells" Across Nakri System Industrial Colonies
Ret Gloriaxx [12/31/2020 12:00:00 AM]
Galactic Hour News Roundup: New Year in New Eden YC122-123 Edition
The Scope's Galactic Hour with Ret Gloriaxx brings your roundup of the latest news from around the cluster as YC122 ends and YC123 is about to begin, with celebrations being held across the cluster despite a year of invasion and war.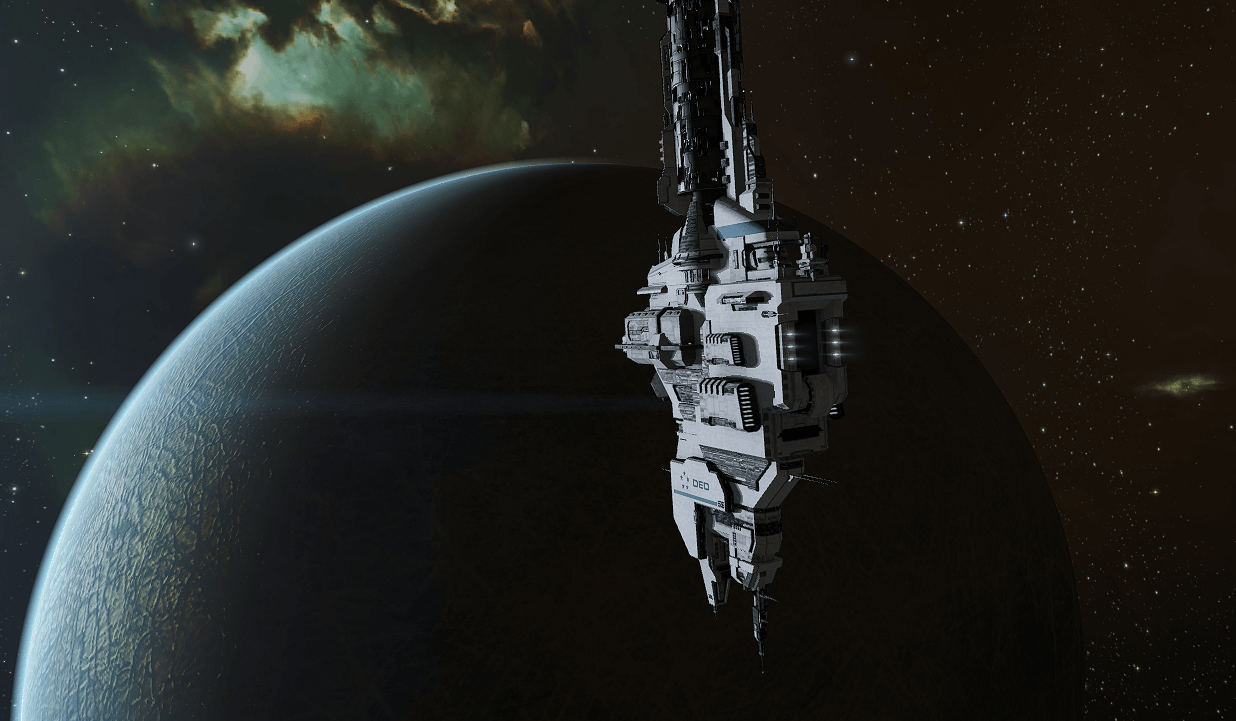 Above: CONCORD HQ, Yulai System
New Eden Yoiul Festival Celebrations Approach Climax for New Year YC123
Yulai, Genesis Region – The citizens of New Eden are celebrating across the cluster as the long, war-torn year of YC122 comes to an end amidst hopes that YC123 will be a better year, despite the lingering influence of the Triglavian invasion and simmering conflicts in the border and outer regions. This year's Yoiul Festival has seen record numbers of people travel across the cluster to be with their families, largely due to huge numbers of troops, support staff and construction workers returning from counter-invasion duties and widespread fortification works.
Despite these large movements of people, celebrations in many systems are notably muted due to the grievous losses suffered during the Triglavian invasions. The Caldari State in particular continues to experience political turmoil amidst the disaffection and disillusionment of a population that has seen long-nurtured myths of Caldari military invincibility shattered in the very heartlands of the State. Even still, while protests are certainly being held over the New Year period, some festival spirit remains among the resilient Caldari worker classes. Corporations specializing in brewing, distilling and the manufacture of legal recreational boosters have reported a brisk trade, even if no sales records have been shattered this year.
Celebrations in the Federation have similarly been unusually low-key, with politicians urging that respect and remembrance for the lost systems and support of survivors and refugees are vital. Even so, many in the Federation feel that their way of life should not be sacrificed and are celebrating the passing of the year with some gusto. The story is similar in the Republic which, despite escaping the worst of the invasions, lost the relatively well-populated Skarkon system and the colony system of Krirald. However, celebrations of the passing of the years are being observed by those clans and tribes that have developed such traditions with respect to the New Eden calendar.
The Amarr Empire observes the Yoiul Festival as a holiday since the Emperor Heideran VII made it one under the auspices of his Pax Amarria doctrine. Even though the Empire now follows the Pax e Kilizhi Do doctrine of Empress Catiz I, the religious observance of the festival and the New Year remains an important holiday. Ceremonies of thanksgiving have been held for the service of the Amarr military, the establishment of 35 fortress systems, and the overall 91 system victories of the Amarr Empire; together with services of remembrance for the Empire's relatively light losses.
Capsuleers across New Eden are also celebrating the New Year, with one especially notable gathering planned to be held in Pator at the Eternal Flame statue in system tonight, and a New Year Weekend Starlight Ball planned with open invitation to EDENCOM loyalists.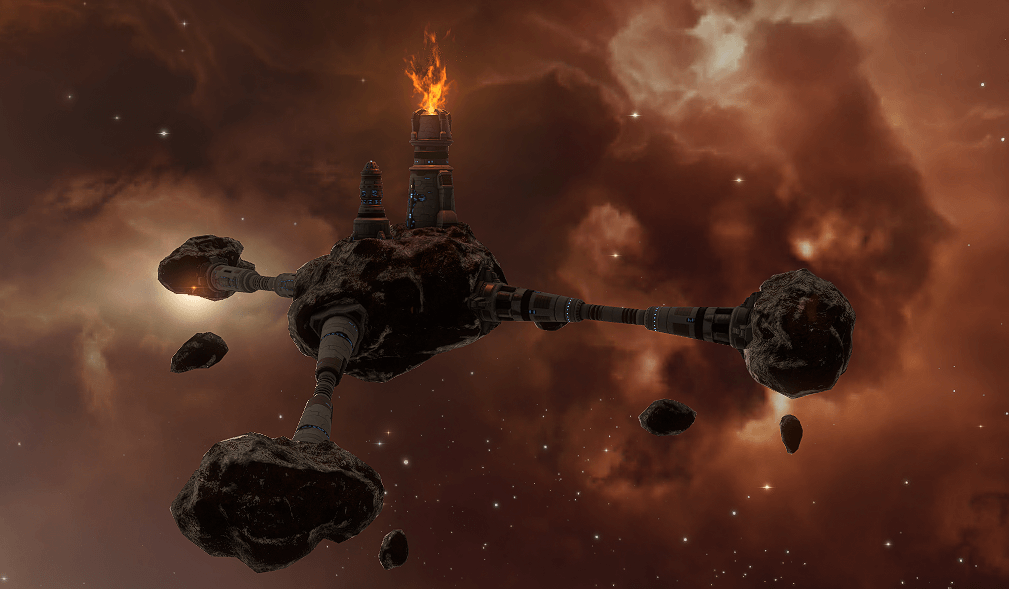 Above: Eternal Flame Monument, Pator System
Minmatar Tribal Council Appoints Tobias Efrit as Republic Prime Minister
Matar, Pator System – The Minmatar Republic's Tribal Council has appointed Tobias Efrit of the Krusual Tribe as Republic Prime Minister at its end of year meeting. Prime Minister Efrit, a veteran parliamentarian, replaces the retiring Khalsis Sokior of the Vherokior Tribe. The Tribal Council also reconfirmed and extended the emergency powers granted to Sanmatar Maleatu Shakor following a request for review from Chief Acassa Midular.
Prime Minister Efrit is the current clan chief of the Oks-Efrit of the Krusual Tribe and has served as a member of the Republic Parliament for several terms over the last three decades. Efrit also served as head of the Krusual Trade Assembly for some years between parliamentary terms. Prime Minister Efrit is a clan cousin of Valklear General Kril Efrit, leader of the Skarkon Tribal Resistance Army.
Khalsis Sokior was considered a safe pair of hands, content with the administration of the Republic government but faced severe challenges during the Triglavian invasions and the Floseswin conflict. A parliamentary insider told the Scope that, "Sokior is a fine woman and able but the truth is that war is upon us, and Khalsis Sokior is not a wartime prime minister." Sokior retires with honors to her family holdings near Mithuris on the coast of Coricia, Matar.
Among other appointments, the Tribal Council also promoted Hetman General Kanth Filmir to the position of Supreme Commander of Republic Forces, Metropolis Region.

News in Brief
Outer Region Capsuleer Coalitions Clash in Brutal Battle Over M2-XFE Keepstar
M2-XFE, Delve Region – Capsuleer warlord coalitions Imperium and PAPI have clashed in a titanic battle over a heavily fortified Keepstar in the M2-XFE system of the Delve region. Preliminary reports indicate the loss of nearly 700 capital ships, with almost 250 Titan-class vessels destroyed in one of the largest battles witnessed in the Outer Regions. Final tallies await confirmation but the scale of capital ship losses may make this the most costly battle in the history of capsuleer alliance warfare.
Caldari State and Megacorporation Forces Carry Out "Counter-Terrorism" Raids Across Lonetrek Region
Lonetrek Region – Caldari State authorities are reporting a massive series of raids carried out across the Lonetrek region have "successfully captured or eliminated a number of anarchist terrorist cells." Reports indicate that State Peacekeepers carried out operations on a number of planets, asteroid colonies and space stations in conjunction with Home Guard, Lai Dai Protection Services and Spacelane Patrol security troops. A report from Torrinos claims there was an extensive firefight and a series of explosions aboard the Caldari Provisions station orbiting Torrinos V, Moon 10. Other reports indicate a massive State and corporate security presence in Lonetrek population centers..

In Other News
CONCORD Inner Circle Authorizes Further Intelligence Gathering Operations in Pochven Despite Missing Operatives and Commando Group Losses
Refugees Escaping in Manticore-class Frigate Report "Extreme Bioadaptation" of Sakenta III Population Under Perun Clade Rule
EDENCOM Surveillance Drones in Raravoss System "Detected Massive Underground Activity" on Several Planets Under Svarog Control
Unconfirmed Reports of Svarog Incursion on Veles Controlled Senda V; Caldari Resistance Report Bioadapted Locals Manned Defense Systems
Republic Fleet Reinforces Amo II Muster Base with Deployment of Carrier Group, Five Army Divisions and Enhanced Orbital Defense Net
Khanid Warlord Alar Chakaid and Slaver Orlon Zashev Moved to Inis-Ilix Theology Council Law School Under High Security
Former Gallente Presidential Candidate Julianus Soter Withdraws Villore Accords Alliance from Caldari-Gallente Warzone
Legal Challenges Against Establishment of "Radical Amarr Church" on Lamadent III Filed in Aeman District Court
Intaki Assembly Reportedly Close to Awarding Shipping and Security Franchise to Intaki Space Police Over FIO and Navy Objections
House Sarum Military Buildup Continues as Rearmament Program Continues in Domain and Devoid; Troop Transport Movements Reported
Ammatar Fleet Deploys Orbital Defense Wing to Arnola System as SARO 'Red Troop' Withdraws Following Counter-Subversion Operation
Seykal Clan Source on Arnola's Thukker Trading Post Claims SARO "Put Down a Few Dozen Trig-Loving Warclones but Took Some Prisoners"
Betting on Caldari State New Year Splinterz Matches at a Ten-Year Low as Caldari Population Watches Spending After Tumultuous Year
Ret Gloriaxx [12/18/2020 9:09:39 PM]
Galactic Hour News Roundup: No Peace in New Eden for Yoiul Festival Edition
The Scope's Galactic Hour with Ret Gloriaxx brings your roundup of the latest news from around the cluster during the Yoiul Festival season for YC122-123, as Caldari authorities thwart a bombing attempt in Jita, and Sansha's Nation and the Triglavians continue to cause havoc around the cluster.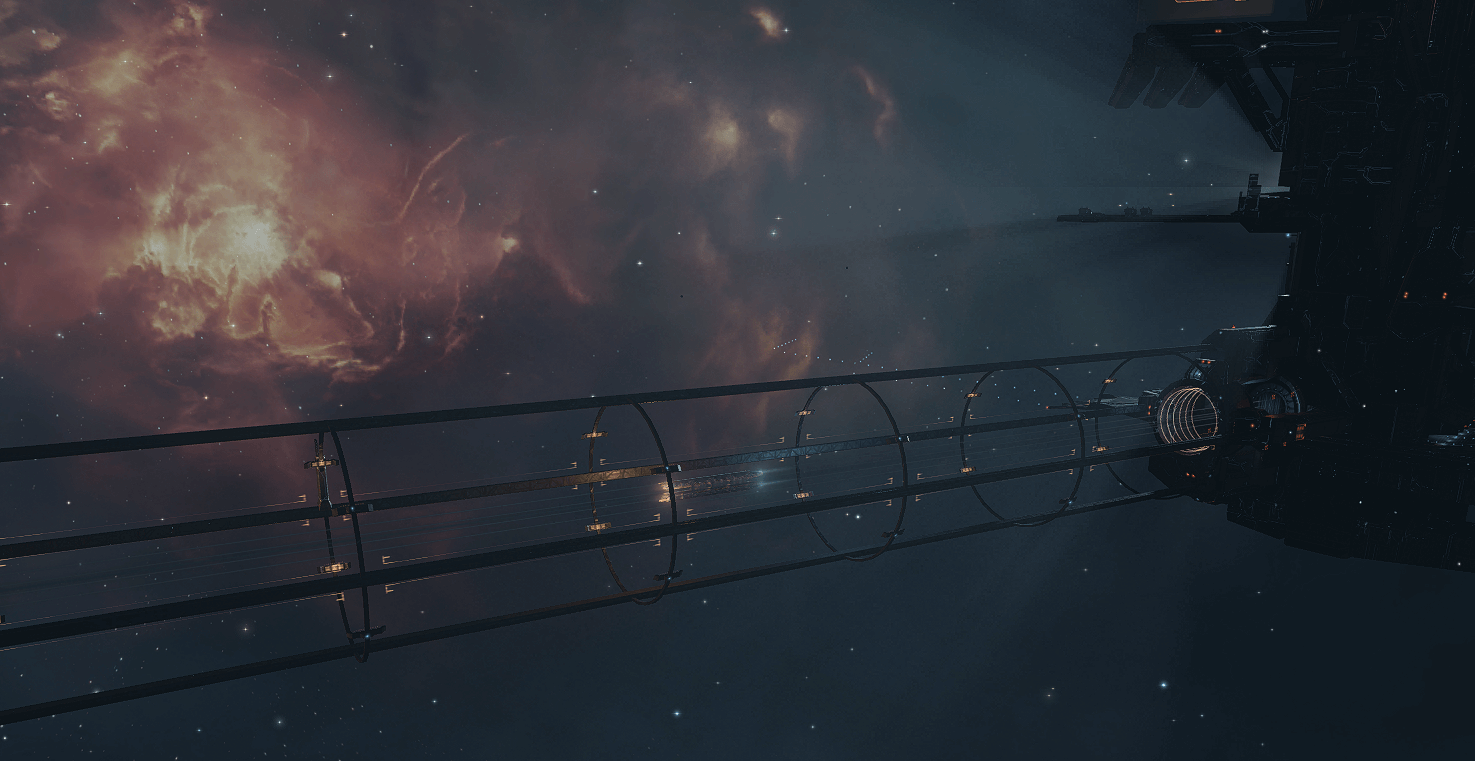 Above: Elevator Car Travelling Along Jita 4-4 Moon-Space Elevator
Attempted Bombing of Jita 4-4 Moon-Space Elevator Thwarted by Caldari Navy and Spacelane Patrol
Jita, The Forge – Authorities in Jita system have hailed the Caldari Navy and Spacelane Patrol for their "vigilance and professionalism" in thwarting a "serious attempt by anarchist terrorists to destroy the Jita 4-4 Moon-Space Elevator and inflict massive casualities." Reports of an attempted bombing emerged this morning, with Tomi Mihaikka, Navy Chief of Security for Jita, confirming this afternoon that an attempt had been thwarted.
Official releases from the Caldari Navy and Spacelane Patrol state that a joint operation by navy and corporate security forces intercepted a "terrorist unit attempting to infiltrate a small nuclear fission device into the cargo section of an elevator car." The release went on to state that "while relatively primitive, had this device exploded aboard a car it would have caused massive casualties, and potentially inflicted sufficient structural damage to the elevator to cause a catastropic failure event." Such a structural failure would have the potential to cause huge damage and casualties at both the moon and station ends of the elevator.
Authorities believe that the attempt was made as Caldari Navy forces were in the process of handing over security duties to Spacelane Patrol in order to capitalize on possible security vulnerabilities during the change. It is understood that Navy intelligence anticipated attempts at smuggling or other covert criminal activity during the hand-over. Security measures in place to detect such activity led to the discovery of the terrorist unit and their device.
Deep Core Mining Inc. and the CBD megacorporation have issued statements of thanks to the Caldari Navy and Spacelane Patrol. Caldari State broadcast services are currently framing the events as evidence of the revitalized professionalism and efficiency of the Navy following the replacement of most of the senior naval staff with corporate security force officers.
State and megacorp outlets are also emphasizing the role of "anarchist terrorists" in the anti-CEP protest movement that sprang up during the Triglavian invasions in response to the State's heavy losses. This popular movement continues to demand further action to reform the CEP and increase the Caldari State's accountability to worker citizens. Corporate security forces have sporadically suppressed protests in some territories but the CEP has held back from authorizing a general crack-down so far.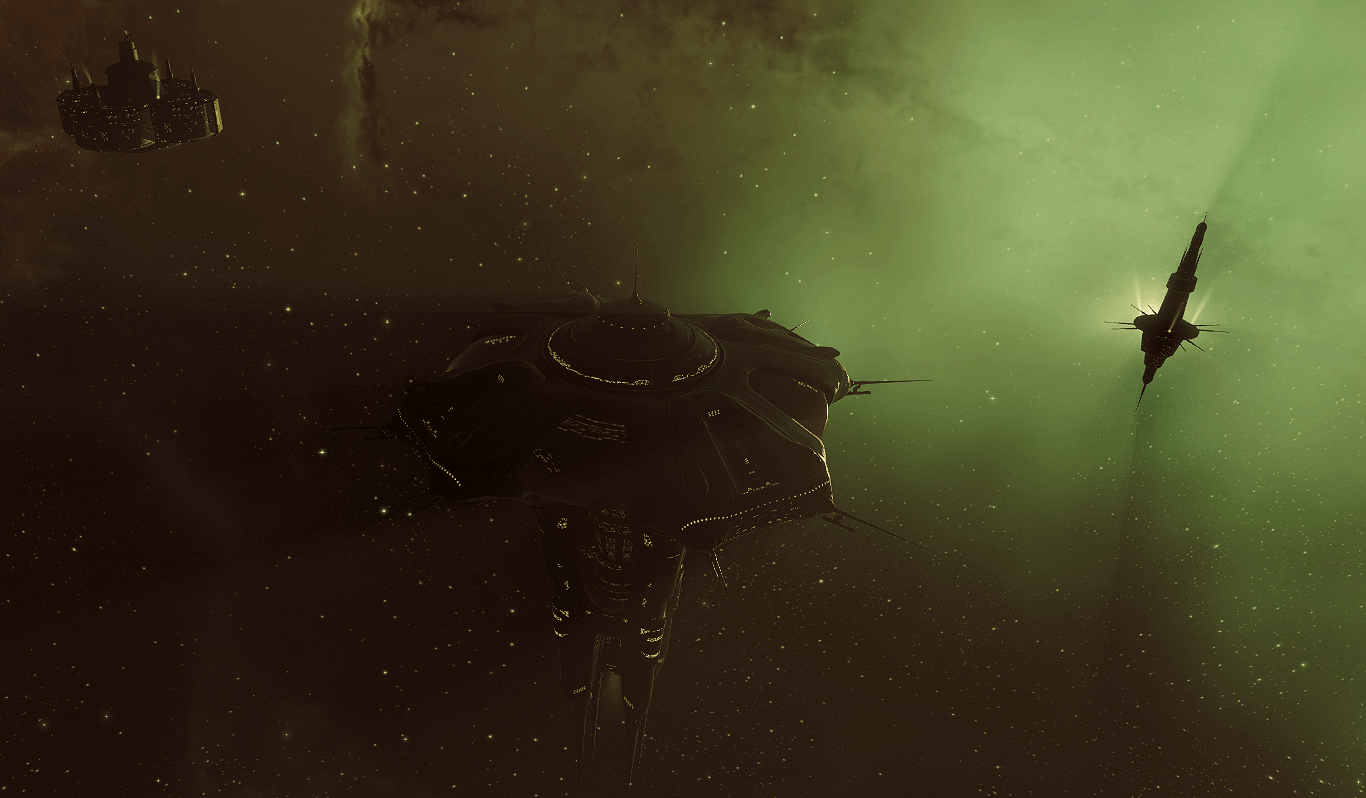 Above: Surveillance Image of Sansha's Nation Outpost in Neda System
Sansha's Nation Incursion Causes Mass Panic in Raid and Rebellion Stricken Neda System
Neda, Khanid Region – A Sansha's Nation incursion in the Neda system has caused mass panic on planets still reeling from a recent Blood Raider attack, slave rebellions and a harsh response from Khanid military forces. The incursion in the Homroon constellation staged from Neda itself and there are reports of attempted landings by Sansha's Nation forces on Neda III and V.
Royal Khanid Navy and Royal Uhlan forces remain in Neda and on the planets in some force, dealing with the aftermath of the Blood Raider attack and rebellions. RKN naval units are concentrating on orbital defence of the third and fifth planets, and claim to have totally repelled large Nation landing forces. Independent reports from Neda V confirm the RKN's claims but there are some reports of isolated landings on Neda III.
In contrast to rapidly-secured Neda V, the situation on Neda III remains chaotic, with Blood Raider forces and rebels still at large in the countryside of the main populated regions. Large deployments of the 8th and 19th Royal Uhlans were scouring the planet for such remnants, and it is claimed they have come into contact with Nation forces attempting to abduct the population of various outlying townships.
Latest News: Reports from Neda V indicate total lockdown enforced by Royal Uhlans, while RKN marines emplace more surface-to-orbit defences around key cities and towns. Additionally, a second attempt by Nation forces to land on Neda III has come under heavy combined fire from RKN orbital units and surface defenses.

Above: Perun Clade Proving Complex station overlooking planet Komo IX
Smuggled Reports from Komo Tell of Massive Forced Population Movements on Main Inhabited Planets
Komo, Pochven Region – A collection of eye-witness reports, audio-visual recordings and holo files paint a grim picture of massive movements of populations from outlying towns and cities to specific zones under heavy Triglavian control. The planets of Komo VI, VII and IX are all heavily-populated, with their citizens working not just on their home planets but across the heavily-industrialized barren planets of the Komo system. The loss of Komo to Triglavian conquest was among the most grievous blows felt by the Caldari people during the war.
The collection of materials is reported to have been smuggled off the main inhabited planets of the Komo system by the Caldari resistance movement. The Triglavian Perun Clade has apparently been heavily-fortifying the largest megacities and arcologies on each of the three main planets, and enforcing the mass movement of populations from their homes to these secured zones. The reports also provide more evidence of Triglavian bioadaptation of the populations with clear evidence of individuals in what appear to be various stages of bodily change. The preponderance of evidence suggests the population movements are an acceleration of Perun Clade's bioadaptation programs in Komo.
Attempts at resisting the population transportation have clearly been met with force, sometimes deadly, although independent analysis of the reports suggests these responses are focused. While conditions are evidently atrocious and the forced population transits are themselves a gross war crime, indiscriminate massacre or reprisal is not attested in the available material.
Despite the overwhelming superiority of Perun Clade forces, an active Caldari resistance movement appears to have survived and established a network spanning three planets. Unconfirmed reports suggest that EDENCOM has been supporting resistance movements in Komo, and similar systems across Triglavian-occupied space, with AEGIS and State Peacekeepers rumored to be supplying materiel and even personnel to the Komo network.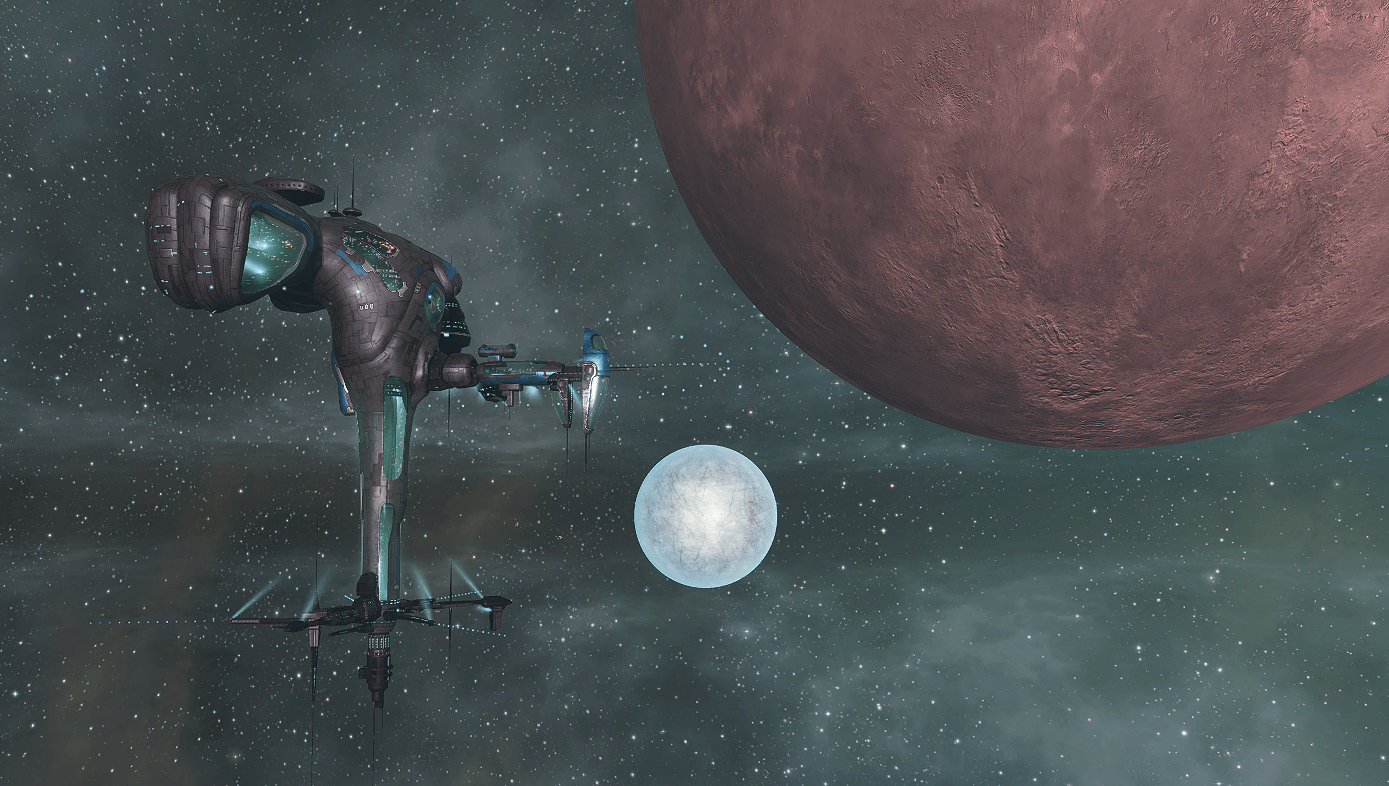 Above: Cat VII, Moon 4 Material Acquisition Mineral Reserve station
AEGIS Investigation of "Triglavian Subversion" in Cat System Focuses on Material Acquisition Station
Cat, Essence Region – AEGIS investigators and paramilitary troops have arrived aboard the Cat VII, Moon 4 Material Acquisition station, apparently pursuing an investigation into Triglavian subversion in the Cat system, according to local reports. Certain industrial zones and large sections of the habitation zones of the station have been placed under security lockdown, and transport between zones is under increased security control.
The events aboard the MA station follow a report that AEGIS forces had occupied and quarantined a research facility on the second moon of Cat III. The Scope's local correspondent has reported that the moon installation in question was a Material Acquisition corporation mining research facility.
Material Acquisition has refused to comment on the reports other than to confirm it is co-operating with Federal and EDENCOM authorities in Cat, and its Quafe megacorp parent has redirected all queries on the matter back to MA's public relations department.
In Other News
Gallente News Organizations Criticized by Politicians Over Coverage of Pochven; Urged to Emphasize Occupied Status
Landfall City, New Caldari Prime Protest Urging Reform of CEP and Concessions to Worker Classes Passes Off Peacefully
Khumatar Allek Berialsh Authorizes Establishment of RSS Anti-Warclone Unit Training Facility in Mikramurka Region
Amarr Theology Council Rules Alar Chakaid and Orlon Zashev be Transported to Inis-Ilix as Cases Moved Out of Mandate
Skarkon II Conflict "Source of Concern" to EDENCOM as Analysis Indicates Inflow of Combatants Comparable to Outflow of Refugees
Svarog Clade Conduct of War on Skarkon II "Puzzling" According to CDIA Sources; No Comment from EDENCOM
Burst of Communications Traffic from Vale System Claims Inhabited Planets Under Control of "Provisional District Government"
Federal Administration and EDENCOM Condemn Co-operation with Veles Clade as "Collaboration with Triglavian Occupiers"
DED "Satisfied by Capsuleer Disruption" of Sansha's Nation Activities in Volatile Ice Storms but "Remains Concerned by Nation Agenda"
InterBus Confirms Record Passenger Traffic During Start of Yoiul Festival Season; Pleased with Success of "Yoiul Clones" Safety Campaign
Guristas Pirates Strike Again in Co-ordinated Thefts of Artworks from Executive Spires on Ishisomo IV, Nonni I, and Saisio V
Second Federal Drug Enforcement Official Slain in Octavenne; Assassin Killed by Bodyguards Reportedly Wore "Aenebra Cult Marks"
Angel Cartel Base in Sarum Prime Reported Destroyed by Sarum Police Guards Following DED Raid on Hidden Drugs Facility
SARO 'Red Troop' Unit Eliminated "Renegade Warclone Cell" in Arnola System According to Reports from Thukker Trading Post
Ret Gloriaxx [12/11/2020 10:24:00 PM]
Galactic Hour News Roundup: Start of Yoiul Festival Season YC122-123 Edition
The Scope's Galactic Hour with Ret Gloriaxx brings your roundup of the latest news from around the cluster as the Yoiul Festival season for YC122-123 approaches. Safety of travellers, worker unrest and trouble on the fringes of New Eden are causing concerns for many despite the many billions looking forward to celebrating the end of one year and the start of a new one.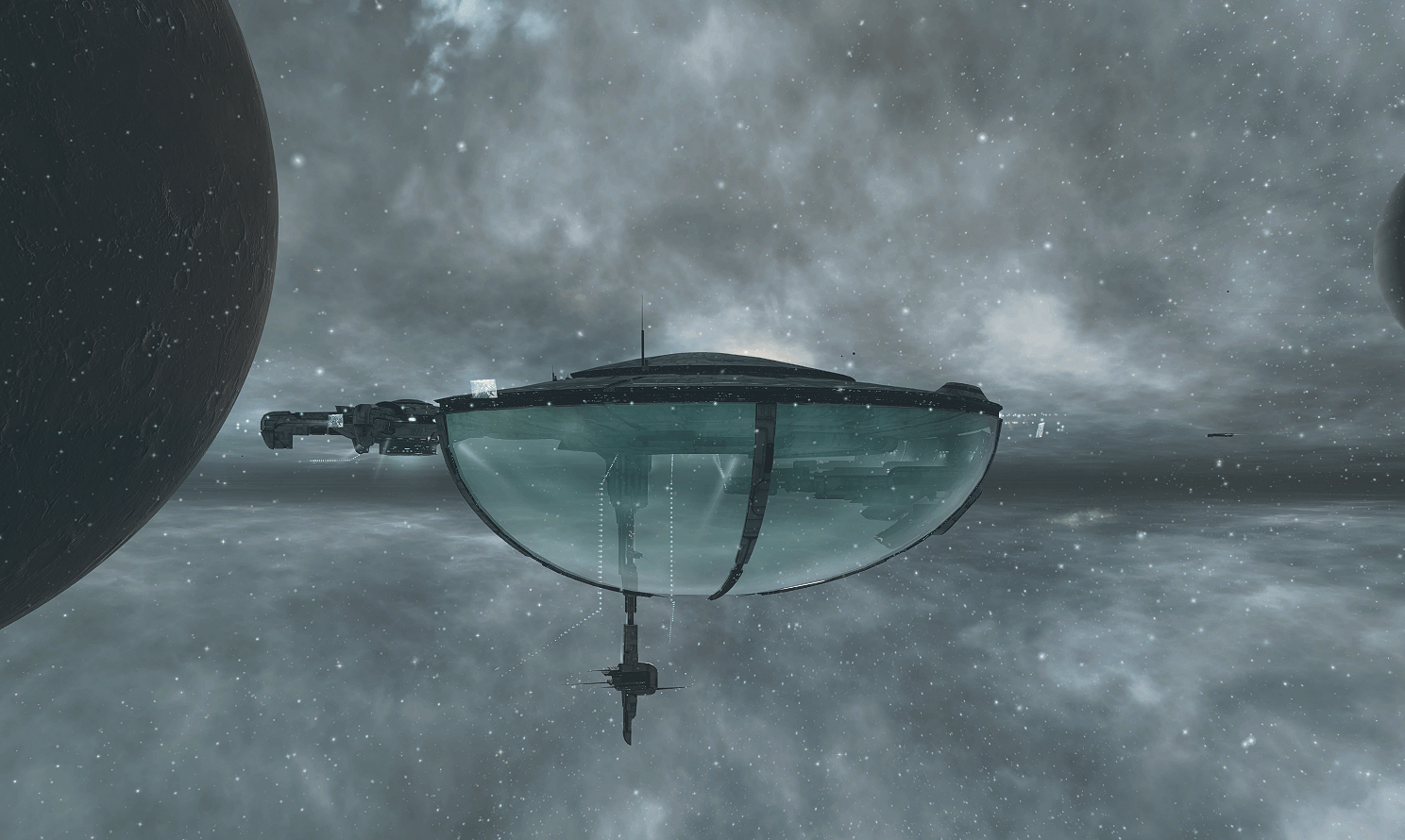 Above: Federation Senate Station in Villore Engulfed by Volatile Ice Storm
Volatile Ice Storms Sweep Across New Eden as Yoiul Festival Season Begins
Yulai, Genesis — CONCORD has issued general advisory notices warning of the hazards of a large number of vast "volatile ice storms" that are sweeping across New Eden. The SCC is recommending civilian cargo and transport traffic take alternative routes where possible. The Directive Enforcement Department has also noted the presence of Sansha's Nation forces seeking to exploit the resources that can be discovered in volatile ice deposits occuring in this form of metaliminal storm.
For its part, ORE's Frostline Laboratories division has taken the opportunity to further test its latest filament transport technology prototypes by making them available to capsuleers. In recent years, Frostline's research and development has focused on filament technology with a view to its potential uses in resource exploitation. A recently-filed financial report indicated Frostline is researching filament guidance using the space-time anomalies that metaliminal storms are believed to form around.
Since their emergence in August YC122, most research into metaliminal storms has indicated they are associated with changes to the local cluster's space-time topology caused by Triglavian stellar manipulation. Certain storms appear to represent a "leakage" of Abyssal Deadspace environmental radiation and particles into normal space. However, Frostline's theorists are suggesting the ice storms may represent a localized reduction in thermal energy, potentially caused by energy "draining" into Abyssal Deadspace through quadrillions of microscopic wormholes.
The DED is supporting the elimination of the Sansha's Nation "Wightstorm Fleet" by capsuleers, with its own patrol forces overstretched by the increase in space traffic as Yoiul Festival season begins. EDENCOM's planetary fortification programs continue to enhance the security of population centers and AEGIS forces are on alert for possible Sansha's Nation planetary raids.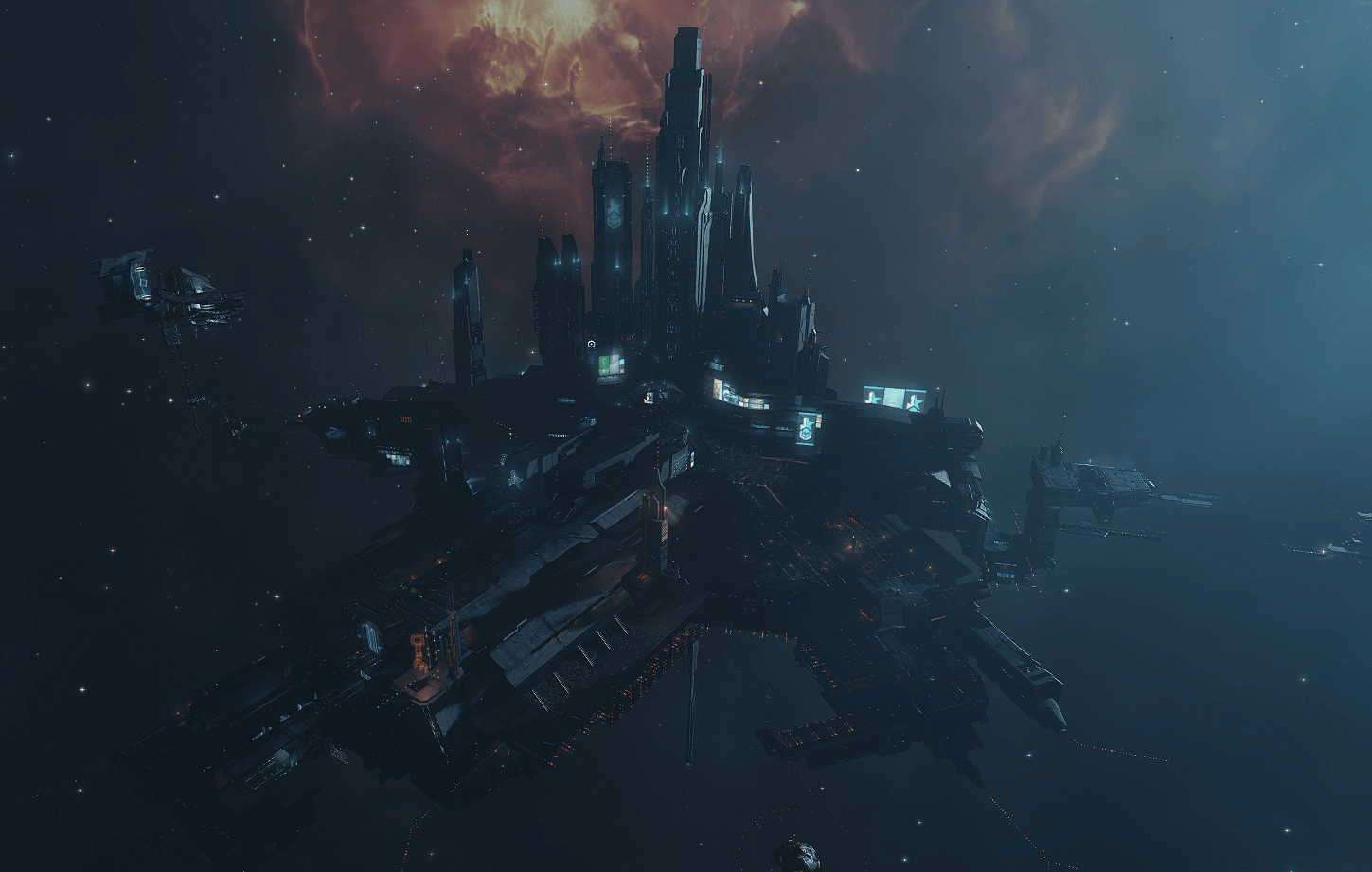 Above: Jita 4-4 Trading Hub Contributes Significantly to High Traffic During Yoiul Festival Season
InterBus Launches Yoiul Festival Spaceship Safety Campaign as Passenge Traffic Increases
Jita, The Forge — InterBus has launched a spaceship safety campaign with passenger transport traffic set to experience its usual increase during the Yoiul Festival season. As the largest civilian passenger transportation operation in New Eden, InterBus has a special concern to increase passenger and crew awareness of typical hazards aboard spaceships large and small.
The InterBus safety campaign has taken a light-hearted approach to the topic of safety, with the spaceship safety displays it has distributed using spacer legends of clone blanks coming to life and wreaking havoc aboard ship. The "Yoiul Clones" campaign is intended to be eye-catching and highlights the serious subject of ship safety in this unusual manner so as to overcome "warning fatigue" experienced by many in the relatively hazardous space-industrial sectors.
In related news, CONCORD's Project Discovery has reported preliminary successes in its efforts to identify and develop treatments for novel coronaviruses that first broke out in space stations and asteroid colonies during the Triglavian Invasions. Believed to be a consequence of increased movement of military personnel and fortification workers during the invasions, the spread of various novel diseases has been tracked by Project Discovery for many months. CONCORD officials have expressed cautious satisfaction with the results from Project Discovery so far.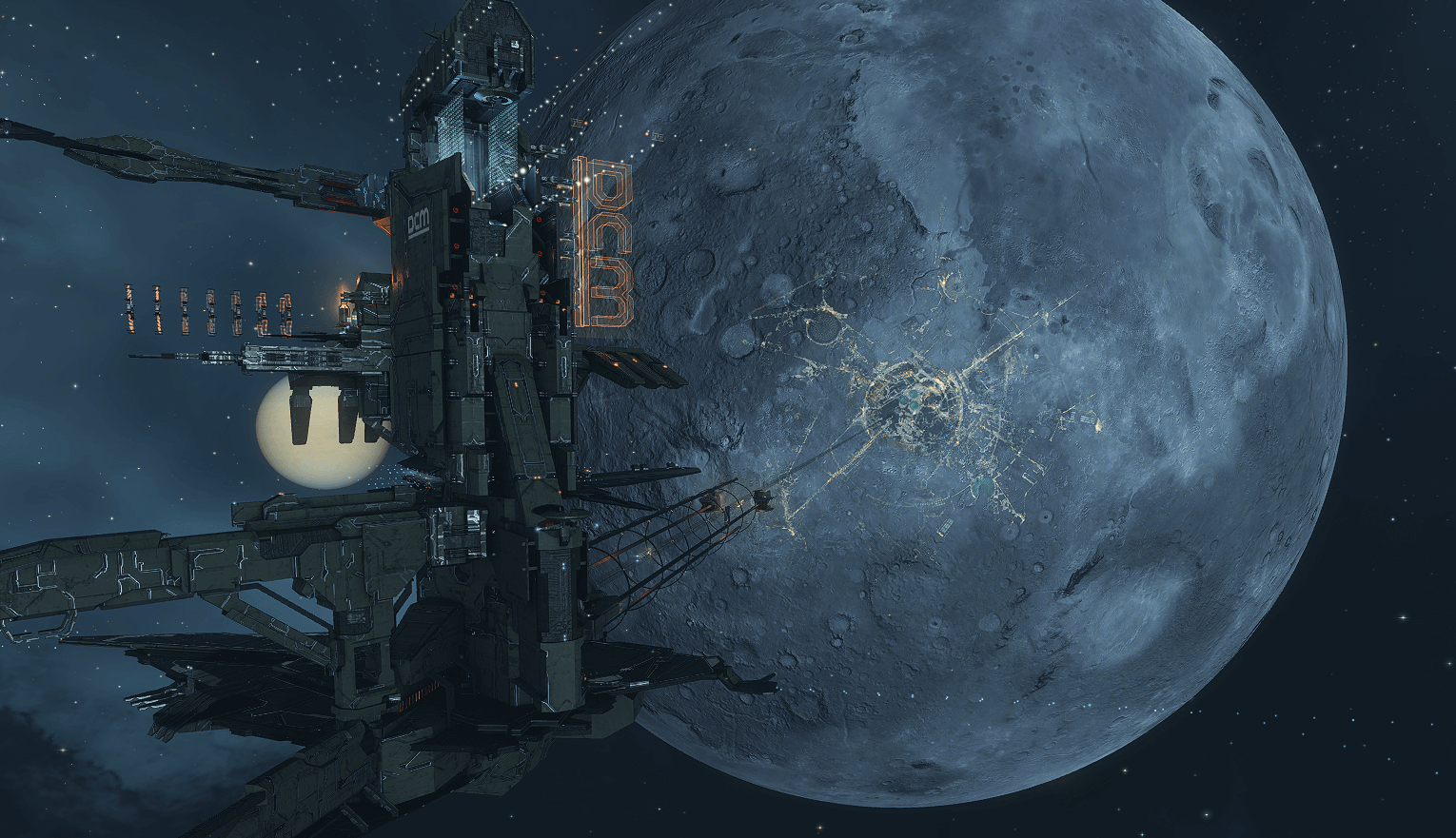 Above: DCM Jita 4-4 Moon Mining Colony and Moon-Space Elevator
Unrest at Jita 4-4 Moon Mining Colony as Protests Over Extended Working and Transit Costs Flare Up
Jita, The Forge — Unrest has broken out at the Jita 4-4 Moon Mining Colony as extended working hours and high transit costs for workers have led to protests and isolated riots. Although tempers were already frayed at the Deep Core Mining operated colony, due to invasion-related protests and high-intensity working around the completion of the Caldari Navy Jita 4-4 station's core trading hub, many felt the coming festival season would provide some respite. Consequently, the announced extended hours and travel costs caused an explosion of unrest among workers in the moon colony.
The CBD megacorporation's Spacelane Patrol has been deployed in force to support its DCM subsidiary's overstretched colony security forces. Caldari Navy forces have deployed to both ends of the DCM moon-space elevator to ensure the security of this vital link between the moon mining colony and the Jita 4-4 station complex.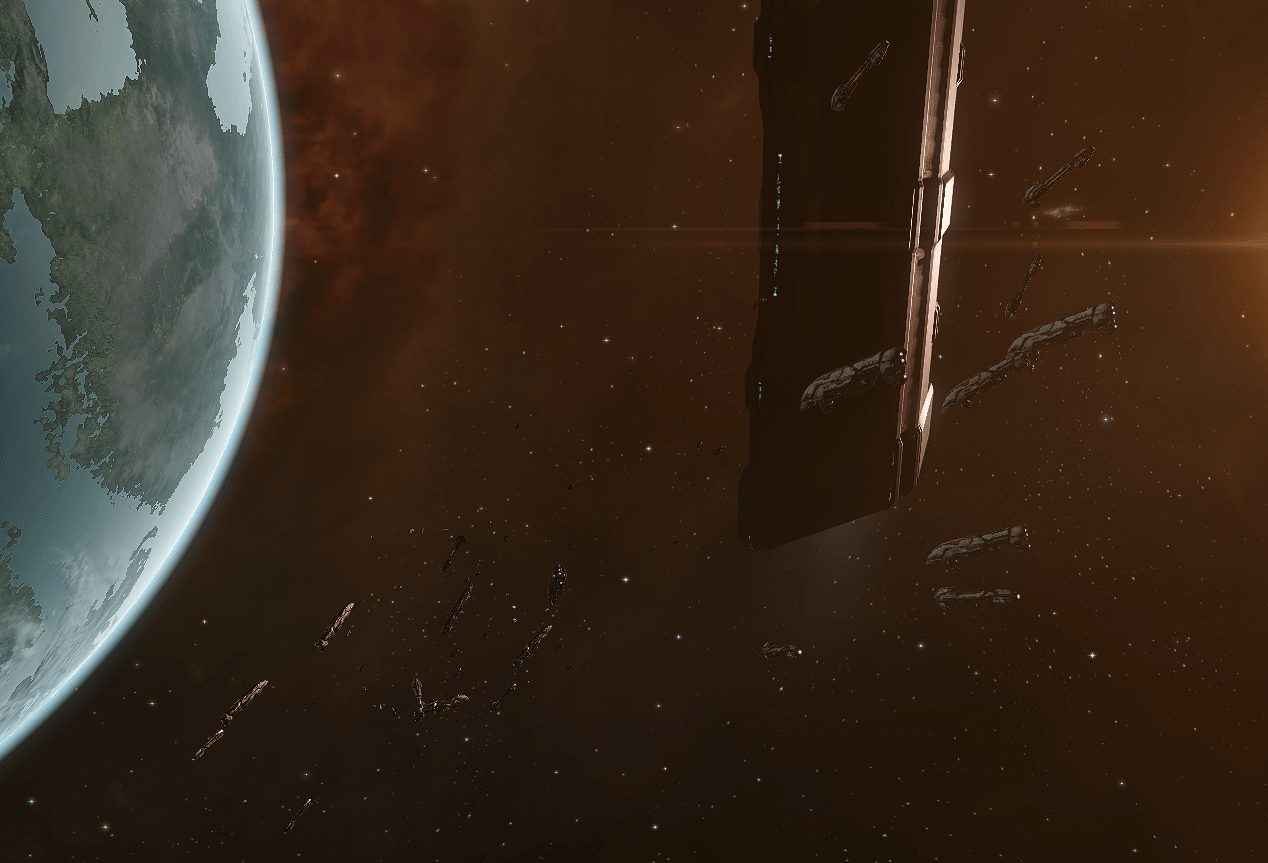 Above: Royal Khanid Navy Forces Deploy Over Neda III
Khanid Kingdom Deploys Troops to Neda System to "Quell Uprisings and Piratical Opportunists"
Neda, Khanid — Following Blood Raider attacks and reported slave rebellions, Royal Khanid Navy vessels have taken part in operations in Neda system, deploying RKN marines and units of the 8th and 19th Royal Uhlans to Neda III and Neda V. The RKN's Neda relief force is under the direct command of Sardar Admiral Mirza Ul-Chakaid, Military Governor of the Homroon constellation. Khanid Kingdom authorities have declared that "slave rebellion is not excused by the chaos caused by blood cultist raids and piratical opportunism by capsuleers affiliated with other Royal Houses."
House Khanid is currently locked in a political struggle with House Ardishapur over the fate of the Khanid warlord and religious figure Duke Alar Chakaid. The Theology Council continues to hear evidence in a case on the Duke Chakaid matter, with the latest development being a motion for Theology Council paladins to take custody of Alar Chakaid from the Order of St. Tetrimon, and move him from Tanoo to a "neutral location in the heart of the Empire of Holy Amarr."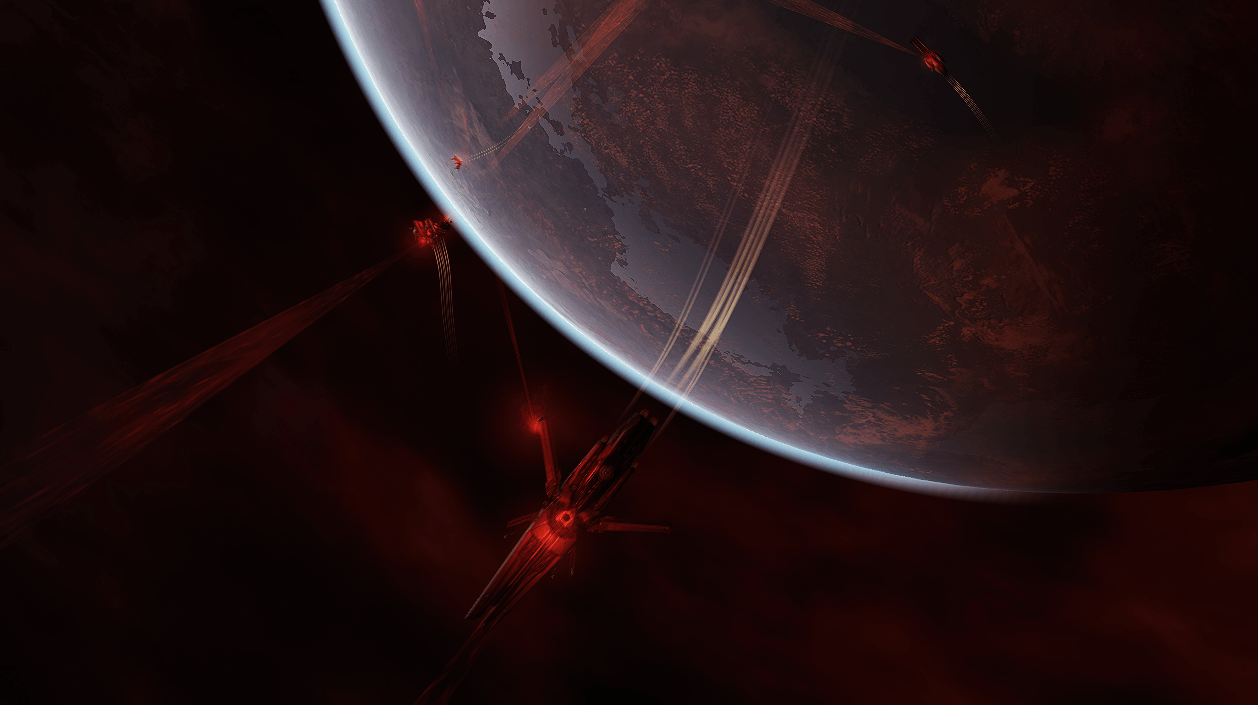 Above: Svarog Clade Forces Carry Out Combat Operations in Skarkon II Orbit
Minmatar Tribal Council Reasserts Tribal Sovereignty Over Skarkon; Repudiates "Pro-Triglavian" Capsuleer and Warclone Claims
Matar, Pator System — The Minmatar Tribal Council has reasserted the "enduring and total sovereignty of the Seven Tribes of Matar" over the system of Skarkon, conquered by the Triglavians and made a Svarog Clade-controlled system within the newly-created Pochven region. The declaration, also covering the system of Krirald, comes as various Republic loyalist and "Pro-Triglavian" warclone and capsuleer groups make claims and counter-claims over the status of Skarkon and territories within it.
Following a meeting of the Tribal Council, Sanmatar Maleatu Shakor said, "It is plain enough to anyone who is actually loyal to the Matari people that the lands of Skarkon II are tribal lands in perpetuity. No claims based on spurious Amarr-style arguments merit a moment's consideration. Outsiders and fallen kin may try to cook up a pretty meal of persuasion, by finely chopping words and logic, but all Matari know that there is no true moot feast for any tribe and clan to be found in such dressed up pap."
The Minmatar Republic considers all territories of Skarkon system to now fall under the direct jurisdiction of the Skarkon Tribal Resistance Army, commanded by Valklear General Kril Efrit, as "the sole lawful authority representing the Council of the Seven Tribes of Matar." The Thukker Tribe has also confirmed that various territorial leases of its tribal lands on Skarkon II were "automatically terminated when acts of terror and war were made against the lawful government of Skarkon II."
The Skarkon Tribal Resistance Army continues to defy the Triglavian invaders on Skarkon II, with a number of missile strikes carried out against Svarog Clade and pro-Triglavian warclone positions in recent weeks. Additionally, STRA numbers have been bolstered by reinforcements of volunteers from the Republic armed forces and Minmatar paramilitary groups. Depite the resistance efforts, reports from EDENCOM briefings indicate Svarog forces continue to hold the population centers of Skarkon II and are slowly expanding their zones of control across the planet.
In Other News
Widespread Anti-CEP Riots on Haajinen VIII Dispersed by Big 8 Corporate Security Forces from Barracks Across System
Spacelane Patrol Pursues Leads Pointing to Guristas Involvement in Multi-Million ISK Heist from Unpas Mercantile Club Art Gallery
Death Toll Over 500 in Gang War Between Angel Cartel and Krullefor Organization on Ennur VI; Rival Groups Bolstered by Skarkon Gang Members
Serpentis Corporation Denies Involvement in Assassination of Federal Drug Enforcement Officers in Octanneve System
Intaki Space Police in New Talks with Intaki Assembly as Mordu's Legion Signals Intention to Resume Paused Withdrawal from Intaki System
Federation Supreme Court to Hear Arguments in Case Against Federation Navy and EDENCOM Conduct of Vale Blockade During Triglavian Occupation
Minmatar-Gallente Trade Balance Report Indicates Reduction in Minmatar Republic Trade Deficit with Federation Driven by Raw Materials Exports
CONCORD Conflict Monitors Assess House Sarum Military as "Potentially Ready to Launch New Invasion of Floseswin IV in New Year"
BREAKING: Royal Khanid Navy Indiscriminately Bombards Blood Raider, "Rebel Slave" and "Renegade Paramilitary" positions on Neda III and V
BREAKING: Royal Uhlans Armored Brigades Land in Force at Capital Cities of Neda III and V; RKN Directive to "Restore Order by Any Means Necessary"
Lina Ambre [11/3/2020 12:00:00 AM]
The Scope - War in Delve and Formation of Pochven
The Scope reports on the war raging in Delve and the situation in the Empires and Pochven after the formation of the Triglavian territories.
IN OTHER NEWS
EDENCOM STELLAR SCIENCE JOINT TASK GROUP REPORTS ON MAPPING OF SPACE TIME TOPOLOGY CHANGES SINCE POCHVEN FORMATION
RED ALLIANCE AND STAIN ENTITIES IN JOINT OPERATIONS ATTACK INSTALLATIONS IN 0-O6XF IN ESOTERIA ALONGSIDE THE BASTION
FEDERATION SENATE SUMMONS FEDERATION NAVY EDENCOM LIAISONS TO HEARING ON STATUS OF OCCUPIED GALLENTE SYSTEMS
BLOOD RAIDER CULTIST BASES ON ORBITAL BODIES ACROSS NEW EDEN UNDER ASSAULT BY SHINING FLAME MERCENARIES
CALDARI STATE AUTHORITIES CONTINUE CRACKDOWNS ON SO-CALLED CRIMINAL SUBVERSIVE ELEMENTS IN CORPORATE TERRITORIES
PAPI FORCES ASSAULTING MULTIPLE CONSTELLATIONS WITHIN THE DELVE REGION
DISMAY IN MINMATAR REPUBLIC AS BIZARRE FOOTAGE OF TRIGLAVIAN ACTIVITIES ON SKARKON II BROADCAST ON GALNET
IMPERIUM FORCES TAKE OPPORTUNITY TO STRIKE BACK AT TEST ALLIANCE SPACE WHILE WAR IN DELVE RAGES
AIDONIS MEDICAL DENIES LAI DAI CLAIMS THAT GURISTAS USED RELIEF OPERATIONS IN URHINICHI AS FRONT FOR AID FRAUD
HOUSE SARUM FLEET SUPPORTING SHINING FLAME LANDINGS IN BLEAK LANDS AND DEVOID REGIONS
IMPERIUM COUNTER-OFFENSIVE TAKES SEVERAL SYSTEMS IN THE REGION OF ESOTERIA
100TH WORLDS MIND CLASH CHAMPION KIYRIA 'SABLE REDCLAW' OKAADA GIVEN RECEPTION AT OSMON FAMILY TERRACES ON SUROKEN VII MOON 1
BLOOD RAIDER FORCES STRIKING BACK AGAINST SHINING FLAME AND OFFERING ISK FOR WARCLONE BLANKS
REPORTS OF PERUN CLADE ADAPTING AND DRAFTING CIVILIAN POPULATION INTO MILITARY UNITS IN KOMO SYSTEM
AMMATAR MANDATE FORCES CONCENTRATE ON DEFENCE OF CORE SYSTEMS IN DERELIK AS BLOOD RAIDER ASSAULT ON TANOO II REPULSED
ACCIDENT IN MO-GZ5 SHIPYARDS AND LABORATORIES RESULTS IN INDUSTRIAL DISASTER, AUTHORITIES STILL CLEANING UP AND ATTEMPTING TO DOCUMENT LOSSES
EDENCOM COMMAND REFUSES TO CONFIRM VELES CLADE INVOLVEMENT FOLLOWING AEGIS COMMANDO RAID ON CAT III MOON 2 SCIENCE BASE
MARKET SPECULATION ON WARCLONE BLANKS DRIVES PRICES BEYOND STANDARD RATES ON MILITARY SUPPLY EXCHANGES
EXPLOSION AT PAARA II EASTERN CENTRAL BELT MATERIAL TRANSIT FACILITY DISRUPTS INDUSTRIAL OUTPUT OF THREE STATIONS
SEBIESTOR TRIBE DISPUTES JURISDICTION OF SARO AGENTS AS INVESTIGATION TEAM ARRIVES IN MATAR'S MIKRAMURKA COAST
MASSIVE BLOOD RAIDER HARVEST OPERATIONS ON ESHTAH II MET WITH HEAVY RESISTANCE FROM RED AND SILVER HAND PMC TROOPS
SUSPECTED TEMPLIS DRAGONAURS CELL ELIMINATED IN FIREFIGHT WITH CORPORATE POLICE FORCE ON SUROKEN V
GENERAL KRIL EFRIT VOWS TO STAND AND FIGHT FOR LIBERATION OF SKARKON II AS RESISTANCE ARMY HITS PRO-TRIGLAVIAN MERCENARY POSITIONS
PURPOSE OF SHINING FLAME MERCENARY BASES QUESTIONED IN FEDERATION AND REPUBLIC AS EDENCOM DENIES ANY LINK WITH ANTI-CULTIST OPERATIONS
THEOLOGY COUNCIL HEARING ON CUSTODY OF CARDINAL DUKE ALAR CHAKAID TAKES EVIDENCE FROM HOUSE ARDISHAPUR AND TETRIMON ORDER
USHRA'KHAN FORCES ATTACK KHIMI HARAR FORTIZAR IN AMMATAR MANDATE SYSTEM OF TANOO
FEDERATION NAVY ORDERS FOR NEW WARSHIPS AND AUTOMATED WEAPON SYSTEMS BOOST STOCK PRICES OF RODEN SHIPYARDS AND CREODRON
SANSHA'S NATION RAIDS REPORTED IN AVIB CONSTELLATION WITH AHMAK VI PLANETARY DEFENSES HOLDING
Ret Gloriaxx [10/28/2020 5:38:00 PM]
Galactic Hour News Roundup: Crackdowns on Collaborators, Cartels, and Cults Edition
The Scope's Galactic Hour with Ret Gloriaxx brings your roundup of the latest news from around the cluster, as CONCORD and the empires respond to crime, terrorism and cults in the chaotic aftermath of the Triglavian invasions and stargate disruptions.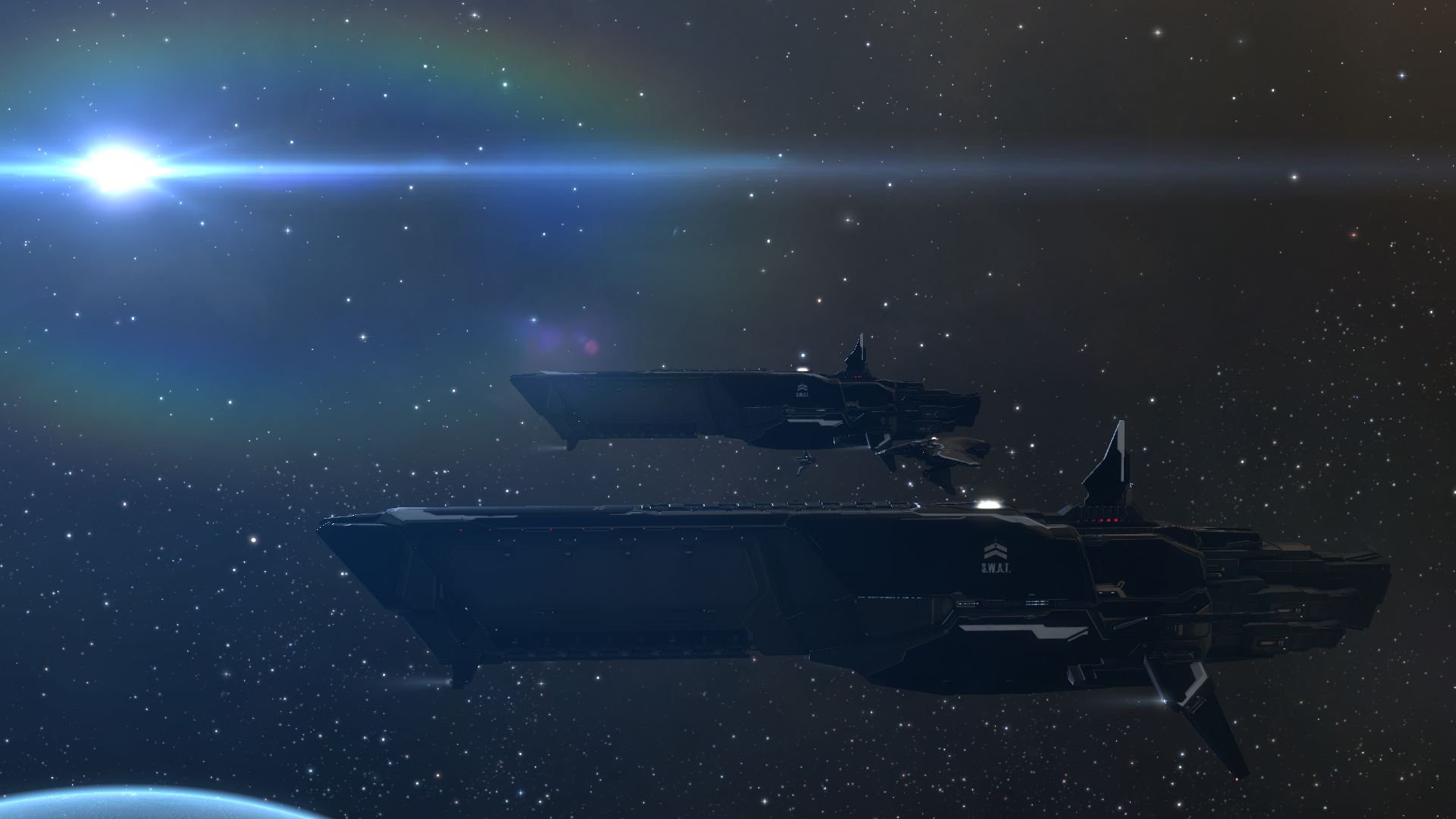 Above: SARO Marshal-class Battleships in Yulai
CONCORD's Inner Circle Authorizes SARO to Hunt Down Triglavian Agents and Supporters
Yulai, Genesis – CONCORD's elite Special Affairs for Regulations and Order (SARO) division has been authorized by the Inner Circle to hunt down Triglavian agents, supporters and infiltrators across all CONCORD member states, subject to local jurisdiction in territories not covered by the Yulai Accords and Convention.
In practice, the move is aimed at rooting out Triglavian infiltration of space industrial infrastructure and any relevant facilities on planetary bodies. The agreement of the Inner Circle's core empire delegates was critical to permitting SARO operations of such sweeping scope in territories not normally subject to CONCORD law enforcement.
Colonel Oveg Drust of SARO Command Liaison noted that, "the primary jurisdiction and role of local law enforcement agencies will naturally be respected and SARO units will generally be operating in a support role." Asked to comment on the effect on capsuleers, Colonel Drust responded, "capsuleer activity is covered by the Yulai Convention and CONCORD law enforcement is bound to respond within the limits laid out therein. Whether the Accords and Convention require updating is a matter for political direction. However, SARO is concerned that Triglavian subversion and infiltration may impede necessary work to ensure the security of New Eden."
Reform of the Yulai Accords and Conventions is notoriously slow, requiring highly technical negotiations subject to veto at several stages by Inner Circle and CONCORD Assembly delegations. Moreover, rumors of factionalism within the CONCORD administrative apparatus and the ambiguous role of the Society of Conscious Thought swirl around political and diplomatic sectors in Yulai. CONCORD's institutional inflexibility is noted by many observers as one reason the core empires demanded the formation of EDENCOM.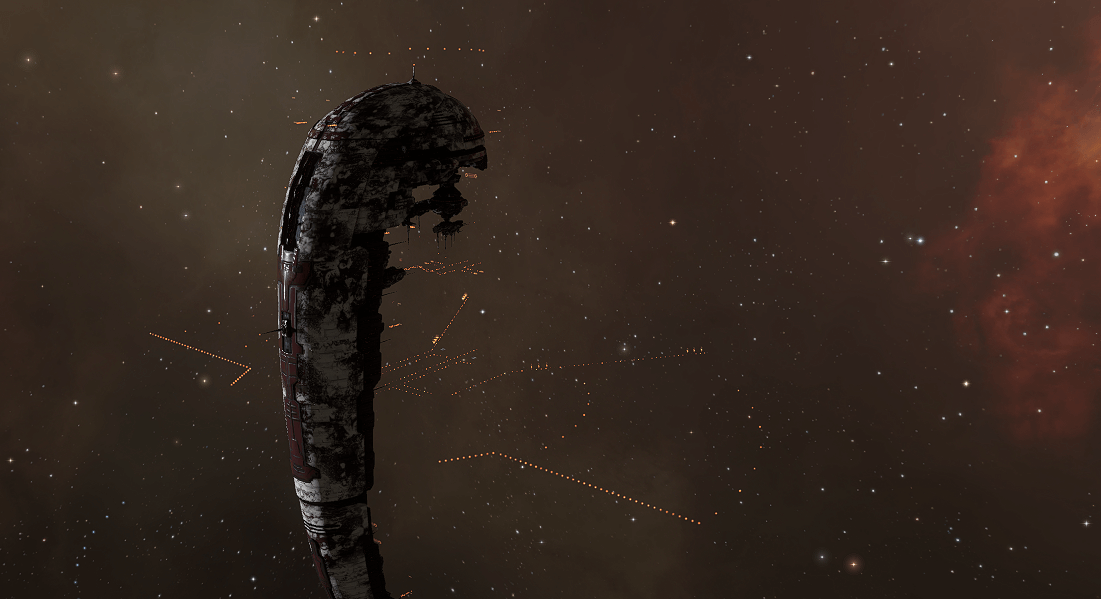 Above: Blood Raider Forward Operating Base, Derelik Region
Amarr Empire's House Sarum Increases Investment in PMCs as Blood Raider Threat Rises
Sarum Prime – House Sarum has formally lodged records of its increased investments in private mercenary companies with the Amarr Trade Registry and Imperial Chancellor's Office. Additionally, major investments in rearmament and recruitment programs have been filed, indicating that House Sarum intends to take a prominent role in the rebuilding of the Amarr Empire's military capabilities following the gruelling war with the Triglavian invaders.
The increased used of PMCs by House Sarum is believed to be a measure bridging the gap in forces available to it to meet its commitments in the Sarum Military Circuit of the Amarr Empire. Increased Blood Raider activity throughout the fringes of the Amarr Empire has been reported, with the extensive holdings of House Sarum in Devoid and the Bleak Lands exposed to this threat. The chaos of the Triglavian invasion is considered by the Ministry of Internal Order to have "enabled the insidious Sarikusan sects to infiltrate isolated colonies and convert them to the vile Blood cult heresy."
House Sarum has responded by carrying out raids on Blood Raider installations but is rumored to be preparing a major offensive on cultist bases and purge operations in colonial settlements. The Shining Flame company, a major Amarr PMC associated with House Sarum, is reported to be among the beneficiaries of the buildup spearheaded by the Sarum military. The ruthless reputation of the Shining Flame has caused disquiet in the frontier settlements of the Empire. The uncertain situation has also led to an increase in the alert status of the Minmatar Republic Fleet's patrols along the border with the Amarr Empire and Ammatar Mandate.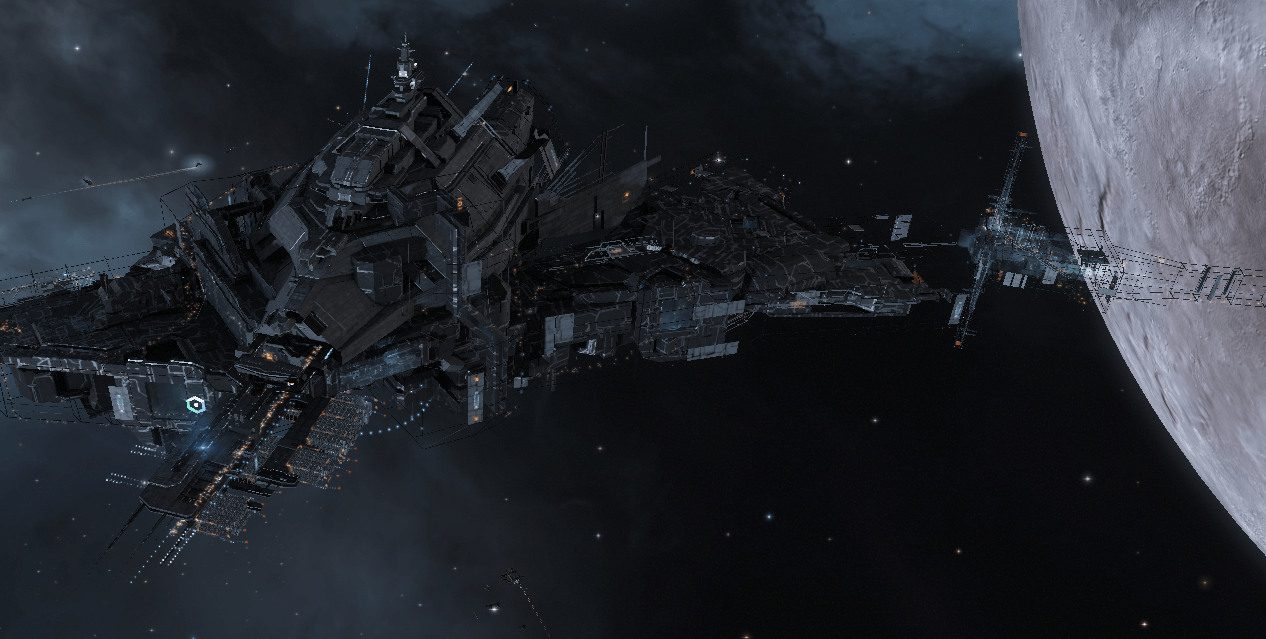 Above: Jita 4-4 Expansion Project Remains On Track Despite Invasion, say PKN
Caldari State Security Forces Raid Activists Amidst Claims of Criminal Activity
New Caldari Prime – Corporate security forces have carried out raids on alleged "criminal anti-corporate subversives" in several megacorporation territories across the Caldari State. The largest raids were carried out on New Caldari Prime, particularly in the satellite corporate districts around Landfall City. The Chief Executive Panel has issued orders to the Caldari Navy and State Peacekeepers to "co-operate fully with all corporate security operations against criminals and terrorists."
Units of Lai Dai Protection Service, NOH's Internal Security, and Sukuuvestaa's Peace and Order Unit have been particularly prominent in carrying out sweeping operations in their corporate districts, and outlying towns and cities controlled by their parent megacorps. All megacorporate security forces have to some extent been involved in a clearly co-ordinated sequence of operations that the CEP has declared "necessary to secure the good order of the Caldari State and the future prosperity of all citizens in our corporate way of life." Security operations have extended to vital space infrastructure, including the Caldari Navy's Jita 4-4 station and its ongoing expansion works, said by PKN Interstellar to be back on track following the invasions.
Despite the relatively light touch shown by megacorps such as Hyasyoda, Kaalakiota and Wiyrkomi on New Caldari Prime, security operations on worlds beyond the core have been reported by numerous witnesses to be "brutal and indiscriminate". An official of Ishukone Watch, speaking on condition of anonymity, has told a Scope News correspondent of her "shock and horror" at seeing reports of Intara Direct Action forces being used as contractors in CBD-controlled corporate territories. The Scope requested comment from CBD and Spacelane Patrol but no response has been received.
The security operations come soon after an alleged increase in violence by protestors against the State's conduct of the Triglavian war. Spacelance Patrol has gone so far as to link last week's assassination of Kurt Tansaaki to the protest movement. Tansaaki was the former Executive Governor of a Deep Core Mining Inc. colony on Kaunokka III, evacuated with the DCMI executive staff before the fall of Kaunokka system to the Triglavian Collective.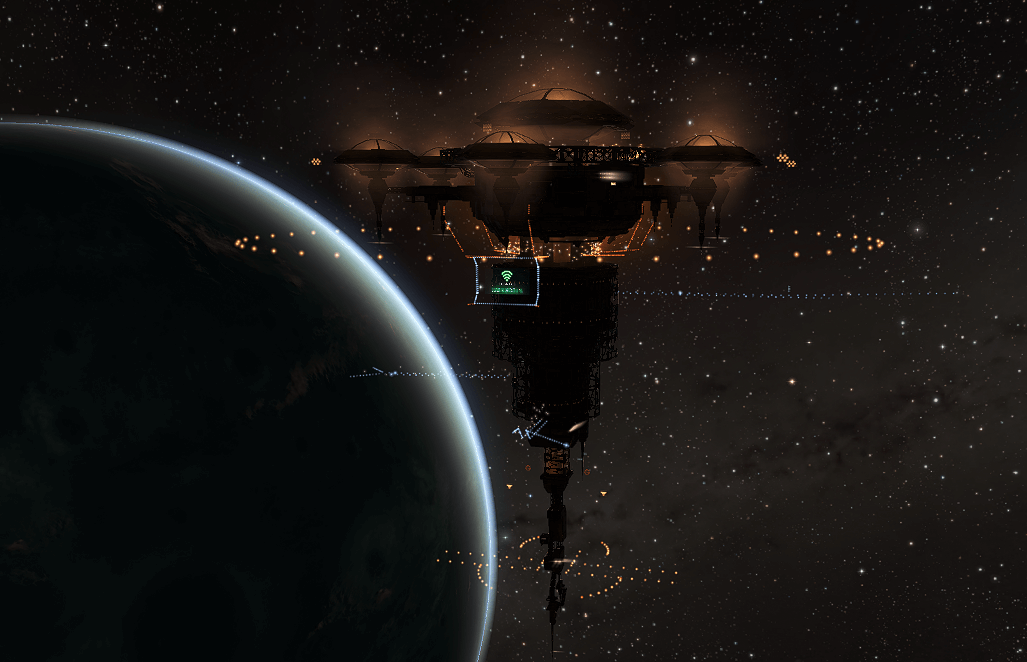 Above: Angel Cartel Trading Post, Curse Region
Angel Cartel Operations in Gallente and Minmatar Space on the Rise Claim FIO and RSS
Aufay, Sinq Laison – Angel Cartel activity in Gallente Federation and Minmatar Republic space is on the rise, according to a joint statement issued by the Federal Intelligence Office and Republic Security Services following a security co-operation summit in Aufay system. Angel Cartel infiltration of industrial and financial operations is a particular source of concern to the two security services, with an increase in smuggling also noted.
The RSS has also noted an increase in people-trafficking carried out by the Cartel, and use of slave labor by industrial operations in fringe systems. Angel involvement in manufacturing and smuggling of all manner of illegal and counterfeit goods has been of great concern to the Minmatar authorities, with the Gallente Federation noted as a major destination for such products.
The FIO and RSS have committed to further co-operation in the fight against the Angel Cartel and its affiliates. In addition, the use by the Cartel of outlaw mercenary units and renegade warclones will be met by the development of dedicated FIO and RSS units modelled on SARO's 'Red Troop' counter-warclone unit.
In Other News
Communications Established with Caldari Resistance on Komo VI; Civilian Population Centers Under Strict Perun Clade Control
Svarog Clade Strikes on Skarkon Tribal Resistance Army Positions Reported as "Narrowly Missing" General Kril Efrit
Emergence of New Unstable Wormholes Connecting to Triglavian Occupied Systems Being Monitored by EDENCOM
Gallente Senate Protests EDENCOM Imposition of Information Quarantine in Vale After Loss of Federation Controlled Gates and Routers
Order of St. Tetrimon Custody of Cardinal Duke Alar Chakaid Challenged in Theology Council Court by Duchy of Fabai
Kiyria "Redclaw Sable" Okaada Takes Mind Clash 100th Worlds Championships Crown in Shock Win Over Parvir "Flame Dancer" an-Zoar
Guristas Pirates Deny Orchestrating the Embezzlement of Corporate Resources During Invasion: "Not Our Kind of Business"
Serpentis Corporation and Intaki Space Police Agree Extension of Co-operation Arrangements on Movement of War Refugees
Ret Gloriaxx [10/22/2020 4:08:00 PM]
Galactic Hour News Roundup: Triglavian Totality Edition
The Scope's Galactic Hour with Ret Gloriaxx brings your roundup of the latest news from around the cluster, in a momentous week that has seen massive disruptions to the stargate network as the Triglavian Collective's stellar manipulations altered the map of New Eden.
CONCORD Empires Agree Continued Support for EDENCOM via New Eden Defense Fund
Yulai, Genesis – Core empire delegates agreed continued funding and material support for EDENCOM at yesterday's CONCORD Inner Circle meeting in Yulai. The agreement stipulates ongoing funding from the New Eden Defense Fund and secondment of military units to EDENCOM command, as was the case throughout the Triglavian invasions. The agreement also provides for cross-empire co-operation, permitting EDENCOM fleets drawn from multiple member states to operate in joint taskforces.
While observers of interstellar diplomacy expected the resourcing of EDENCOM by CONCORD and the empires to continue, Provost Marshal Kasiha Valkanir made a clear case for the importance of maintaining the New Eden Common Defense Initiative as a standing force. Marshal Valkanir asserted that it would be vital for EDENCOM to be capable both of responding to further Triglavian aggression and strike into the occupied systems making up the new Triglavian region of "Pochven".
CONCORD sources have told the Scope that empire delegates expressed broad support for EDENCOM based on the successful defense of nearly 150 systems, and the total fortification of over 50 systems subjected to heavy invasion efforts by the Triglavian Collective. While the Caldari State's territories took the brunt of losses, it is known that leaders and authorities within all empires privately believe that the outcome across New Eden could have been much worse.
Projections by military experts on the Scope's staff suggest that without the united command of EDENCOM, and particularly the formidable support of loyal capsuleers, the number of lost systems could have totalled as many as 81. Science specialists assigned to determining the strategic goals of the Collective suggest the invasions were aimed at gaining control of at least 21 systems, to include a specific set of star types, with the goal of initiating simultaneous stellar events within a particular timeframe.
Other analysts suggest the resources of the Triglavian Collective were brought below a presumed strategic reserve level when they launched the final offensive that brought their conquests to 27 systems. This school of thought notes the pause in invasion operations between the fall of Krirald and the stargate disruption event, and also points out that the wave of attacks fell short of doubling the A0 star systems under Triglavian control.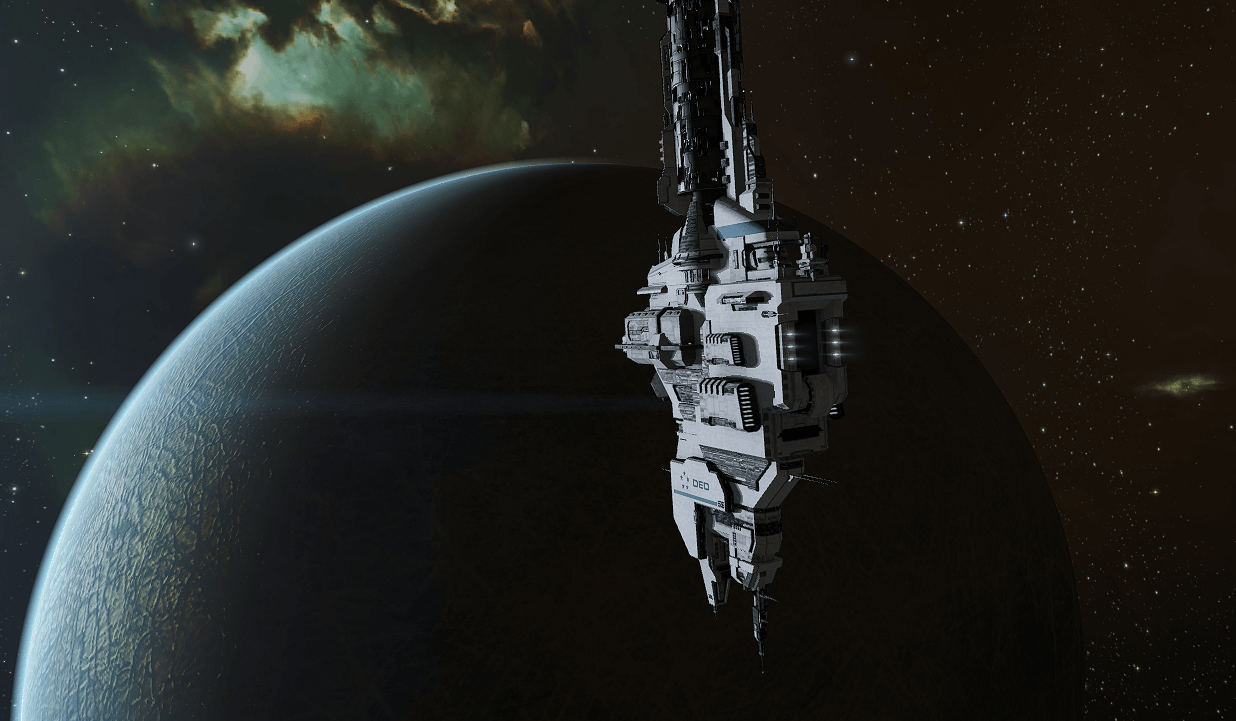 Above: CONCORD Bureau, Yulai IX (Kjarval)
Inner Circle Agrees New Distribution and Security Measures After SCC and DED Analysis of Bounty Funding Efficiency
Yulai, Genesis – In additional business at yesterday's Inner Circle meeting, the executive body of CONCORD agreed to proceed with new funding distribution and security measures aimed at improving the targeting and efficiency of the longstanding bounty programs of the DED and empires.
In particular, the SCC and DED presented an analysis of bounty funds disbursements compared with renegade, pirate and other criminal activities in the outer regions, showing systemic failures in the current joint DED and empire programs involving contracting of security surveillance to independent capsuleers. The Caldari State had requested the analysis following intelligence from both Ishukone Watch and Lai Dai Protection Services indicating separate Guristas Pirates and Angel Cartel efforts to subvert monitoring and disbursement protocols.
The Inner Circle has ordered that the SCC urgently institute new security and monitoring for freelancer reward funding, and take full responsibility for bounty programs in nullsec. DED surveillance and intervention operations will continue, with the division's nullsec focus being on intelligence work, tracking and anticipating criminal and terrorist activity in the outer regions.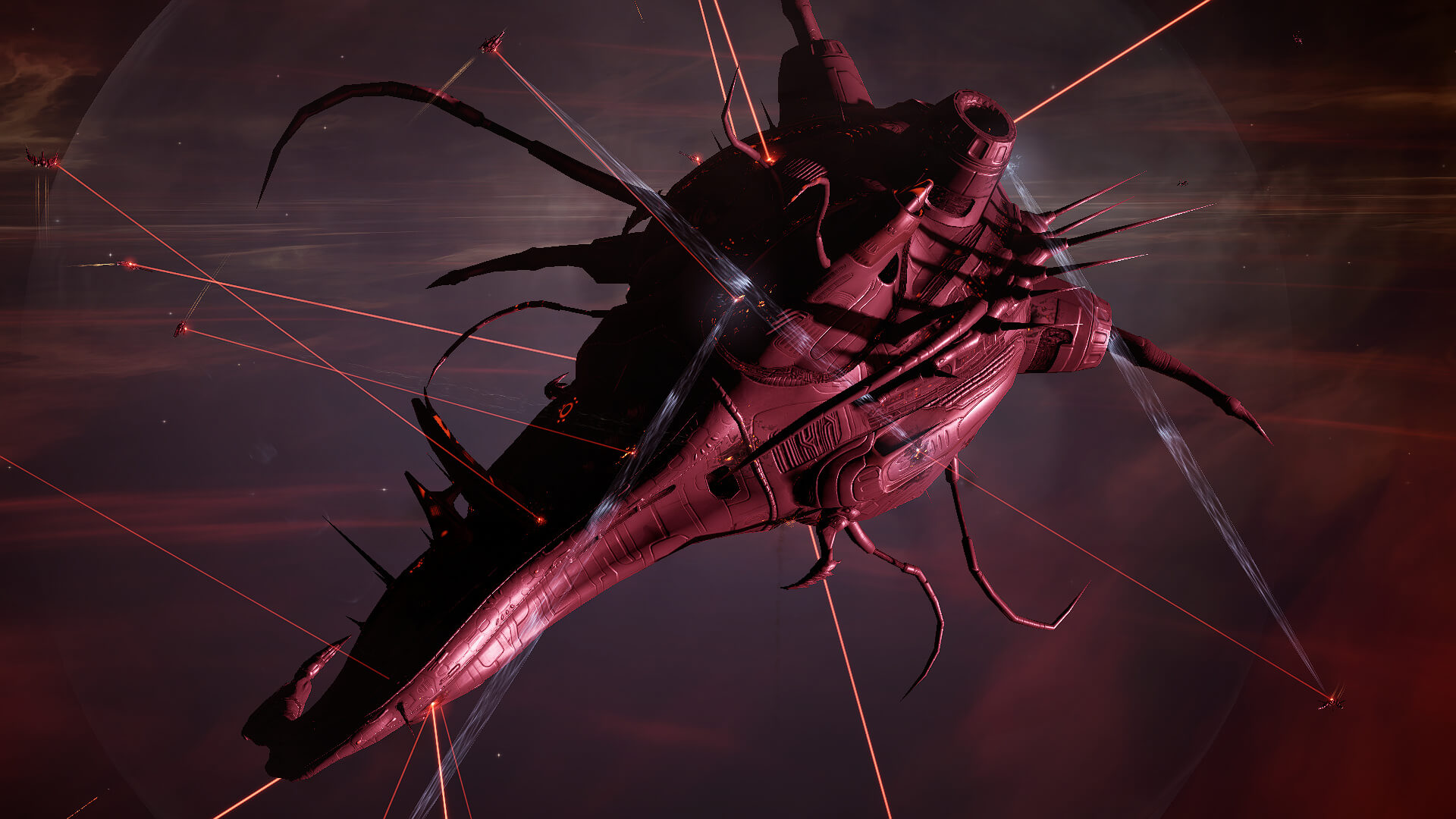 Above: Rogue Drone "Progenitor" under attack by Triglavian vessels in Pochven (credit: Aria Jenneth)
Drifters and Rogue Drones Sighted Fighting Triglavian Forces in "Pochven" Region
Pochven – EDENCOM forces and loyal capsuleers have reported numerous sightings of Drifter and Rogue Drone forces in conflict with the occupying Triglavian forces in the "Pochven" region formed by Triglavian stellar manipulations. EDENCOM is continuing to deploy expeditions to assess the status of the occupied star systems and evaluate the possibility of continued resistance support and civilian evacuations.
While it was anticipated that EDENCOM operations in Pochven would meet resistance by Triglavian Collective forces, the effort has also been hindered by the presence of numerous Drifter strike forces and Rogue Drone swarms. An assessment of the ingress routes into the region is underway, with preliminary surveys indicating the altered space-time topologies of the occupied systems has caused a number of new unstable wormhole links to emerge.
EDENCOM scientists have not ruled out the possibility that Drifter and Rogue Drone manipulations, together with a large use of conduit and filament technology by Triglavians and capsuleers is radically altering the underlying topology of the linked systems of Pochven. The nature of the changes to the occupied systems and the space-time topology of New Eden in general is not yet established, and many scientists believe that the period of such changes is not yet over.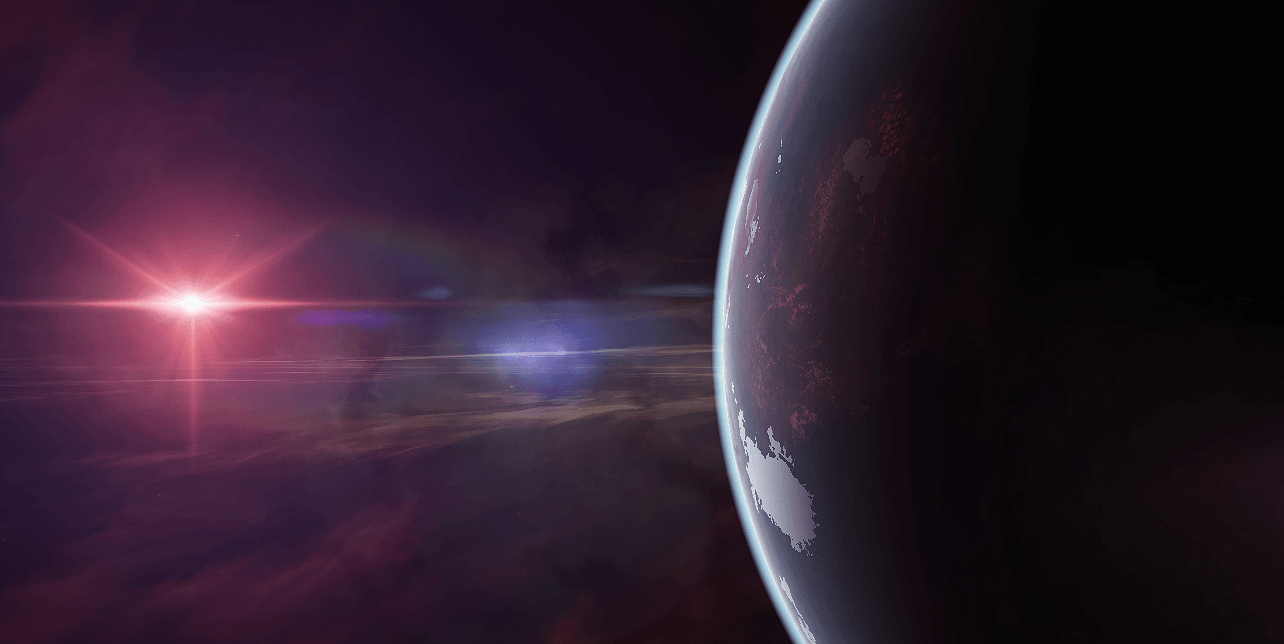 Above: An altered Sakenta III in transmuted glare of the system's primary
Caldari Resistance in Sakenta III Renews Contact with Caldari Navy Scouting Forces
Sakenta, Krai Perun – Fresh reports from Sakenta system indicate the resistance forces on Sakenta III are still operating despite a lengthy period of occupation by the Triglavian Collective. Among the numerous occupied Caldari State systems in Triglavian space, Sakenta was an early conquest by the Triglavians, falling in mid June to the invaders. Caldari Navy Marine Scouts were reportedly able to link up with the Sakenta III resistance network some days ago and operations to impede the Triglavian Perun Clade's hold on the planet apparently continue.
Before the collapse of gate connections and formation of Pochven, the most recent reports from Sakenta suggested the resistance on both Sakenta III and V had collapsed or been eradicated. The overall situation remains unclear and there has been little contact with Sakenta V, which the Triglavians have apparently favored as a primary planetary base of operations in the system. Triglavian efforts at bioadapting the population of Sakenta are reportedly being accelerated as their widescale planetary "nanoforming" efforts have begun to alter the atmospheric, hydrological and geological parameters of planets under their control.
In the Caldari State and corporate authorities continue to call for calm amidst continuing protests over the conduct of the Caldari system defense during the invasions. Protests had diminished during the stargate disruption crisis, with megacorporate handling of the immediate emergency broadly perceived as competent and necessary to support by most citizens. Popular ire has however returned its focus to the fate of the occupied systems and pressure on the CEP and "Big 8" megacorps continues to be at its highest since the "Provist Revolution" of YC110.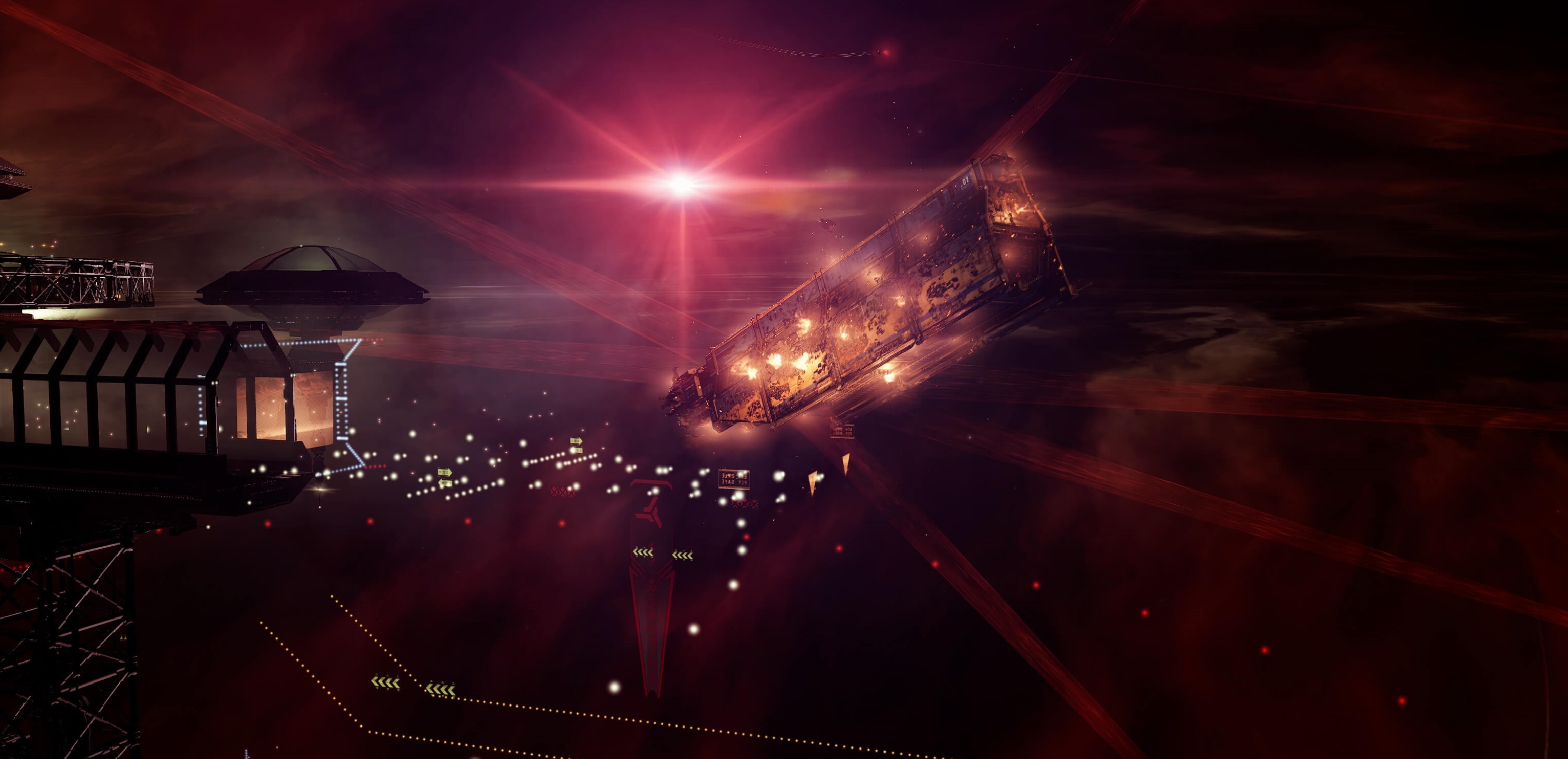 Above: Evacuation flight from Skarkon under attack by Triglavian forces
Chaos and Conflict on Skarkon Continues as Propaganda and Facts Blur Together
Skarkon, Krai Svarog – The Minmatar system of Skarkon continues to be a source of disturbing and confused reports as occupation by the Triglavian Svarog Clade has thrown a system already plagued by conflict into total chaos. Reports from the periods immediately preceding and following the stargate collapse event suggested that the Triglavian Svarog and Veles Clades were engaged in a territorial conflict over Skarkon, with the Svarog evidently establishing a stronger claim ultimately.
With the evacuation of the relatively low-population Krirald system considered successful overall, the primary focus of Republic authorities has been on the plight of the millions that remain in Skarkon, particularly on the heavily-industrialized and high-population second planet. Nevertheless, the Tribal Council has reaffirmed that both Krirald and Skarkon are "sovereign possessions of the Seven Tribes of Matar" and has ordered operations aimed at restoring them to Minmatar control to continue in both systems.
Claims the Republic's system government and military have abandoned Skarkon have been described by Sanmatar Maleatu Shakor as "baseless slander and lies by traitors to humanity who have aligned themselves with the brutal Triglavian invaders." Khumatar and System Governor Kril Efrit, who has remained in Skarkon, has been commissioned as a Valklear General commanding the official Skarkon Tribal Resistance Army by order of the Tribal Council.
Updated accounts of the final evacuation flights from Skarkon II and the former Republic Parliament station have told of Triglavian invasion units cutting off access to spaceports and docking bays during their final assaults on system infrastructure. It is claimed that Svarog units are particularly brutal and indiscriminate when attacking. The final flights to escape intact from the Parliament station have reported Svarog Clade carried out boarding assaults with heavy infantry equipped with powered armor, personal shields and kinetic weapons. A number of evacuation ships were trapped or heavily damaged, apparently leading to several being destroyed in space before they could escape.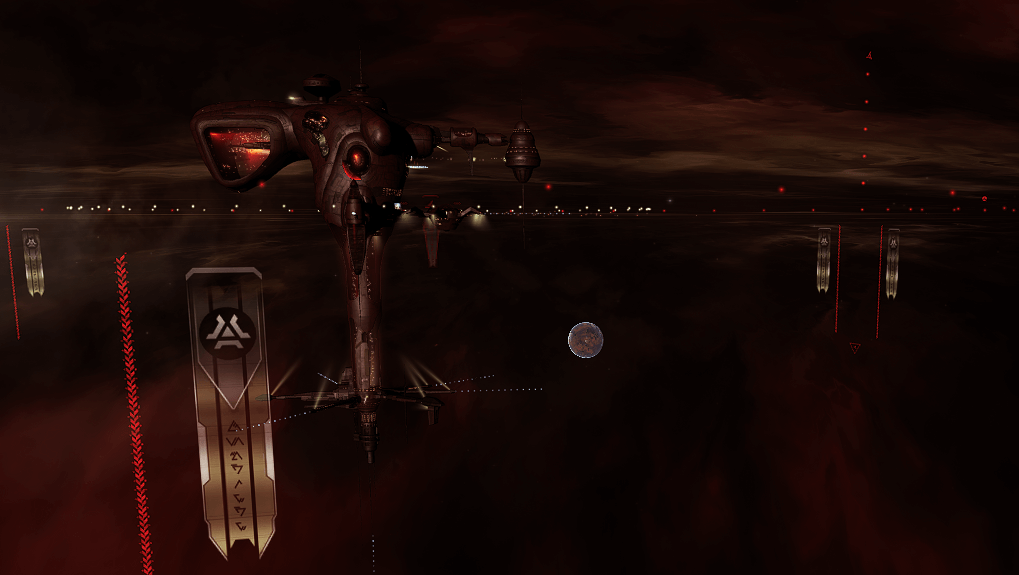 Above: Veles Clade occupied station (Vale II in far background)
Federation Senate Calls on Administration to Urgently Investigate Possible Evacuation of Occupied Gallente Systems
Vale, Krai Veles – The Federation Senate has passed an advisory motion urging the administration of President Celes Aguard to investigate further possible means of evacuating Gallente systems under Triglavian control in Pochven. The move follows resumption of contact with the heavily-populated worlds of occupied Vale, confirming that many billions remain alive in the system.
While the Federation lost relatively few systems, the conquest of highly-developed Vale and its numerous populated planets was a devastating blow to the Gallente government and citizenry. Although there are also deep concerns over the fate of remaining civilians on Gallente worlds such as Ignebaener V and Angymonne IV, the tragic loss of Vale has dominated the social and political response to the Triglavian invasions in the Federation.
In particular, reports of widespread Triglavian alterations to the biospheres of the Vale planets have shocked Federation citizens and driven political calls for action. Against this background, claims of Veles Clade beneficence in Vale have been made by so-called "Kybernaut" capsuleers and the Internal Triglavian Revolutionary Organization, also styling itself as "Intriguerre". Such claims have been universally dismissed by Federation politicians as propaganda aimed at excusing naked aggression, mass murder and atrocity warfare.
Despite this political response, reports that much of the population on Vale is co-operating with the occupation forces continue to trickle through the "information quarantine" established by EDENCOM. Persistent reports credit Veles Clade with making available protective bioadaptation alongside the extensive planetary "nanoforming" that appears to involve massive deployments of Triglavian "mutaplasmid" technology. President Celes Aguard herself was moved to comment that [alleged Veles Clade concern for the population of Vale] "strikes me as rather akin to the tender mercies the Garouni Spitting Spider lavishes on the prey it keeps in its silken larder".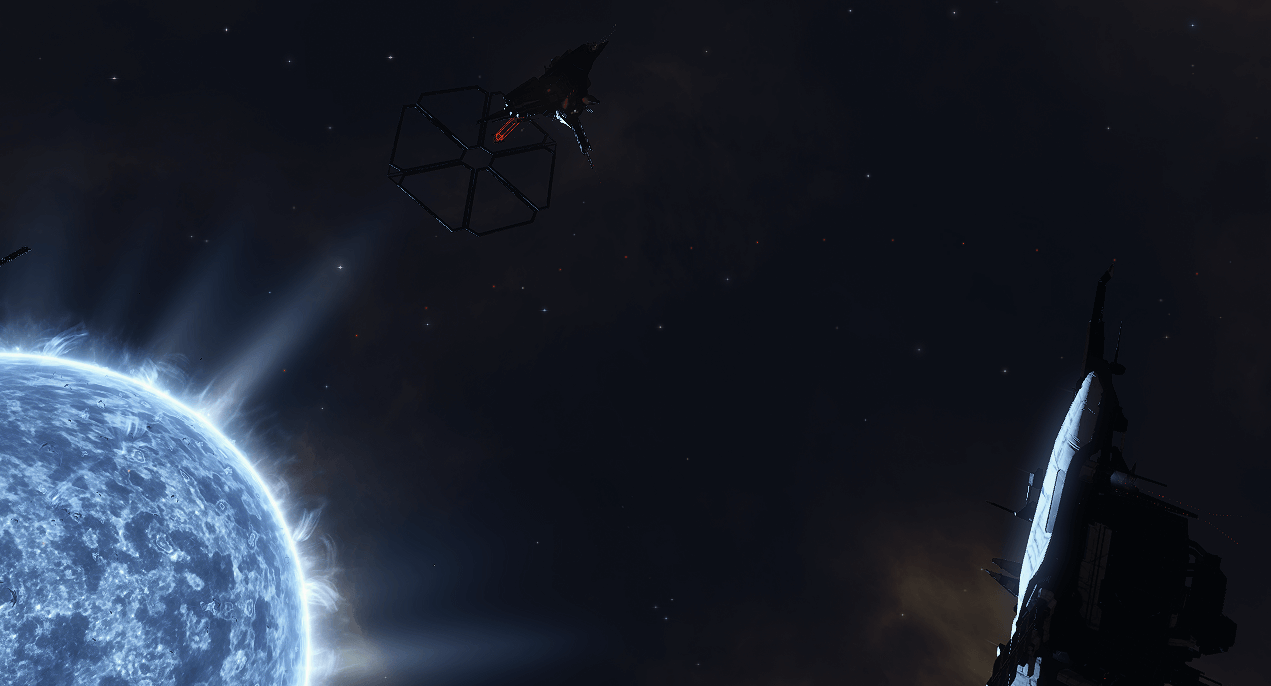 Above: Triglavian Stellar Transmuter in shutdown state, orbit of Arshat primary star
Amarr Empire Focuses on Territorial Integrity and Analysis of Triglavan Stellar Manipulation
Arshat, Domain – Emerging from the Triglavian invasions with relatively lights losses in terms of systems occupied and populations trapped or displaced, the Amarr Empire has adopted a strong focus on ensuring the security of the greater Amarr Empire, Khanid Kingdom and Ammatar Mandate in the aftermath. Despite some early dismay among the Holder classes at losses such as Raravoss, Harva and Niarja, criticism of the conduct of the war from Amarr elites became muted as Amarr forces established effective defensive doctrines and the strategic position stabilized.
While the severing of the Niarja-Kaaputenen corridor remains a matter of deep concern, Imperial authorities have established further secured jump links to the Caldari State in conjunction with the Empire's closest ally. Essential military and industrial traffic is flowing between Empire and State at "acceptable levels" according to the Amarr Trade Registry. Exploratory planning for establishing a new primary civilian stargate link is said to have begun but there has been no public commitment from the Amarr Empire or Caldari State as yet.
One notable item of progress within Amarr territory, widely hailed by the Amarr Certified News service, has been the successful shutdown of the Triglavian stellar transmuter captured by EDENCOM forces following the victory in Arshat system. Despite the scientific and technical effort being led by a cross-empire science group, and with questions raised over the exact circumstances of the shutdown, Amarr authorities clearly consider it an important element of a propaganda effort aimed at projecting stability throughout the Empire.
In Other News
High-Ranking EDENCOM Cultural Intelligence Operatives Missing in Triglavian Territory, DED Sources Claim
PKN Interstellar Accuses Guristas of "Taking Advantage of Invasions to Defraud and Embezzle State Corporations"
Amarr Empire Reportedly Accelerating Rearmament Programs Across Territories; Imperial Authorities Refuse to Comment
Caille Rogue Drone Cultural Exchange Society Offices Bombed Again; No Deaths and No Suspects, say Caille Gendarmes
House Sarum Military Circuit Refuses to Confirm or Deny Rumors of Massive Buildup of Planetary Assault Forces
Jita 4-4 Expansion Project Back on Track Following Delays Caused by Wartime Appropriations, reports PKN Interstellar
Increasing Blood Raider Activity on "Fringes" of Amarr Empire a "Matter of Heightened Concern" to Ammatar Fleet
Republic Denies Position of Floseswin IV Untenable; Fleet and Territorial Guards Point to Enhanced Planetary Fortifications
Former Executive Governor of DCMI Dynacity 4 on Kaunokka III Assassinated on New Caldari Prime; Spacelane Patrol Investigating
Lina Ambre [10/13/2020 10:59:00 AM]
BREAKING - Further Stargate Shutdowns Ordered Across New Eden as Spacetime Instabilities Increase
Yulai, Genesis – More stargate shutdowns have been taking place across regions surrounding the systems occupied by the Triglavian Collective under the SCC Stargate Security Directorate's emergency protocol. Regions affected so far are Domain, Molden Heath, Everyshore and several are either shut down by now or in the process of being shut down.
EDENCOM has confirmed that AEGIS commandos are present on stargates connecting to the occupied systems in an attempt to carry out the "ultimate contingency", believed to be a plan to destroy the stargates. However, the scale of spacetime instabilities has reportedly taken AEGIS by surprise. Difficulty in even boarding the stargates due to the extreme nature of the gravitational distortions now taking place has been encountered by at least one team according to the Scope's Ret Gloriaxx, reporting from Ennur in Molden Heath.
Local control authorities and maintenance crews are also said to be out of contact with the outside world, hampering AEGIS efforts to secure core stargate systems and carry out what is assumed to be an effort to trigger massive fusion reactor overloads to destroy the stargate infrastructure itself. Time is evidently running out as potential catastrophe looms.
In Other News
Final Evacuation Flight from Skarkon Destroyed by Triglavian Werpost Batteries; Casualties Unknown
Further Reports from Skarkon Parliament Station Indicate Triglavian Ships Docking and Troops Boarding in Force.
Amarr Navy Squadron Destroyed in Raravoss After Crossing from Zaimeth in Response to Triglavian Buildup
Communications from Vale Chemal Tech and Material Acquisition Stations Report Triglavian Incursions
Skeleton Crews at Sakenta State War Academy Broadcast Final Message: Triglavian Boarders Flooding Station
Lina Ambre [10/13/2020 9:52:00 AM]
Massive Stargate Disruptions Across New Eden as Authorities Struggle with Spacetime Instability
Yulai, Genesis – Massive stargates disruptions across New Eden have been attributed by CONCORD and local authorities to their efforts to halt the collapse of the entire stargate network due to "extreme spacetime instabilities" afflicting star systems across the cluster. The shutdowns of regional gate networks reached deep into the core of New Eden's high-security space, with the Forge region experiencing a total shutdown and reboot late in the evening.
Spacetime instabilities affecting stargates proximate to locations of so-called "metaliminal storms" were detected late yesterday morning, according to sources at the Secure Commerce Commission. Stargate maintenance crews across New Eden have been reporting dangerous shifts in the spacetime resonance patterns between pairs of gates as the frequency of power fluctuations caused by cluster-wide spatiotemporal anomalies has increased.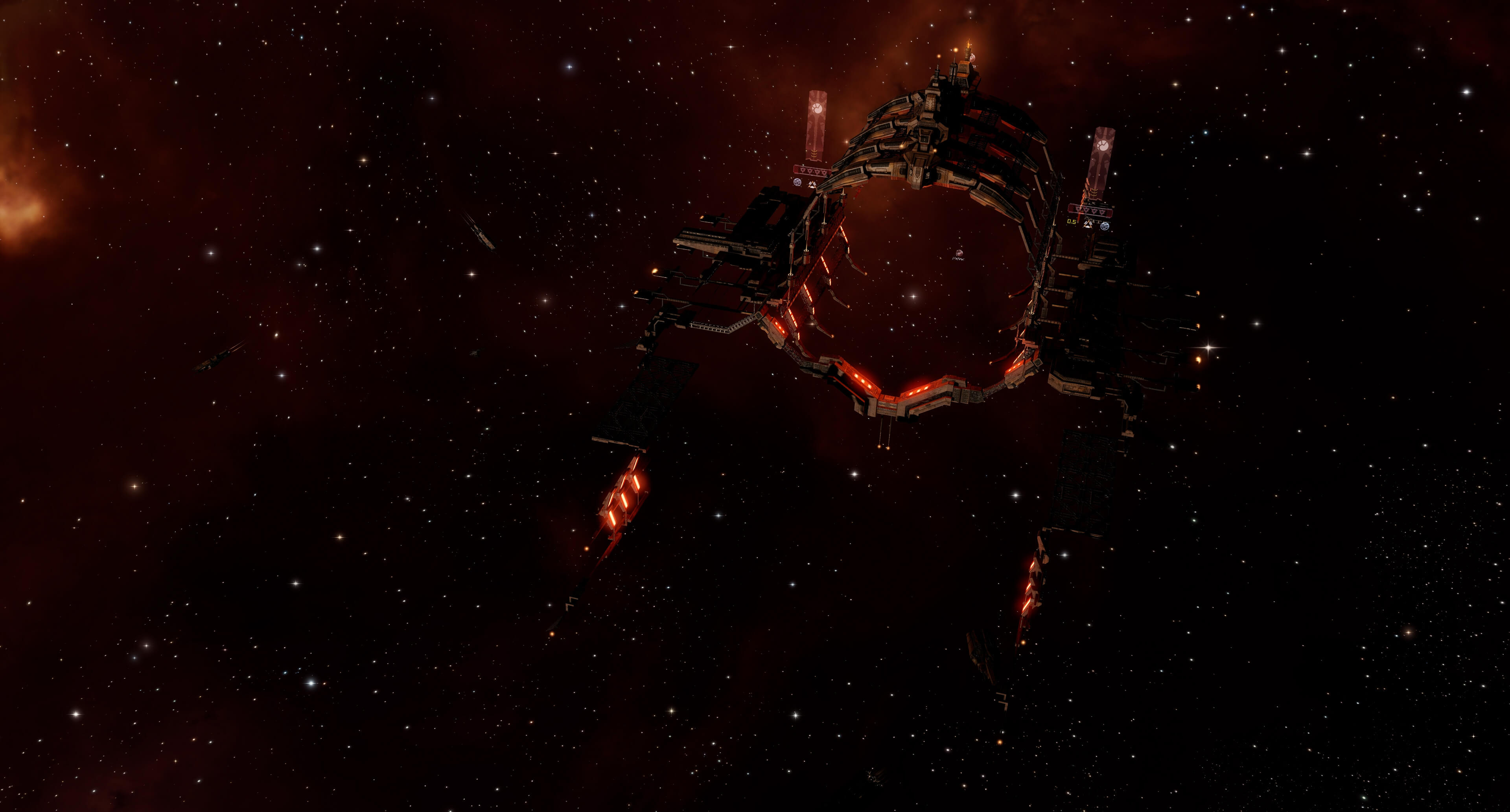 Above: Minmatar Republic stargate shut down under SCC protocol
The local impact of metaliminal storms raised fears of cascading failure across the gate networks of the affected regions, leading crews to co-ordinate regional shutdown and restart protocols in an effort to correct the resonance pattern deviations. Some success in temporarily correcting for the anomalies was seen but the constant increase in the frequency of the power output fluctuation of the artificial wormhole pairings of the network continued to cause grave concerns.
An emergency session of the SCC's Stargate Security Directorate determined that all stargates in a region should be shutdown according to the protocols enacted by crews in Pure Blind, Tenerifis and Venal regions. Further regions impacted by metaliminal storms experienced resonance deviations and stargate shutdowns were Catch, Tribute, Providence, Fountain and Vale of the Silent.
Hopes that the problems would be limited to the outer regions affected by storms were dashed when crews in Aridia, Fountain, and Geminate activated the shutdown protocols as instability readings increased on several gates in those regions. The Khanid and Kor-Azor regions of the Amarr Empire also began the reboot procedure, swiftly followed by many regions in the outer perimeter of the cluster.
Ultimately, shutdowns were determined to be necessary across many regions of New Eden, including Heimatar, Placid and the Forge. The SCC's Stargate Security Directorate has deployed teams to key stargates across New Eden and continues to co-ordinate the response with the stargate control authorities of the core empires and CONCORD member states.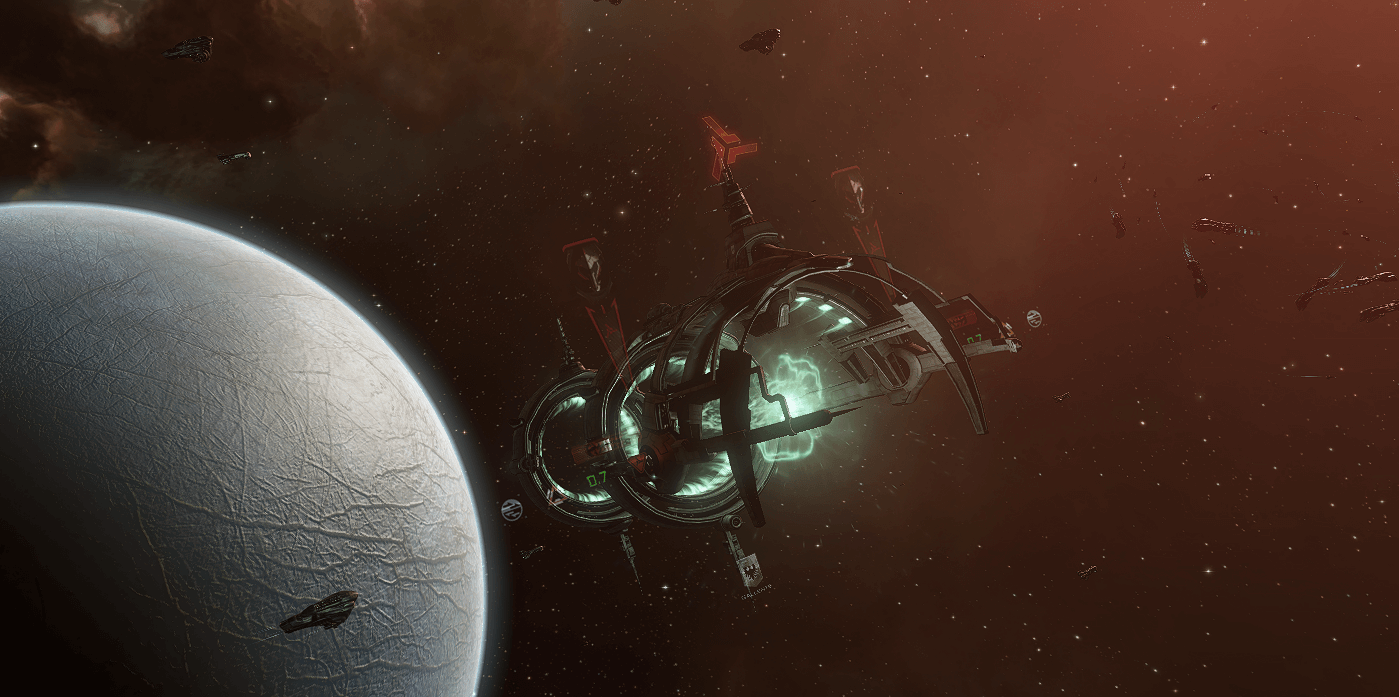 Above: Federal Navy fleet monitors Cat system stargate to Vale system
Empire Fleets Mobilize to Secure Gates Surrounding Occupied Systems
In response to an escalating situation, with fears of a new Triglavian offensive sweeping through the population of New Eden, the core empires have deployed fleets to secure the gates leading to the 27 systems occupied by the Triglavian Collective.
As the stargate disruption crisis unfolded, the Amarr Empire was the first to mobilize, rushing fleets to secure stargates leading into occupied systems in the Domain region. The Caldari State, Gallente Federation and Minmatar Republic soon followed suit, with stargate security fleets deployed to key systems in the Citadel, Essence and Metropolis.
Deployments to territories bordering the occupied systems in Black Rise, Derelik, Lonetrek, Molden Heath, Everyshore, Sing Laison, and the Citadel were also rushed from fleet reserves of all the empires. The alarm sweeping New Eden at the disruption of the gates has been heightened by fears this is a prelude to a renewed offensive by the Triglavian Collective.
Additionally, EDENCOM Command has reportedly ordered AEGIS commando teams to the stargates bordering the occupied systems amidst swirling rumors that there is a plan to physically destroy the stargates leading to Triglavian-held territories.
According to the Scope's sources, EDENCOM's Joint Scientific Taskforce fears that shutting down the stargates will be insufficient to stop a cascading disruption centered on the occupied systems. Stargate pairings remain in a state of spacetime resonance even when stargate systems are fully powered down, with physical destruction or removal at least one stargate in a pair known to be the only sure way of totally severing such links.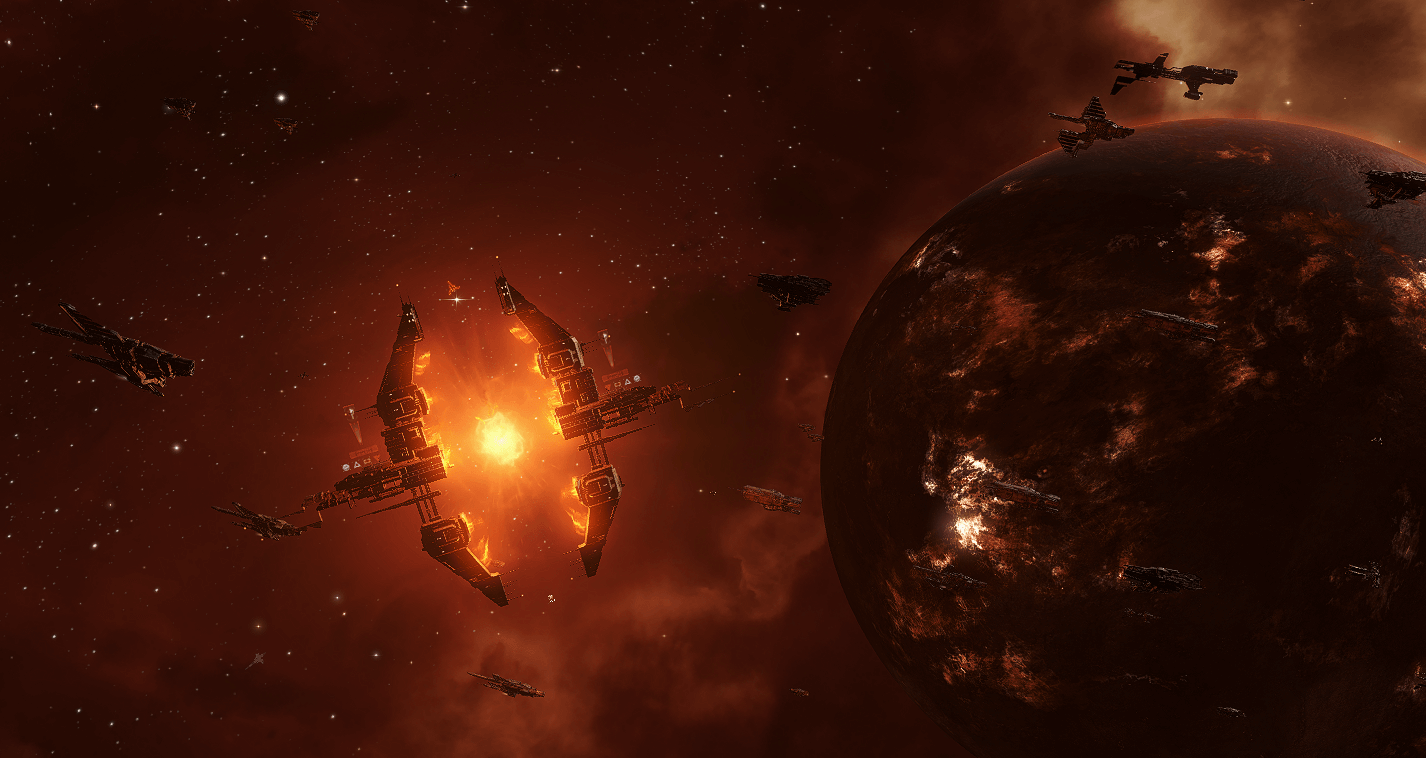 Above: Republic Fleet secures Ansen system gate to Krirald system
In Other News
Last Ditch Civilian Efforts to Evacuate Remaining Populations of Occupied Worlds Across New Eden Defy CONCORD Deadline
Federal Navy Stopping and Searching Evacuation Flights but Otherwise Following Senate Directive to Permit Transit
Caldari Navy Units Assisting Evacation Efforts by Hyasyoda, Ishukone and Wiyrkomi Megacorporations
Security Forces of CBD, Lai Dai and NoH Carrying Out Final Asset Reclamation and Corporate Citizen Evacuation Flights
Minmatar Fleet Escorting Republic Fleet Ordnance Transports and Under Orders of Non-Interference with Civilian Flights
Amarr Navy and Ammatar Fleet Units Seizing Evacuation Vessels Leaving Occupied Systems for "Quarantine and Interrogation"
Kaalakiota and Sukuuvestaa Order Security Forces to Escort Evacuation Flights to Safe Havens in Corporate Territories
Minmatar Republic Parliament Meeting on Allocation Agreement to Support Evacuation Housing in Set Aside Tribal and Clan Lands
Serpentis and Intaki Space Police Declare Cessation of Evacuation Flights Due to "Impossible Conditions" as DED Enforce Deadlines
Guristas Pirates Run DED Blockades in Lonetrek as Caldari Navy Units Refuse to Support CONCORD Stance
Alton Haveri [10/10/2020 2:21:16 PM]
The Scope - Growing Fears Over Stargates
The Scope Reports on Growing Fears Over Stargates
IN OTHER NEWS
STARGATE POWER FLUCTUATIONS UNDER URGENT INVESTIGATION BY SCC AS REPORTS OF RISING FREQUENCY OF ANOMALIES MOUNT
TRIGLAVIAN ACTIVITY IN CONQUERED SYSTEMS INCREASING WITH REPORTS OF ORBITAL INSTALLATIONS BEING PROBED
FEDERATION ORDERS VALE QUARANTINE LIFTED AFTER VOTE ON SENATE DIRECTIVE TO EVACUATE SYSTEM PASSES WITH LARGE MAJORITY
SKARKON II WRACKED BY PLANETARY TOTAL WAR AS NEW TRIGLAVIAN LANDINGS HERALD ASSAULT ON GOVERNMENT DISTRICTS
MEGACORP RETREAT DASHES HOPES FOR FURTHER OFFICIAL EVACUATIONS FROM KOMO, NALVULA AND SAKENTA SYSTEMS
EDENCOM COMMAND ORDERS CESSATION OF NON-MILITARY TRAFFIC INTO OCCUPIED SYSTEMS BY END OF YC122.10.12
FRESH TRIGLAVIAN ASSAULT ON SKARKON II REPORTED TO INVOLVE ATTACKS ON WARCLONES AND ESTABLISHED TRIGLAVIAN PRESENCE
AEGIS BRIEFING CONFIRMS REPORTS TRIGLAVIAN OPERATIONAL TEMPO ON PLANETS REDUCED WHEN WORLD ARKS REPELLED BY CAPSULEERS
REPORTS OF CONFLICT BETWEEN TRIGLAVIAN NANOTECH 'CLOUDS', DRONES AND MECHANIZED INFANTRY ON SENDA AND URHINICHI PLANETS
CHAOTIC SCENES ON NEW CALDARI PRIME AS MEGACORP SPIRES UNDER SIEGE BY CROWDS OF PROTESTORS
ANGEL CARTEL AND KRULLEFOR ORGANIZATION FIGHT RUNNING BATTLES DURING EVACUATION OF GANG MEMBERS FROM SKARKON II
CEP'S MOUNTAIN FACTION CALLS FOR CALM AS FOREST AND OCEAN FACTIONS TRADE INSULTS OVER ARVASARAS EVACUATION STRATEGY
GURISTAS AND SERPENTIS AGREE STRATEGY FOR SEARCH AND RESCUE OPERATIONS WITH MORDU'S LEGION AND INTAKI SPACE POLICE
EDENCOM DECLINES TO CONFIRM CLAIMS THAT TRIGLAVIAN GROUND FORCES ARE ENGAGED IN INTERNECINE WARFARE IN SEVERAL SYSTEMS
NUMBERS OF PRIVATE EVACUATION FLIGHTS INCREASING AS CITIZENS OF NEW EDEN RALLY TO AID THOSE TRAPPED BY OCCUPATION
BLOOD RAIDER ATTACK ON FINAL CONVOY OF EVACUATION FLIGHTS FROM KUHARAH REPELLED BY AMMATAR FLEET IN MIFRATA
AEGIS REFUSES TO COMMENT ON REPORTS OF EQUIPMENT AND TROOPS DROPPED TO STAY BEHIND UNITS ON OCCUPIED PLANETS
AMARR MINISTRY OF WAR REPORTS CAPITAL SHIP BUILDING PROGRAM ON TRACK TO REPLACE LOSSES BY END OF YEAR
Ret Gloriaxx [9/17/2020 9:11:00 PM]
Galactic Hour News Roundup: Skarkon Falls After Heavy Fighting in Minmatar Republic System
The Scope's Galactic Hour with Ret Gloriaxx brings your roundup of the latest news from around the cluster, as Skarkon falls to the Triglavian invaders and EDENCOM issues an urgent evacuation warning to all residents of conquered systems.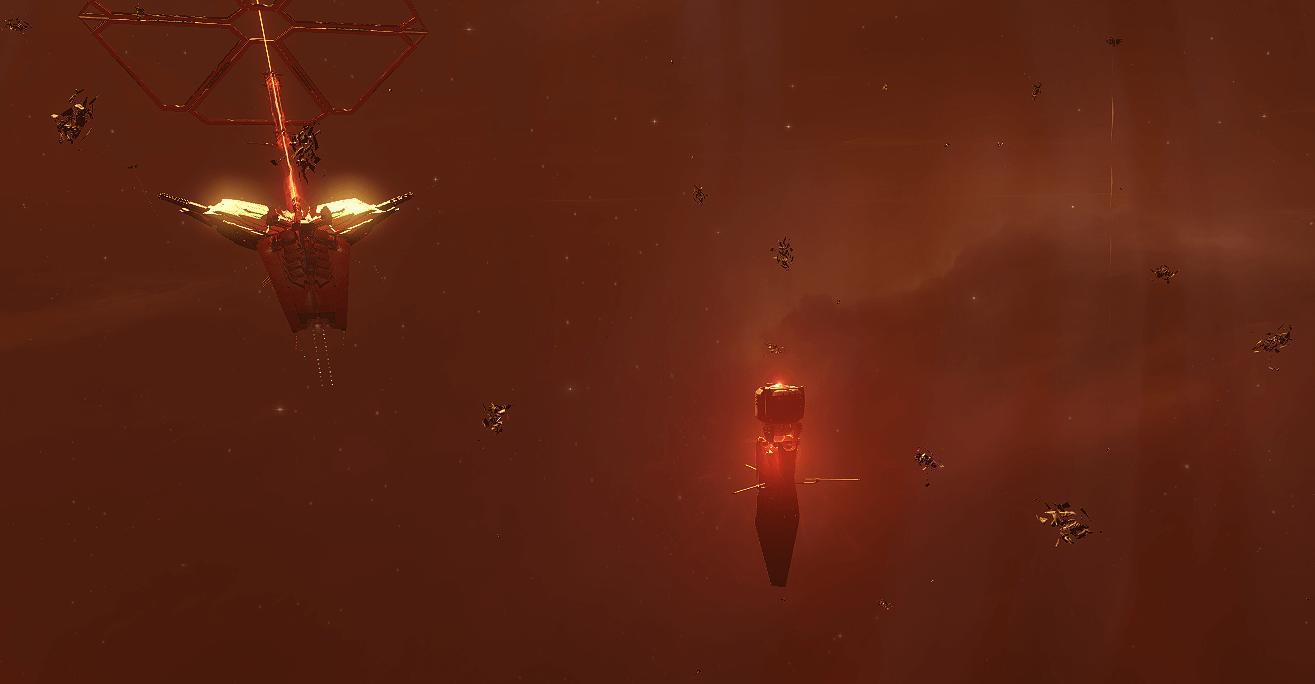 Above: Triglavian Transmuter begins operation in Skarkon amidst wreckage field from intense battle
Skarkon Falls as Triglavians Conquer First Minmatar Republic System
Skarkon, Molden Heath – Despite very heavy resistance from EDENCOM forces, Republic Fleet elements and loyal capsuleers, the system of Skarkon in the Minmatar Republic's Molden Heath region has fallen to the Triglavian invaders and their capsuleer allies. Intense fighting between capsuleers loyal to EDENCOM and capsuleers supporting the invaders took place over two days, including a number of capital ship engagements.
EDENCOM regulars and the Republic Fleet offered fierce resistance to the Triglavian assault across the system, with particularly heavy fighting over the establishment of the Triglavians' "Dazh Porevitium Transmuter" structure, known to many as a "star harvester". Operations by the Republic Fleet to thwart the Triglavians suffered from the remoteness of Skarkon from the heart of the Republic's territory. Relatively few capital ship wings limited the Skarkon Territorial Guards and Republic Fleet's largest vessels to operations supporting the desperate efforts to fortify Skarkon II while evacuating as many as possible.
Triglavian forces are reported to be concentrating on establishing the full operational status of their transmuter and the typical ancillary infrastructure established in a system under "Final Liminality", following a particularly intensive campaign in system. Mining and industrial processing colonies on the outer planet of Skarkon V have reported sporadic sensor readings indicating Triglavian flights but evacuations of the planet's colonies are proceeding unhindered.
Sanmatar Maleatu Shakor and the Tribal Council have issued an order for all possible evacuations to be supported by the entire Molden Heath Territorial Guards and all Republic Fleet units that can be spared from counter-invasion duties in the region. The Tribal Council has also authorized the system government of Khumatar Kril Efrit to institute a wartime state of emergency across all planetary and orbital territories. Sanmatar Shakor has authorized EDENCOM to support efforts to fortify Skarkon II and respond to Triglavian incursions.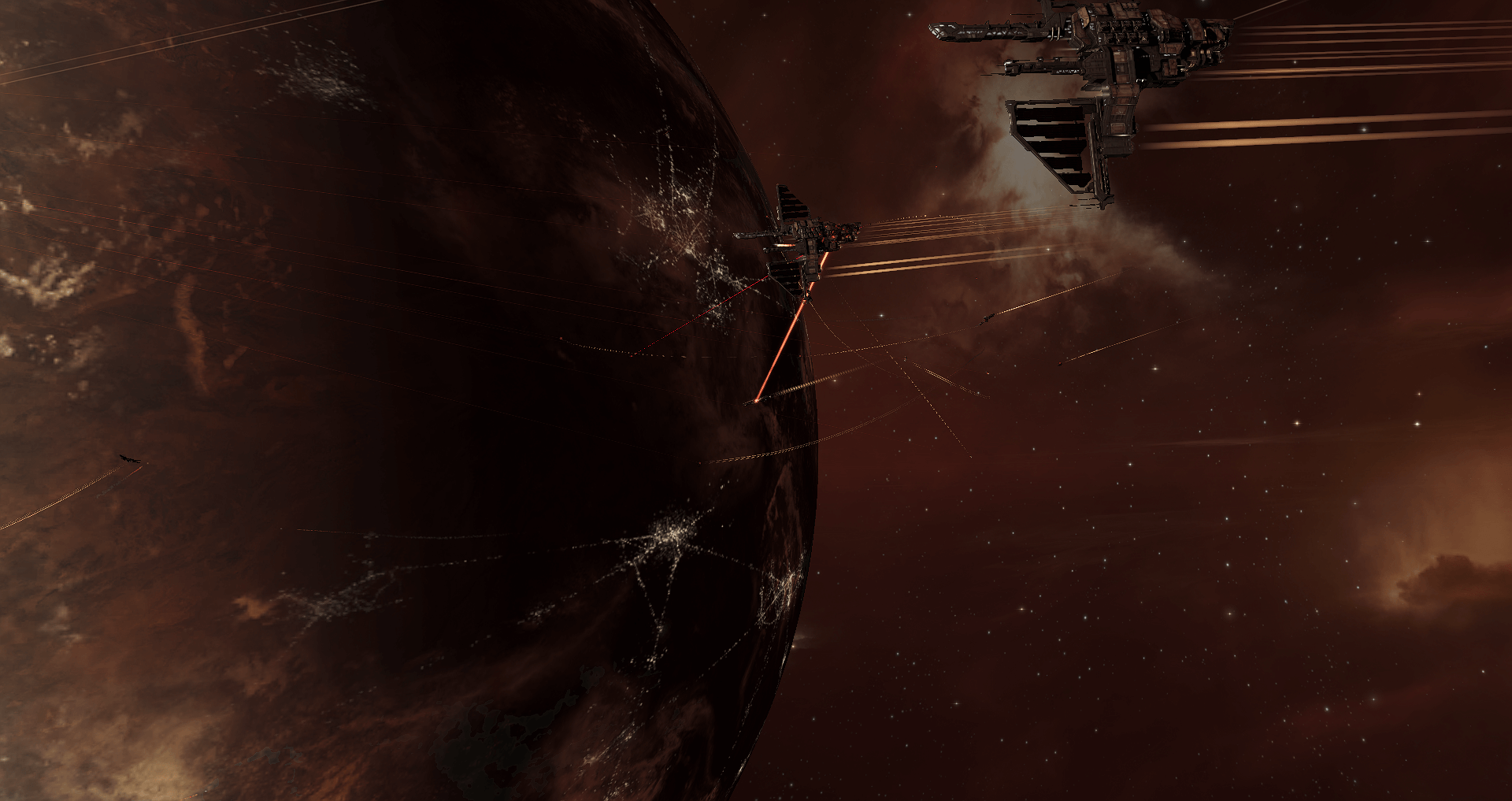 Above: Republic Fleet forces in combat with Triglavian forces above Skarkon II
EDENCOM Urgently Advises Evacuations from Conquered Planets as Scientists Study Captured Triglavian Transmuter
Arshat, Domain – EDENCOM Command has issued an "Urgent Evacuation Advisory" to residents of "all orbital bodies, colonies, stations and structures" in systems under total occupation by the Triglavian Collective, the so-called "Final Liminality" systems. This latest notice increases the advisory level from "strong" to "urgent" and now encompasses all space-industrial infrastructure.
Provost Marshal Kasiha Valkanir is understood to have authorized increasing the level of the advisory and expanding its scope following a meeting with scientists analyzing the captured "Dazh Porevitium Transmuter" in the Arshat system. A multi-empire taskforce of scientists has been working out of a heavily-guarded Imperial Stellar Observatory and aboard the captured transmuter to assess the impact of its operation.
The Arshat transmuter is apparently running at its lowest possible power level. Scientists have refrained from cutting off the "stellar manipulator beam" both to study it and out of "an abundance of caution". The research team claims the low-power beam is having a "minimal effect" on the Arshat star and "the lack of an extensive array of zero-point mass-energy entanglers constrains the transmuter's operations."
The briefing with Marshal Valkanir was classified and no details have been released. However, EDENCOM and CONCORD sources indicate a markedly increased level of concern at the ultimate fate of the systems surrounding the stars under the full influence of Triglavian transmuters.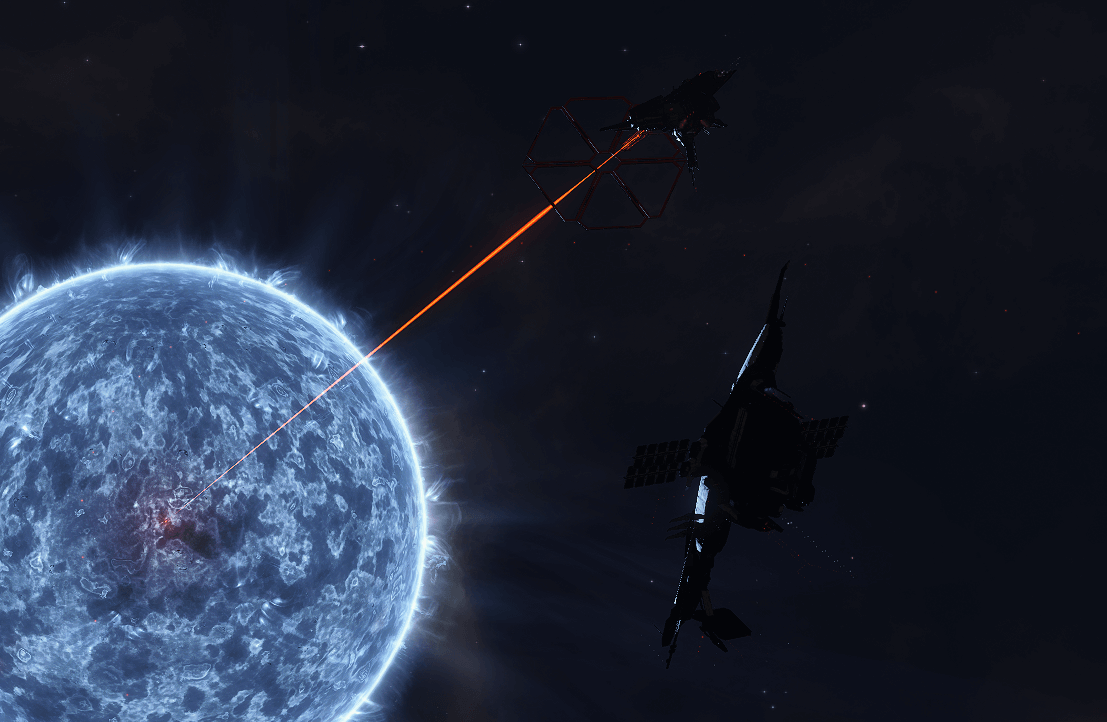 Above: Imperial Stellar Observatory overlooks low power operation of captured Transmuter in Arshat
Situation on Skarkon II "Total Chaos" as Final Liminality Threatens Planetary Invasion
Skarkon, Molden Heath – Correspondents on Skarkon II describe the situation on the planet as one of "total chaos" despite the efforts of the Minmatar Republic and the Khumatariat government in system. Relatively well-populated for a remote border world, Skarkon II has numerous urban population centers and large industrial colonies scattered across the planet. A planetary conflict has also been ongoing for more than a year, since a turf war between the Angel Cartel and Krullefor Organization crime syndicates escalated to a major guerilla war. Interests ranging from Caldari megacorporations, interstellar mercenary groups, capsuleers and warclone groups have been locked in a complex war over the destiny of the planet.
Khumatar Kril Efrit was assigned as System Governor of Skarkon to bring his "expertise in overseeing counter-subversion and counter-terrorist operations" to a situation where planetary authorities on Skarkon II were regarded by the Tribal Council as "hopelessly corrupt". Khumatar Efrit has initiated a number of measures, including co-opting Krullefor and Seykal Clan mercenary units as members of the "Unified Tribal Security Forces" on Skarkon II. A large contingent of Seykal Expeditionary Group troops was recently landed to further bolster the Skarkon Territorial Guards, RSS special forces and existing Republic-aligned PMC forces.
Independent warclone and capsuleer groups claim that their campaign on Skarkon II is aimed at fighting against an alleged conspiracy between the Republic Security Services, Thukker organized crime clans, and Caldari megacorps aligned with the PKN Interstellar consortium to control Skarkon. The presumed goal of this conspiracy is to use Skarkon as a base from which to exert domination over Molden Heath's lucrative trade and smuggling routes.
The system government of Khumatar Kril Efrit has dismissed such conspiracy theories as "ludicrous on their face" and pointed to documented cases of independent warclone co-operation with the Angel Cartel and Amarr Empire-aligned capsuleers. Khumatar Efrit has also released intercepts purporting to show warclone co-operation with pro-Triglavian terrorist cells and capsuleers fighting to conquer Skarkon.
"It is clear that the agenda of the so-called 'independent warclones' has always been to work with anyone who will satisfy their lust to dominate the people of Skarkon, and how banal, how fitting, that ultimately these twisted transhumanist butchers should throw in their lot with the Triglavian invaders," said Khumatar Kril Efrit. "These warclones can either leave, taking only their own worthless hides off our planet, or they can die. Any attempt at moving any Skarkon civilians off-planet by these invaders will be considered slaving under cover of war."
Khumatar Efrit's remarks were made following a briefing on his authorization of AEGIS commandos and SARO's "Red Troop" anti-warclone units to operate freely on Skarkon II. As all those on Skarkon II await the inevitable Triglavian landings, Republic evacuation flights continue even while thousands of troops prepare for the coming battle to control the planet.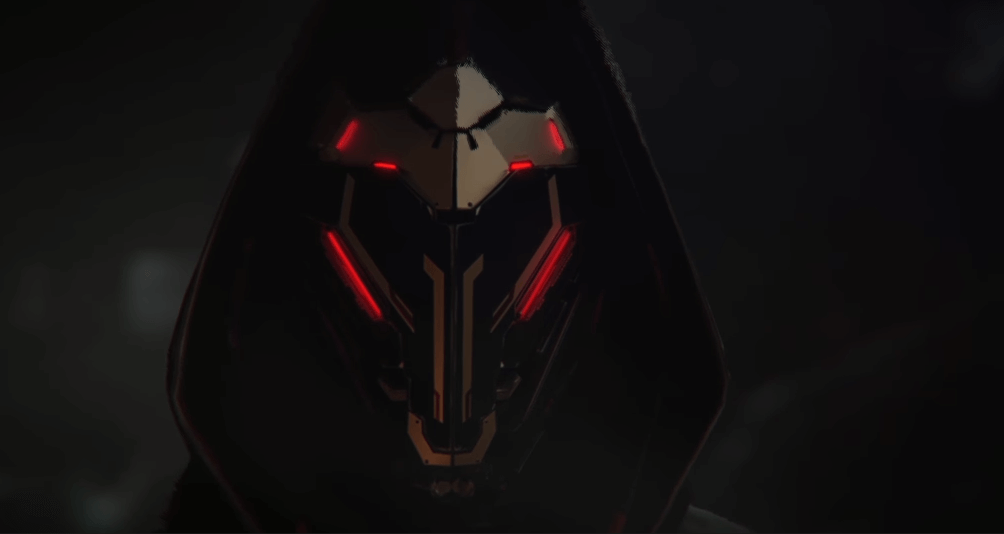 Above: Zorya Triglav, Spokesperson for Triglavian Collective in "Totality Approaches" Broadcast
BREAKING NEWS: Zorya Triglav Broadcasts Message to Kybernauts via Triglavian Semiosis Consoles
Skarkon, Molden Heath – According to multiple capsuleer sources, a message from Triglavian Collective spokesperson Zorya Triglav, claiming "Totality Approaches", has been broadcast via Triglavian "Semiosis Consoles." The message available widely on GalNet has been interpreted by many capsuleers as indicating the Triglavian invasion is approaching its ultimate goal. EDENCOM Intelligence for its part is reported to be deeply concerned by the broadcast, and the subsequent multiple and uncontrolled uploads of the data to GalNet and other communications networks.
In Other News
Caldari State and Megacorporation Authorities Insist on "Restoration of Corporate Law, State Duty and Civil Order" as Caldari Military Reforms Continue
Protests in Caldari State Continue Despite No Further Major Losses to Triglavian Collective; Concern Over Fate of Conquered Populations Rising
Guristas Pirates Leadership Enforces Policy of "Protection, Not Piracy" Regarding Evacuation and Relief Flights in Occupied Caldari Systems
Contact Lost with Kuharah System's Remaining Underground Colonies on First Planet; Ammatar Mandate Reports Successful Evacuation of Kuharah VII and VIII.
Ignebaener V Population Centers Reported Under Triglavian Control; Evacuations from Third and Sixth Planet Scientific and Prospecting Colonies Completed
Serpentis Corporation Signs Agreement With Intaki Space Police and Gallente Customs to Permit Serpentis Vessels to Join Evacuation and Relief Efforts
EDENCOM and Gallente Federation Agree Information Quarantine on Communications from Vale System: "Risks of Triglavian Subversion Unacceptably High"
Caldari Resistance on Sakenta III Reportedly Collapses Due to "Infiltration by Triglavian Sympathizers"; Situation on Sakenta V Unclear
Reports of Triglavian "Biological Interventions" Mount from Conquered Systems, including Arvasaras, Kaunokka, Komo, Nalvula, Sakenta and Vale
Pro-Triglavian Groups Claim Populations of Final Liminality Systems are "Being Given the Means to Prove Themselves and Join the Flow"
EDENCOM Command Dismisses Claims of Triglavian Sympathizers as "Repugnantly Disingenous Propaganda Masking Grotesque Atrocities Against Our People"
Ret Gloriaxx [9/7/2020 6:16:00 PM]
Galactic Hour News Roundup: Caldari State Protests Amidst Workers Union Day Celebrations
The Scope's Galactic Hour with Ret Gloriaxx brings your roundup of the latest news from around the cluster, as efforts by the Caldari State and its megacorporations to use the weekend of Workers Union Day to celebrate and encourage patriotism run into growing unrest among ordinary citizens over the calamitous invasion losses suffered by their nation.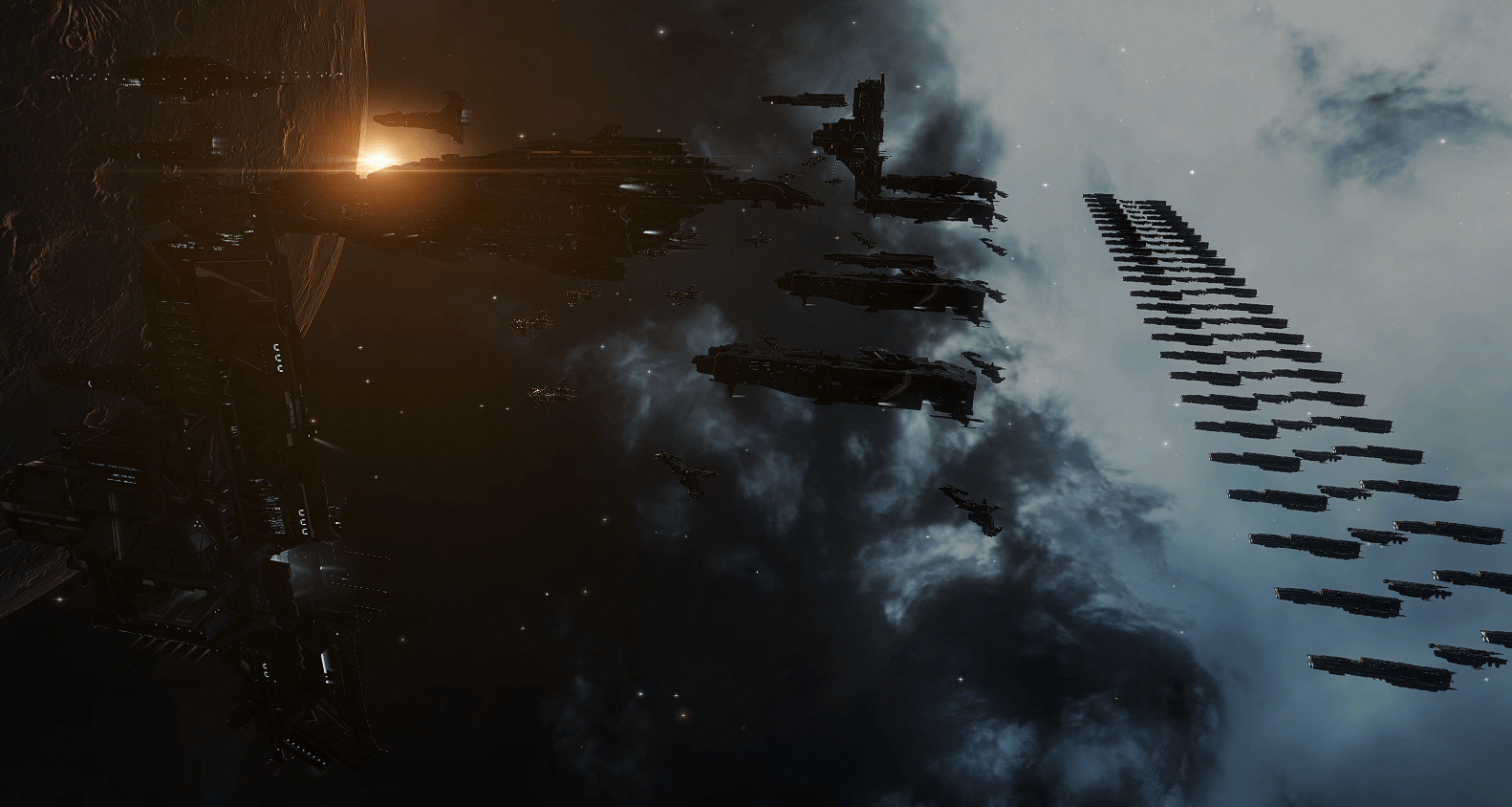 Above: POUS Tuviio Kishbin and battlegroup in parade formation over Moon 20, Saisio VIII
Caldari State Megacorporations Project Power in Corporate HQs Over Weekend of Workers Union Day
New Caldari Prime – Large Caldari megacorporation security force fleets have been deployed to key systems in parade formation over the weekend of Caldari State Workers Union Day. Leviathan-class Titan battlegroups from each of the corporate security forces of the ruling "Big 8" megacorps are positioned in corporate headquarters systems with their presence broadcast prominently on holonets across Caldari territories.
Projection of power by the ruling megacorporations of the Caldari State has often been a notable feature of the State Workers Union Day celebrations. Traditionally extending over a weekend period, the Chief Executive Panel's megacorporations have often used the occasion to hold summits on economic planning and trade agreements. This year an extended summit on the Caldari State's security situation as a consequence of the Triglavian Invasions is dominating all agendas.
Separately, the Big 8's corporate security forces have participated in the annual Haadoken Summit and Security Training Games. The combined security forces of the ruling megacorps are continuing to push for wholesale reform of the Caldari Navy and other state military organizations under direct corporate security oversight and command. The Security Training Games did not attract record viewing numbers on the holonets this year, but the rankings were topped by Lai Dai Protection Service, with the participation of many seasoned veterans from their far-flung operations.
While patriotism and corporate loyalty are always themes of State Workers Union Day celebrations, the CEP and Big 8 megacorps have been at pains this year to emphasize the necessity of "sacrifice and service" to the Caldari State and "Mother Megacorp". Despite the best efforts of Caldari State and megacorporate authorities, the usual festival air accompanying Workers Union Day celebrations has been distinctly muted.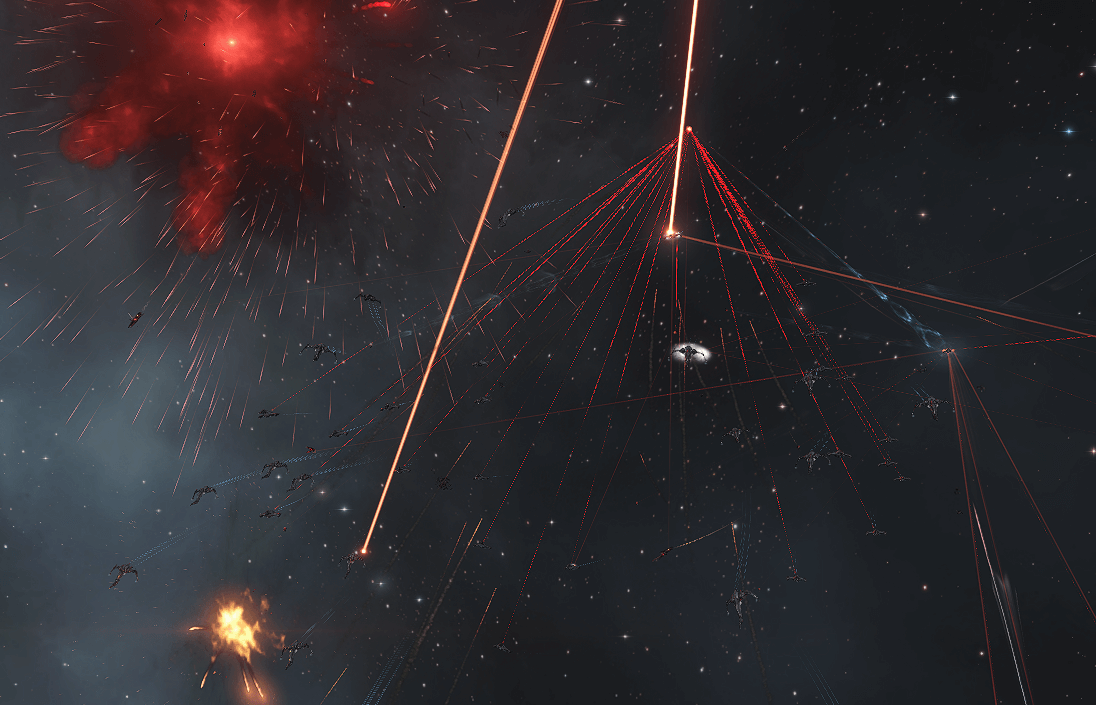 Above: Kaalakiota's Home Guard forces engage Triglavian vessels in Nonni system in support of HGS Matias Sobaseki battlegroup
Protests and Unrest Grow as Caldari State Loses Yet More Systems to the Triglavian Collective
New Caldari Prime – Large-scale protests and political demonstrations continue across the Caldari State as more and more Caldari star systems fall to the Triglavian invaders. With Kaunokka, Komo, Nani, Urhinichi and Wirashoda adding to the considerable tally conquered by the Triglavians, there are now 16 Caldari systems fully-occupied by the Triglavian Collective.
Many Caldari citizens have expressed shock and horror at the number of temperate planets and colonized oceanic and barren worlds the last wave of conquests have brought under Triglavian control. Fears that the Triglavians intend to "harvest" more than just the stars of the systems they conquer are sweeping the Caldari State, with protests consequently becoming progressively more vigorous and in some cases openly violent.
Caldari State security forces and the corporate police of the megacorps have shown uncharacteristic restraint in most instances, clearly under the strictest orders from the CEP and their corporate leadership. However, a number of incidents have spiralled out of control.
The deployment of "parahaze" gas on thousands of protestors in the park surrounding the Nugoeihuvi Corporation's headquarters spire on New Caldari Prime caused seven deaths and a number of injuries. Spacelane Patrol troops freshly deployed to CBD holdings on Muvolailen VIII used sonic "crowd dispersal" weapons resulting in the hospitalization of several hundred protestors. The CEP has condemned "anti-corporate agitators" for "initiating violence against corporate security forces and property".
For their part, millions of corporate citizens of every worker and executive classification short of the top echelons of megacorporation leadership have voiced some level of open disquiet and dismay at the performance of the Caldari Navy in the face of the Triglavian invaders. The protests have even gained the support of a member of the powerful Seituoda family.
Akari Seituoda, former CEO of Wiyrkomi-Seituoda Heavy Industries, spoke from retirement on New Caldari Prime saying, "The Caldari people are right to expect the State and Corporations to provide for effective defense of the Caldari way of life. To protest in the face of evident and criminal incompetence is not only understandable it is, to me, required as a citizen's duty within our way of life."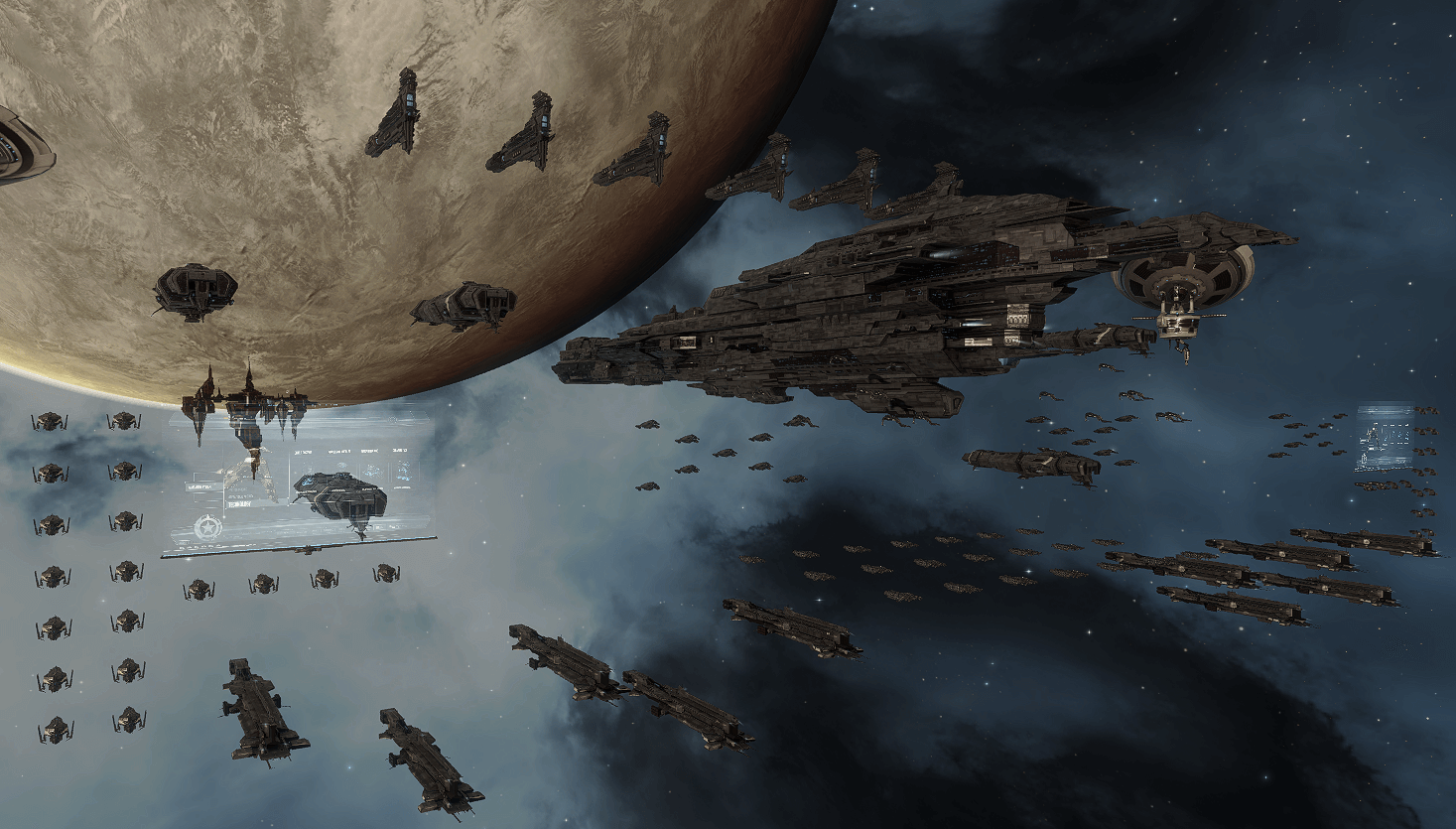 Above: ISS Istria Josameto and battlegroup in parade formation over Josameto VIII
Minmatar Republic Government of Skarkon Asserts "Total and Enduring Sovereignty of Seven Tribes"
Skarkon, Molden Heath – Khumatar Kril Efrit has asserted the Minmatar Republic's government in Skarkon system will "never consent to any diminution of the total and enduring sovereignty of the Seven Tribes of Matar in Skarkon." The Skarkon system governor's remarks were made in response to fresh capsuleer and warclone conflict with Republic-affiliated forces over Skarkon II.
Reports from independent observers in Skarkon system have confirmed that a number of capsuleers were engaged in efforts to "resupply" ground forces on Skarkon II this last Saturday. To that end, these capsuleers appeared to use the planetary customs office and a Bowhead-class freighter operating in low orbit. Conflict in orbit of Skarkon II erupted shortly after a large fleet of Seykal Expeditionary Force ships deployed over the planet, escorting their own flights of Bowhead-class vessels into low orbit of the planet.
A battle between capsuleer forces and the combined Seykal-Krullefor fleet broke out when a Naglfar-class Dreadnought opened fire. The capital ship was reportedly piloted by a capsuleer affiliated to self-styled anti-Krullefor warclone forces engaged in a conflict with Krullefor, Seykal and other forces on the surface of Skarkon II. The Khumatariat government has declared these warclone units "outsider terrorists" and claims an alliance with the Angel Cartel is among the alleged crimes of the warclones. The orbital battle ended following the destruction of this dreadnought and several Seykal battleships.
Witnesses and publicly available telemetry also confirmed that Krullefor Organization frigates were also in evidence as the Seykal ensured that three flights of Bowheads were able to reach the planet safely. The Bowhead-class is a flexible transport platform that a number of mercenary and corporate security forces have found useful as a troop and planetary operations materiel transport. The Scope's military experts estimate that the Seykal Expeditionary Force may have landed as many as 90,000 troops fully equipped and supplied for extended "urban pacification operations."
Khumatar Kril Efrit was himself very clear on the position of the Republic's system government: "We have always maintained that the outsider warclones are renegades and terrorists in league with the Angel Cartel, a criminal organization well known for spreading terror with slave raids on the outer colonies of our people. We now have unequivocal evidence that these outsiders are also in league with Amarr paramilitaries following their brazen assault on a legitimate security contractor's personnel transports alongside known Amarr loyalists. We also see that certain 'Matari' organizations have allowed the Amarr to burrow deep within their ranks and we have taken careful note of this. A popular slogan says 'All Invaders Must Die' and we might extend that to their collaborators."
In Other News
Caldari Navy Confirms Loss of Capital Ship Wing During Battle of Urhinichi; State War Academy Training Wing "Fought Heroically"
Chaos and Resistance in Urhinichi Continues as Heavily-Populated Worlds and Industrial Colonies Come Under Increasing Triglavian Control
Guristas Pirates Reported Assisting with Civilian Evacuations from Industrial Colonies in Nani and Wirashoda Systems
Fears Grow of Huge Losses of Life in Komo System as Triglavian Invaders Land in "Vast Numbers" on Many Planets
Hyasyoda Corporate Police Force Leads Resistance in Kaunokka as Battles Rage Between Caldari Defenders and Triglavians on Second Planet
Evacuation Attempts in Final Liminality Systems Increasing as Triglavian Response to Civilian Flights Assessed as "Erratic and Indifferent"
Federation Academics Fear Heavily-Populated Systems Such as Vale, Urhinichi and Komo "Cannot Possibly be Fully Evacuated Under Occupation"
Khanid Warlord Duke Alar Chakaid Reportedly Under House Arrest on Tanoo II at Order of St. Tetrimon Chapterhouse Complex
Amarr Ministry of War Levies Additional War Taxes on Holder Houses to Pay for Increased Ship-Building Capacity as Losses Mount
Republic Command Denies Accusations of "Core World Bias" Over Fleet in Being Strategy and Limited Operations in Militia Warzones
Liberator General Nola Ashok Confirms Amarr POW Total Stands at 100,000 on Floseswin IV; Colonel General Vikhtor Mazari "Still at Large"
Ret Gloriaxx [8/19/2020 11:59:00 PM]
Galactic Hour News Roundup: Fall of Niarja Shocks Amarr Empire and Caldari State
The Scope's Galactic Hour with Ret Gloriaxx brings your roundup of the latest news from around the cluster, with the fall of Niarja severing the vital direct stargate link between the Amarr Empire and Caldari State, as continued losses of systems in the Caldari State stoke protests.
Fall of Niarja a "Strategic Catastrophe" for Amarr Empire and Caldari State
Amarr Prime – The conquest of Niarja by the Triglavian Collective has been described as a "strategic catastrophe" for the Amarr Empire and Caldari State by diplomatic sources, despite praise from EDENCOM and CONCORD officials for the "valiant efforts" of capsuleer defenders, EDENCOM forces and the Amarr Navy. The occupation of Niarja by the Triglavian Collective effectively severs the direct trade link between the Amarr Empire and Caldari State, though it is still possible for heavily protected and escorted traffic to continue using the stargates.
As a system in itself Niarja has always been of secondary importance to its neighbor, the heavily-populated and well-developed Bahromab system, but as a site suitable for a long-range stargate to the Caldari system of Kaaputenen, it has been a key strategic location for decades. The importance of Niarja to interstellar trade is underlined by the presence of a number of Gallente and Minmatar stations in the Yekti-Hoosa Development Zone overseen by House Sarum. Large mining and industrial concerns have found the Niarja-Kaaputenen link highly useful for shipping via the Caldari State to the Gallente Federation and even on to the Minmatar Republic.
Militarily and diplomatically, the route has been a useful high traffic and single jump route between the Amarr Empire and Caldari State. While military and diplomatic traffic is also able to use various jump-drive routes together with Empire and State cyno beacons, jump bridges and conduit gates, it remains a severe blow to the two allied powers. CONCORD conflict monitors have sounded a note of alarm that the Amarr Empire may view it as necessary to redouble its efforts in the Amarr-Minmatar militia warzone.
A number of systems considered Minmatar under the Yulai Accords and Convention have become longstanding Amarr strongholds due to the efforts of the 24th Imperial Crusade, House Sarum and a sustained, high-intensity campaign by Amarr capsuleer militias. Strategic eyes have turned to a number of Metropolis systems as potentially providing bridging routes for Amarr and Caldari forces to use.
While observers of Imperial Court politics believe the loss of Niarja is a blow to the prestige of House Sarum, this may be considerably tempered by House Sarum's sponsorship of aggressive operations in the Metropolis warzone. House Sarum allies among the Major and Minor Houses have begun praising the "farsighted" policies of Lord Arrach Sarum in this regard. Partisans of other Royal Houses have responded to this line with "polite but ill-concealed scorn" according to our Imperial Court correspondents.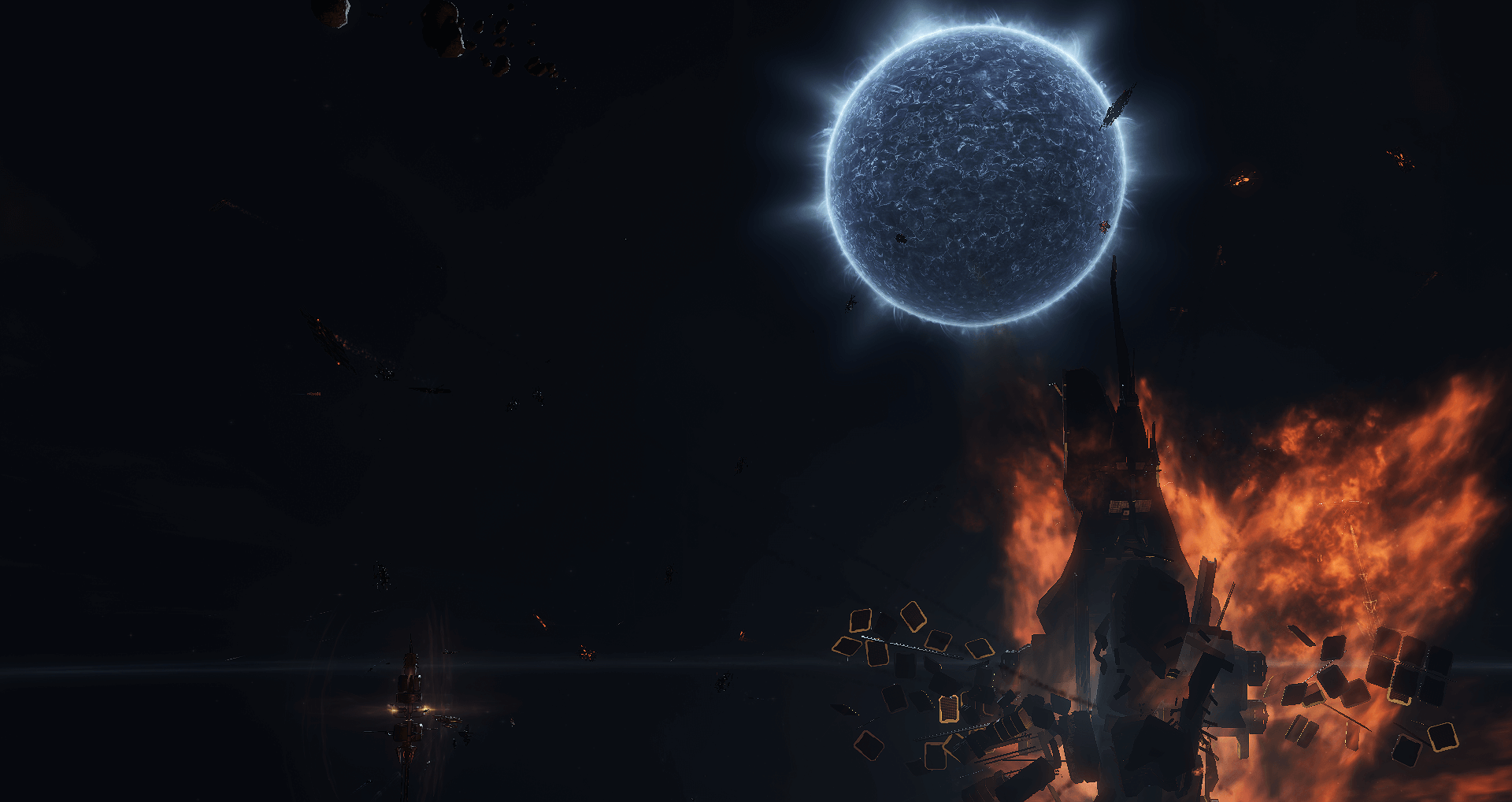 Above: EDENCOM facility wreckage burns after destruction by Triglavian and allied capsuleer forces.
Battle of Niarja Scene of High-Intensity Capsuleer Combat on All Sides
Niarja, Domain – The Battle of Niarja represented the most high-intensity struggle between EDENCOM loyalists and pro-Triglavian capsuleers during the invasions, with preliminary estimates indicating total capsuleer presence in Niarja above 600 pilots during key engagements and sustaining system populations of over 500 capsuleers locked in combat for many hours.
With EDENCOM and Imperial forces stretched thinly across New Eden, the balance of power in systems invaded by Triglavian forces has usually been swayed by capsuleers fighting for one side or the other. The day-and-a-half Battle of Niarja is estimated to have involved the loss of over 40,000 vessels with perhaps as much as 10% of that total being accounted for by capsuleer losses on all sides.
EDENCOM Provost Marshal Kasiha Valkanir has thanked EDENCOM-aligned capsuleers for their "valiant efforts to secure this strategically vital system" and has promised that "despite this setback the forces of civilization shall prevail and ultimately defeat the Triglavian menace." Amarr Inner Circle delegate Captain Marshal Sirdan xer Qosh also praised "loyalist capsuleers and the forces of the Imperial Navy for their unstinting efforts." Ambassadors Keitan Yun and Devan Malate, respectively of the Minmatar Republic and Gallente Federation, have jointly expressed their "deep regrets at the loss of Niarja" and urged the Amarr Empire to "end all operations that threaten the EDENCOM alliance."
A particularly notable element of the capsuleer side of the Battle of Niarja was the presence of nullsec coalitions fighting on both sides of the struggle. The Legacy Coalition chose to support EDENCOM efforts to defend the system, and preserve a secure and direct route beween the heartlands of the Amarr Empire and Caldari State.
The response to this decision by the Imperium, Legacy Coalition's opponents in a major Outer Regions war, was to support Collective and pro-Triglavian capsuleer efforts. Claims and counter-claims have flown between the nullsec powers, and established pro-EDENCOM and pro-Triglavian capsuleer forces, but the overall balance of power was tilted decisively to the invaders' favor by the combined efforts of ideological "Kybernauts" and the Imperium.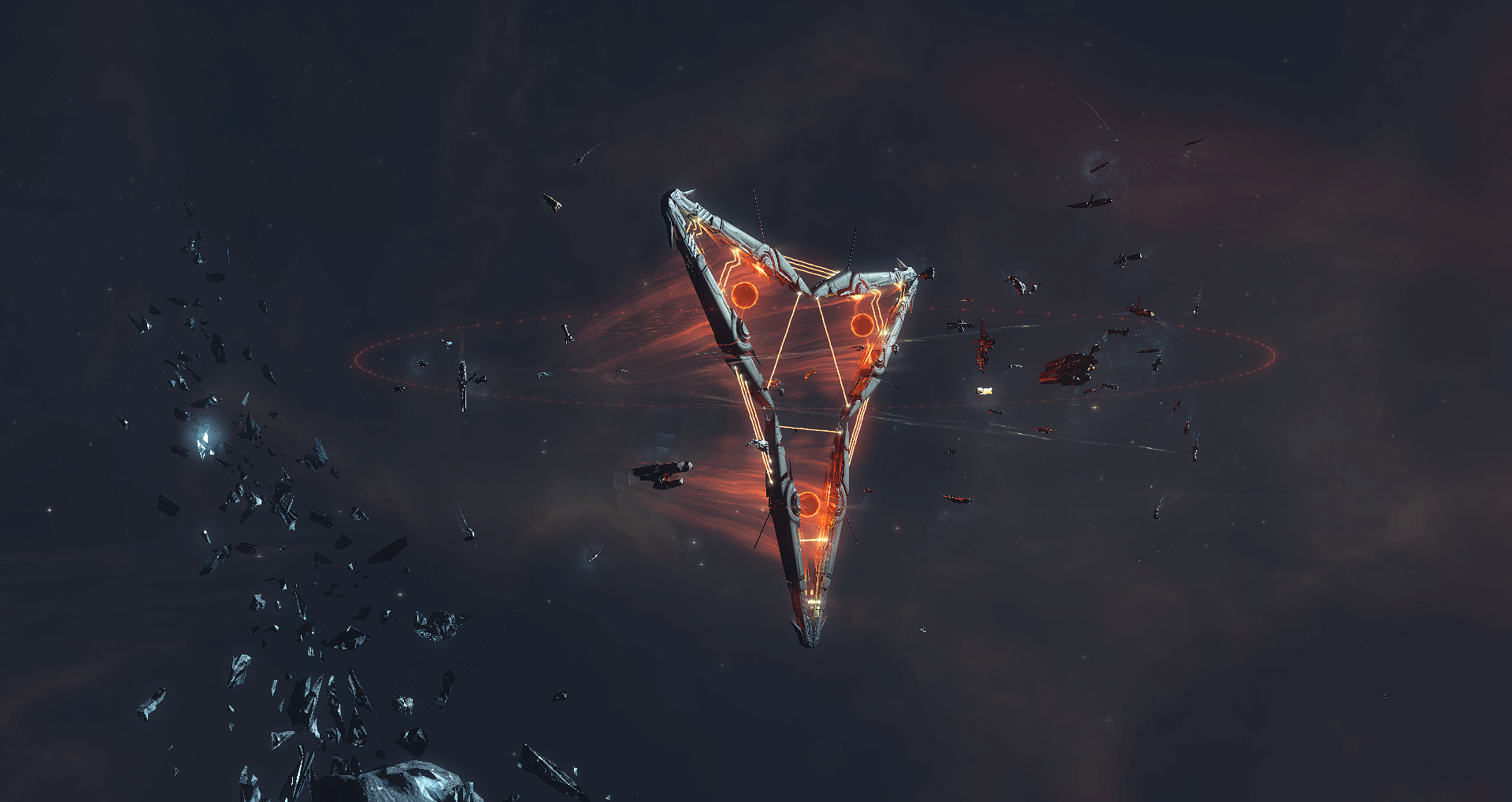 Above: Triglavian conduit gate established during heavy combat operations
Caldari State Worker Protests Grow in Frequency and Number after Tunudan and Ahtila Lost
New Caldari Prime – The Caldari State's loss of Tunudan system, during the Battle of Niarja, and the subsequent loss of the Ahtila system, have caused further uproar and unrest in the Caldari State. With the direct trading link to the Amarr Empire effectively cut, mid-tier executive classes and workers alike are expressing fears of the economic consequences as well as reacting to the seeming collapse of Caldari State military fortunes in the war itself.
Several megacorporation spires and arcologies on New Caldari Prime have seen their parks and market squares inundated with worker protests, with corporate security forces limiting themselves to blocking access to upper tier zones and vital infrastructure. While the protests erupting on New Caldari Prime itself are a mark of the anger and confusion amongst workers on the capital planet, there have been uncounted incidents of protest and unrest across the Caldari State.
Protests are particularly lively in corporate territories controlled by the Hyasyoda, Ishukone, Kaalakiota, Sukuuvestaa and Wiyrkomi megacorporations, with it being clear that their corporate security and military forces are under orders to act with extreme restraint. However, even territories controlled by CBD, Lai Dai and Nugoeihuvi are seeing protests despite the reputation for harsh responses from the security forces of those megacorps.
The Chief Executive Panel has been in emergency session for two days and it is rumored that a universal state of emergency will be declared amidst talk that the leadership of the Caldari Navy and other branches of the State Armed Forces are under house arrest. Corporate security force officers from all of the "Big 8" private militaries have reportedly been organized into a "Transitional General Staff of the Corporate State of the Caldari People" under the direct authority of the CEP.
While corporate security forces have shown exceptional restraint in the face of worker protests, it has been reported there have been raids against underworld groups and clashes with alleged Templis Dragonaur cells, Guristas Pirate affiliates, and even gangs loyal to the Angel Cartel. While there has been silence from the upper echelons of the Caldari Navy, senior field officers have criticized the planning and execution of the recent refit of units seconded to EDENCOM service. Some line officers have also spoken of sabotage and subversion by Provists attempting to "undermine the order of our Corporate State."
External observers of Caldari State politics, particularly in the Gallente and Minmatar media, are even speculating that a long-burning "corporate shadow war" is about to break out into open conflict. Advocates of this theory point to a number of incidents in the last five years and more indicating corporate conflict and re-alignment of interests within the State.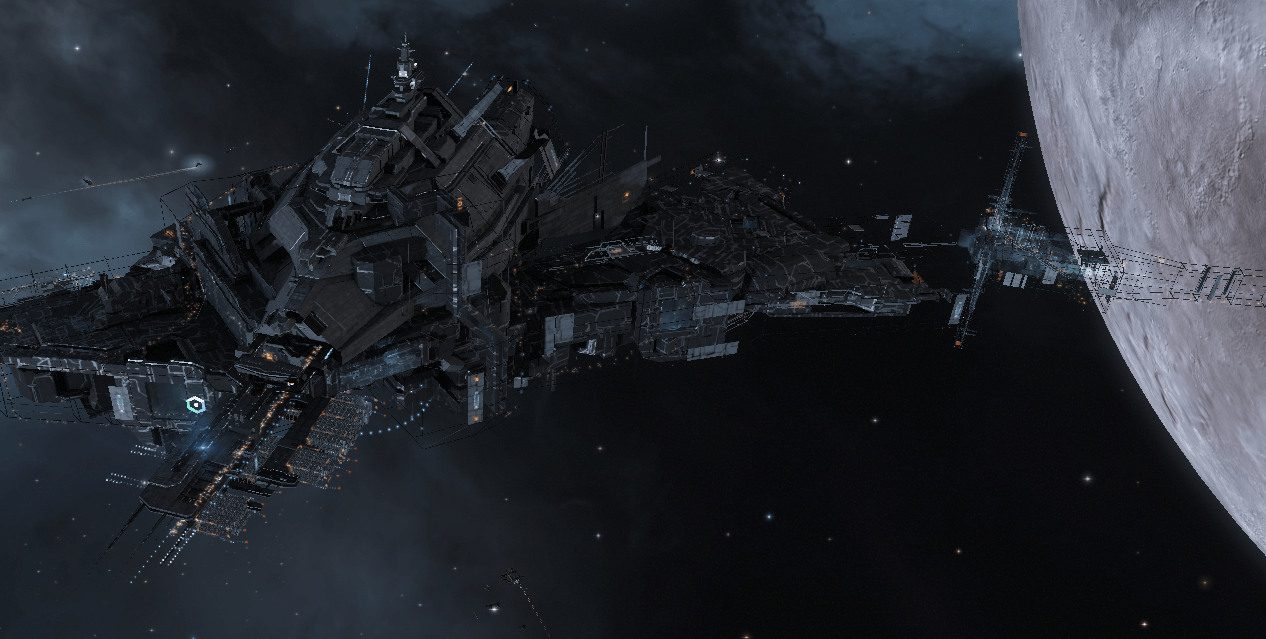 Above: Caldari Navy Station at Jita Planet 4, Moon 4
BREAKING: Scientists Warn of "Highly Unusual Space-Time Anomalies" in Null Security Systems
Yulai, Genesis – Scientists have warned of "highly Unusual and localized space-time anomalies", with preliminary findings confirmed by the Exoplanets Research Division of CONCORD's Project Discovery. The detail of the report indicates that the star systems of KBP7-G, PF-346, M-OEE8, and R3-K7K are exhibiting "signs of localized deformation of the space-time topology with characteristics sharing similarities with both unstable wormhole formation and space-time conduits as formed by Triglavian technology."
Obervations by a number of scientists in the Gallente Federation and Minmatar Republic have been the result of an ongoing research project into the disruption of space-time topology in the New Eden cluster, an effort sponsored jointly by the University of Caille and the Republic University. The University of Caille's Department of Astrometrics and Cosmography has been working in close collaboration with the Inter-Tribal Circle of Cosmology based at the Republic University's Illuin School of Astrophysics.
A minority of scientists across New Eden have developed a view that the space-time "fabric" local to the New Eden "hyper-density formation" star cluster has been severely disrupted in recent years. The theory holds that this disruption has accumulated due to incidents such as the unstable wormhole emergence event, popularly identified with the "Seyllin Catastrophe", and the so-called "superluminal stellar event" at W477-P, popularly known as "Caroline's Star." Leading theorists do accept that the superluminal aspects of the Caroline's Star incident is most readily explained by the formation of vast numbers of nanoscale wormholes through which photonic energy from the supernova was scattered across New Eden.
While many mainstream scientists view the more radical interpretations of such recent events as "bizarre hokum" and "not even wrong", the leading academics of the joint project between UoC and RU are known to believe all avenues must be explored in explaining what is happening in New Eden. The Triglavian invasion, in their view, fits into the pattern as a third major event with the manipulation of multiple stars by the Triglavians "almost certainly disrupting the local cluster's topology yet further."
In Other News
New Reports from Vale System Include Audio-Visual Capture of Triglavian "Bioadaptation" of Fourth Planet's Population
Field Expedition Team on Vale IV Claims "Triglavian Interactions with Locals Appear Coercive But Not Violent"
Communique from the Vale Popular Resistance Network Condemns "Attempts to Paint Triglavian Atrocities as Benign"
Expeditions to Sakenta and Nalvula Have Previously Reported "Triglavian Interventions May Be Intended to Protect Human Life"
Federation Capital Shipyards at Fricoure Heavily Damaged by Triglavian Raiders; Capital Ship Losses "Light"
CBD Megacorporation's Spacelane Patrol Withdraws Substantial Troop Numbers from Skarkon II
Caldari Corporate Security and PMCs Pulling Out of Skarkon II Reportedly Bound for Caldari State
Skarkon System's Central Government Extends Authorization as Police Auxiliaries to Local Minmatar PMC Units
Amarr 3rd Sarum Circuit Fleet's Capital Squadrons Put into Penirgman for Repairs Following Battle of Niarja
Reports Duke Alar Chakaid "Seized by Order of St. Tetrimon Special Forces on Floseswin IV"; Current Location Unknown
Ret Gloriaxx [8/17/2020 7:25:00 PM]
Galactic Hour News Roundup: Triglavian Invasion of Niarja Threatens Key Amarr-Caldari Trade Route
The Scope's Galactic Hour with Ret Gloriaxx brings your roundup of the latest news from around the cluster, as the Triglavian Collective invades the vital Niarja system, the key link between the Amarr Empire and the Caldari State.
Niarja Invaded as Major Triglavian Offensive Strikes at Amarr-Caldari Border
Niarja, Domain – Triglavian Collective forces have mounted an invasion of the Niarja system in the next step of their renewed offensive to conquer New Eden systems across the cluster. EDENCOM's Provost Marshal Kasiha Valkanir has designated the defense of Niarja "the top priority of EDENCOM forces" and CONCORD's Inner Circle has declared it vital to the interests of "New Eden Civilization" that the key trade link between the Amarr Empire and Caldari State be maintained.
Triglavian forces began the invasion of Niarja in the early hours of YC122.08.17, with this strike at the sole Amarr Empire system bordering the Caldari State a clear threat to the two allied powers. Caldari State forces are current embroiled in a struggle to turn back Triglavian invaders in the Tunudan system but response forces are being redeployed to the Kaaputenen system bordering Niarja.
On the primary trade route between the Amarr and Jita systems, Niarja's importance as the single Amarr system directly connected to the Caldari State across the primary stargate network cannot be overstated. Disruption of this vital link between the two traditional allies would have severe repercussions for the economic health of both the Amarr Empire and the Caldari State. In the context of the war with the Triglavian invaders and the EDENCOM alliance, even the Gallente Federation and Minmatar Republic view the defense of Niarja as a strategic priority.
In terms of Amarr internal politics, the loss of Niarja would be yet another blow for House Sarum, following the loss of Raravoss and Harva, not to mention its withdrawal from planetary operations on Floseswin IV. House Sarum forces have been particularly taxed by the need to defend the vast territories of Upper Domain, Devoid and the Bleak Lands, together with its ongoing operations in the Amarr-Minmatar militia warzone. Sarum forces have not been without victories and the fresh defense and fortification of Khopa system, together with other successes, has served to reinforce the traditionally militant House's standing.
For their part, EDENCOM and CONCORD remain firm that all New Eden systems must be defended for the sake of "human civilization as a whole", even in the face of an evidently renewed and substantially enhanced offensive by the Triglavian Collective. Despite this public face, sources within the DED and EDENCOM's ranks have privately expressed disquiet at the scale of the new Triglavian offensive. Some sources have even questioned the almost universal adoption of "fleet in being" strategic doctrines to defend the core worlds of the "Big Four" empires.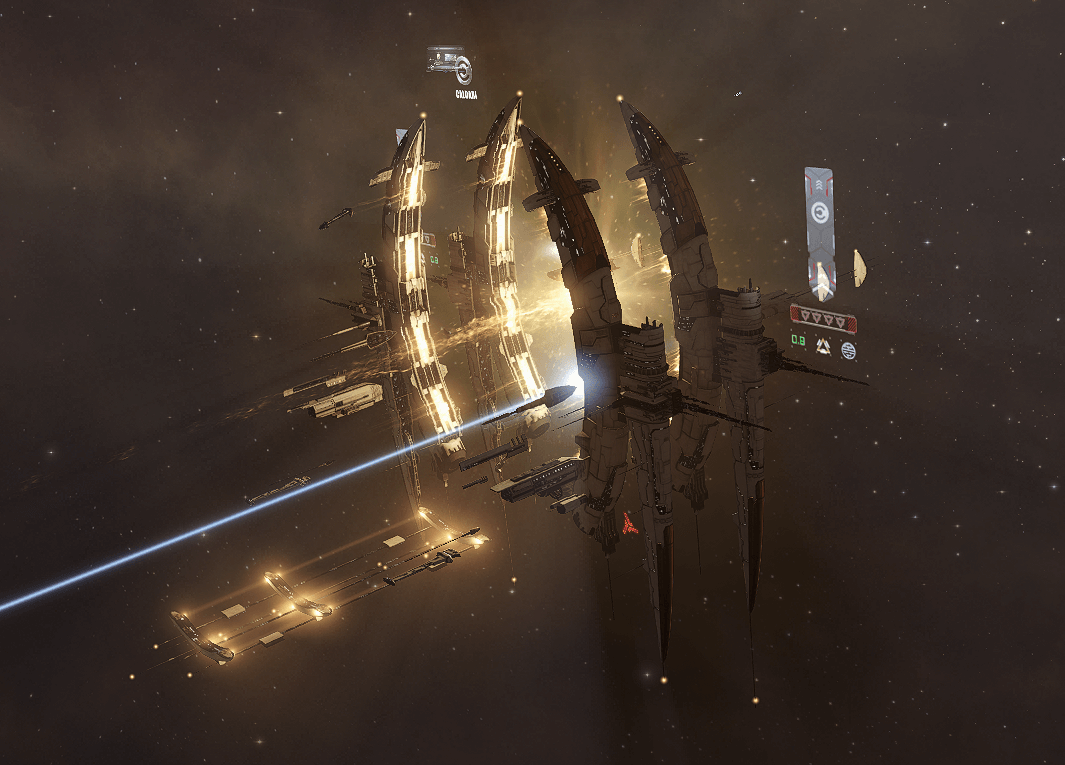 Above: Heavy traffic through the vital Niarja-Kaaputenen stargate as fighting continues during Triglavian invasion of Niarja
Arshat System Fully Fortified After EDENCOM Capsuleer Coalition Pushed Back Invasion Forces
Arshat, Domain – EDENCOM forces bolstered by an interstellar coalition of capsuleers "loyal to civilization" have successfully aided the Amarr Empire's defense of the Arshat system in the Nashar constellation of Domain. Provost Marshal Kasiha Valkanir has hailed the effort in particular for its "heroic and monumental achievement in pushing Triglavian forces back from their so-called 'First Liminality' and ultimately out of the system."
The Arshat campaign represents the first occasion on which an established Triglavian invasion force has lost its 'liminality' hold on a system. EDENCOM forces were able to press this advantage and successively secure and fortify the system as an EDENCOM Fortress. Royal Heir Arim Ardishapur also praised the efforts of "those capsuleers loyal to civilization who have been able to set aside petty differences of ideology in order to defend against the inhuman threat of the Triglavian monsters."
As a holding within the "Lower Domain" subregion, Arshat comes under the authority of the Ardishapur Military Circuit, with this successful defense sure to enhance the military prestige of House Ardishapur even further. The robust defense of Derelik region from repeated assault by Triglavian invaders over the last year had already alerted many observers of Imperial politics to the increased military power of a House that appears for many Amarr a beacon of faith, order and stability within the Empire.
Anbald System Secured by EDENCOM and Minmatar Forces as Republic Continues to Rebuff Invasions
Anbald, Metropolis – The successful defense of the Anbald system by Minmatar, EDENCOM and allied capsuleer forces has been followed by its establishment as an EDENCOM Fortress system. This is the fourth Minmatar system to be fortified to the fullest extent by EDENCOM, together with three other systems designated as EDENCOM victories and several others where Triglavian invasions have been stopped.
So far, the Triglavian invaders have only succeeded in establishing space control presence in three "minor victory" systems in Minmatar Republic space. The overall impact of the invasion on the Minmatar Republic has been relatively low with this appearing to be a function of the much smaller size of Minmatar territory relative to the Amarr Empire and Gallente Federation.
Minmatar Republic forces have also pursued an effective doctrine of rapid response to Triglavian invasions. Military experts have noted that strategies and deployments prepared in anticipation of invasion appear to be "very well rehearsed relative to other interstellar powers and particularly suited to repelling a force reliant on directed energy weapons and heavy armor".
Despite the continuing good fortune and above average performance of the Republic in the face of the invasion, there has been much discussion of the role of EDENCOM and its administration of the "Fortress Systems" established under its mandate. The mutual defense pact upon which the New Eden Common Defense Initiative is based allows for and indeed promotes the fortificiation of systems by EDENCOM. However, the prominent role of a number of Amarr and Caldari military and intelligence figures in EDENCOM has caused much concern.
Claims that Fortress systems are "invasion by other means by the Amarr and their Caldari allies", as the Karhak Circle of Tribal Defense put it in a recent bulletin, are increasingly common currency in Minmatar political discourse. The Tribal Council of Chiefs and Sanmatar Maleatu Shakor have not commented on these allegations directly but continue collectively to support and promote co-operation with EDENCOM. However, the Republic Justice Department in particular is known to harbor deep reservations about EDENCOM and its increasing presence across the Minmatar Republic. This view is more clearly on display through politically allied entities such as the Karhak Circle and a number of anti-slavery and liberation networks.
Caldari State in Turmoil Following String of Systems Lost to Triglavian Invasion
New Caldari Prime – Caldari State markets continue to tumble following a series of disastrous losses to the Triglavian Collective, with the invasion of Niarja halting and reversing a rally led by stocks in the Caldari military-industrial sector. Executive classes in most megacorporations are now openly criticizing Caldari Navy leadership and urging the Chief Executive Panel to take further action to reform the Navy, or even place it completely under control of officers drawn from corporate security forces.
Citizens and workers in general are also continuing to agitate and protest on message channels, holonet rooms, and increasingly in workplaces and on the streets. While the most recently lost systems of Kino, Otela, Otanuomi and now Konola are primarily mining and industrial systems, lacking the huge populations of core corporate worlds, the economic and political impacts have been huge. While some systems have seen major efforts to evacuate non-combatants, particularly during windows provided by the repulsion by capsuleers of a Triglavian World Arks, the losses of resources and valuable colonial holdings are immense blows.
Even with limited populations and successful evacuations, billions have been severely affected and the psychological impact on the Caldari population at large has been enormous. The mood against the Triglavian threat remains one of resolute defiance overall but an undertone of questioning, centering particularly on the mistakes of upper executive classes has begun to dominate. Open talk of executive corruption, including protests against it, has increased. Corporate security forces are stretched thin due to the war and appear to be almost universally under orders to show restraint, emboldening the mood of open dissent among Caldari citizens.
Caldari State efforts are currently focused on defending Ahtila system and trying to prevent the fall of Tunudan in an atmosphere where yet another loss could lead to serious unrest within the State.
In Other News
Active Capsuleer Presence in Niarja Close to 600 Pilots as Heavy Fighting Over Vital Trade Link Continues
Triglavian Collective Continues to Open New Invasion Fronts as Ahtila, Hiremir and Orfrold Systems Attacked
Reports from Angymonne and Archee Indicate Further Consolidation of Occupations in Systems Conquered by Triglavians
Caldari Navy Continues to be Heavily Criticized by Corporate Security Forces and Executive Classes Despite Recent Ship Refits
Caldari CEP Orders Evaluation of Recent Refit of Caldari Navy Forces Seconded to EDENCOM System Defense Duty
Guristas Raid Facilities on Second Moon of Tamo V and Evade Corporate Security Response; Security Blackout Imposed on Moon
Lai Dai Protection Service and Ishukone Watch in Dispute Over Responsibility for Guristas Evasion of Capture in Tamo
President Celes Aguard Begins Tour of Gallente Federation District Capitals to Promote Military Recruitment and Buildup
Adverse Comment Over Size of Presidential Entourage and Escort; New Sociocrats Slam Use of Supercarrier for Presidential Transport
Gallente Senate Subcommittee on Communications Infrastructure Complains of "Slow Pace" of Foiritan Commission's Work
President Emeritus Jacus Roden Visits Stetille as Special Envoy for Talks with Caldari-Gallente Heavy Industrial Interests
Imperial Navy and Royal House Fleets Fully Deploy Kameiras and Active Penal Battalions to Plug Gaps in Imperial Defenses
Amarr Privy Council Orders Formation of New Penal Legions Using Current Prisoners and Mandates Penal Service for New Sentences
Theology Council Promulgates Decree of Empress Tithing Minor House Kameiras and Other "Military Service" Slaves to Imperial Throne
General Kanth Filmir Reports Last Unit of Khanid Zealotic Sikarrs on Floseswin IV Destroyed by Raid on Jungle Base
Whereabouts of Duke Alar Chakaid Unconfirmed with Personal Royal Uhlans Force Remaining Unaccounted For
Bounty for Colonel General Vikhtor Mazari's Capture on Floseswin IV Increased to 25 Million UBQ; Chakaid Bounty at 50 Million UBQ
Republic Security Services Eliminate "Angel Cartel Slaving Ring" on Skarkon II; No Cartel Prisoners Reported Taken
Khumatar Kril Efrit Praises CBD's Spacelane Patrol for "Close and Vital Co-operation with Minmatar Security Forces"
Dissident Groups on Skarkon II Claim Khumatariat Government Policy of Summary Execution "Extends Beyond Warclones"
Republic Justice Department Opens Investigation into "Rights Violations and Excesses of Security Apparatus on Skarkon II"
Ret Gloriaxx [8/5/2020 3:52:00 PM]
Galactic Hour News Roundup: Gallente Federation Rocked by Loss of Systems to Triglavians, Amarr Empire Celebrates Foundation Day
The Scope's Galactic Hour with Ret Gloriaxx brings your roundup of the latest news from around the cluster, with the fall of the Gallente Federation's Angymonne and Archee systems marking another victory for the Triglavian invaders despite the valiant efforts of EDENCOM capsuleers. Elsewere, amidst the chaos of the war with the Triglavians, the Amarr Empire celebrates the Foundation of the Grand Basilica of St. Gheinok the First Prophet
Federation's Angymonne System Falls to Triglavians Despite Capsuleer Assault on World Ark
Angymonne, Everyshore – EDENCOM Provost Marshal Kasiha Valkanir reported to the Inner Circle on the fall of Angymonne over the weekend, stating that the fall of the system was attributable to heavy concentrations of Triglavian invasion groups and considerable support from "terrorists and traitors" in the ranks of the so-called "Kybernaut Clade", pro-Triglavian capsuleers from across New Eden. Despite the best efforts of EDENCOM and its allied capsuleers, organizing under the EDENCOM Defense Initiative banner, the system fell to Triglavian control a little over a week ago.
Marshal Valkanir singled out for praise the efforts of capsuleers in assaulting a Triglavian Xordazh-class World Ark as the invasion reached its climax. While the system fell to Triglavian invaders in the end, the World Ark was repelled giving a window in which Federation Navy and EDENCOM forces were able to evacuate a large number of civilians from the industrial colonies of Angymonne. Although the system's ice belts have been an important resource for the Federation, planetary mining operations in Angymonne have been in decline for some years due to surpluses in the heavily-industrialized Elalan constellation.
A Caldari Business Tribunal trading station in the system has been receiving refugees since the invasion of Anymonne began and most were able to depart the system before Triglavian World Arks returned to the system to finalize their conquest and continue their stellar harvesting operations.
Tenth System Lost to Invaders as Conquest of Archee Brings A0 Star Under Triglavian Control
Archee, Sinq Laison – Triglavian invasion forces succeeded in conquering the Gallente system of Archee yesterday, delivering a second blow in succession to the Federation and bringing the total of New Eden systems seized by the Collective to ten. The Triglavian victory has also brought a system with a central A0 class star under control of the Collective, believed by analysts of Triglavian communications to be a priority for the invaders.
Long a relatively lawless backwater of the Wyllequet constellation, Archee has nevertheless been exploited for its ice fields and numerous moons by tramp miners and hardscrabble mining outposts. The sparsely populated system fell swiftly but it is expected that civilian casualties will be relatively light and escaping shuttles and civilian transport flights continue to trickle out of the system.
The loss of two Federation systems in rapid succession has prompted further protests from citizens across Gallente territories with Senate delegations from all regions joining those from Essence, Everyshore and Sinq Laison in pressing President Celes Aguard to take more action to bolster the Federation Navy and EDENCOM. All Federal reserves have been activated for the duration of the emergency and steps are being taken to step up essential industrial production. Constituent state and polity militias and security forces are being trained and armed for a variety of duties normally undertaken by the Federal military in order to release more units for counter-invasion duty.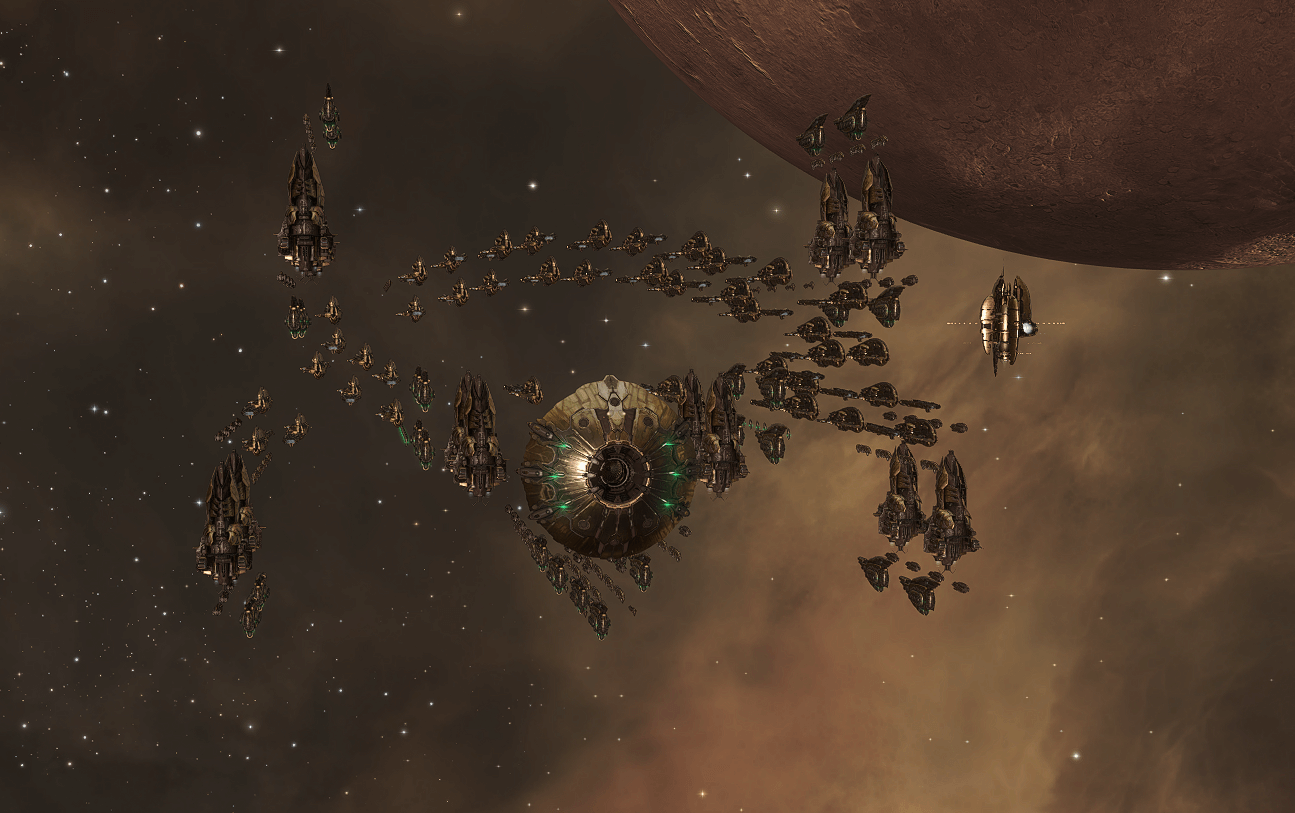 Above: TES Jamyl the Liberator in "Imperial Seal" Parade Formation in Amarr Prime
Amarr Empire Marks Foundation Day as Empress Issues New Decrees on War Against Triglavians
Amarr Prime, Domain – Celebrations marking the Foundation of the Grand Basilica of St. Gheinok the First Prophet have begun across the Amarr Empire, with Avatar-class Titan battlegroups in parade formation in Amarr Prime and the capital systems of the six Royal Houses of the Empire. Imperial and religious authorities across Amarr are strongly emphasizing that observance of the Imperial Rite's requirements must continue despite the "test of faith" represented by the Triglavian invasions.
While even those forms of dissent permitted within the Amarr Empire have been muted since a crackdown on theologians questioning Empress Catiz I's "Two Swords Doctrine", there has been growing disquiet among the Holder classes at the degree to which the Amarr Navy and House Fleets have been overstretched in defense of the vast territories of the Amarr Empire. The rate of casualties and materiel losses has been such that the Empress recently decreed the re-activation of all of the Empire's so-called "Mausoleum Fleets", a vast number of ships from various periods of the Empire's history placed in storage under the care of a number of religious orders dedicated to preserving these ancient reserves.
The work of refitting these ships has been accelerated but it is expected that overall performance of Amarr forces will inevitably degrade as older technology is pressed into service on the front lines. In order to better orchestrate the disposition of Amarr forces, Empress Catiz I has decreed that the Ministry of War shall have paramount authority for determining which units are seconded to service under EDENCOM command authority. This order has given a renewed purpose to a ministry that the late Imperial Chancellor Aritcio Kor-Azor once described as "a vast moribund bureaucracy of theorists and accountants routinely ignored by the Imperial Navy and Royal Heirs".
While the authority of overall command within the Imperial Military Circuits remains with the Royal Heirs, in their capacity as Sword Marshals of the Empire, the power of the Ministry of War to divert units to EDENCOM duty represents a significant check and a reminder that ultimate authority rests with the Imperial Throne.
Minmatar Republic Control of Floseswin IV "Secure but at Risk" According to CONCORD Conflict Monitors
Floseswin, Metropolis – CONCORD conflict monitors have assessed that Minmatar Republic control of the liberated planet of Floseswin IV is "secure but at risk" due to the dominating position of the 24th Imperial Crusade in the Metropolis warzone. Floseswin IV has been heavily fortified by Minmatar forces under the command of Hetman General Kanth Filmir during the course of a brutal planetary campaign, with several army groups from Republic Command supplemented by a large force from the Brutor Vanguard. Floseswin IV resistance units have also been forged into a major fighting force by Republic Justice Department advisors under the command of Liberator General Nola Ashok.
While the fortified cities of the Northern continental mass are reckoned to be close to "impregnable", the liberated cities of the Southern continent remain a matter of concern as Republic Command engineers and units of Sebiestor Field Sappers repair and upgrade defenses. Units of the Republic Security Services are also reported to be working alongside the Krusual Covert Operators in hunting down and eliminating hold out units of Amarr forces in the cities. For their part, CONCORD monitors report that the majority of Amarr forces that were not evacuated have dispersed to the jungles and mountains of the region.
Although House Sarum's forces show no sign of renewing major operations on Floseswin IV so far, the dominant position of Amarr militia forces in the region has provided cover for significant restoration of Amarr supply bases. In particular, the Amarr stronghold of Aset has been quietly built up with a number of planetary fortresses established in system, an effort being replicated in several other long-held systems in the Eugidi constellation.
Overall space superiority has also permitted a number of Imperial Navy "search and destroy" operations, with several Brutor Vanguard capital ships reported destroyed in Floseswin as Amarr forces dismantled Minmatar cynosural beacon networks in the system. Amarr diplomats have protested the use of orbital bombardment to reduce the defenses of Sarum-occupied Port Kul during the final Minmatar offensive and Amarr fleets have refrained from retaliating in kind. Despite this apparent attempt to occupy a moral high ground against the background of Triglavian use of orbital bombardment with impunity, Amarr special forces are reported to be operating across Floseswin IV and gaps in aerospace-orbital defense nets are being exploited to drop supplies to remaining Amarr forces.
In Other News
Sardar-Colonel Parvaz Sarkovas Named Chief of EDENCOM Intelligence Directorate by Provost Marshal Valkanir
Director Haavo Tagematsu of Caldari House of Records Appointed Head of EID Cultural Intelligence Section
Chief Executive Panel Summons Caldari Naval Staff to Meeting with Megacorporation Security Force Commanders
Lai Dai Protection Service Reports Successful Raids on Illegal Pure Blind Corporate Scrip Repositories
Black Market Corporate Scrip Records Isolated and Identified by "Seek and Tag Information Warfare Worm"
"Caches of Deathglow, and Human Remains" Reported Discovered on Skarkon II Following RSS Raids on Angel Cartel
Khumatar Kril Efrit Hails Skarkon Security Forces for "Thwarting a Major Plot by Vile Terrorists and Slavers"
Republic Justice Department Denies Permission for SARO Counter-Subversion Unit to Operate in Minmatar Territories

Alton Haveri [7/16/2020 12:00:00 AM]
The Scope - Total War Rages in New Eden
The Scope Galactic News Network Reports on Total War in New Eden!
NEWS IN BRIEF
CALDARI STATE FINANCIAL MARKETS IN TURMOIL AS CHIEF EXECUTIVE PANEL HOLDS SECURITY SUMMIT
PROVOST MARSHAL VALKANIR HAILS DEFENSE EFFORTS OF EDENCOM CAPSULEERS IN SECURING FORTRESSES
PRELIMINARY REPORT BY ZAINOU INDICATES TRIGLAVIAN BIOADAPTION TECHNOLOGY DEPLOYED ON SAKENTA III
BATTLE OF TUNUDAN INVOLVING OVER 2,000 CAPSULEERS IN "CHAPPY WAR" ACCOUNTS FOR TENS OF BILLIONS OF ISK DESTROYED
ARDISHAPUR AND SARUM ROYALS EVACUATED FROM FLOSESWIN HOSTED BY LORD GOVERNOR EKROZ ON TANOO II
ORBITAL BOMBARDMENT OF PLANETARY SITES BY TRIGLAVIANS CONDEMNED AS "ATROCITY WARFARE" BY PRESIDENT AGUARD
FORMER HOLDER OF RARAVOSS QILFIM UR-SARUM REPORTEDLY DETAINED BY BLACK EAGLES FOLLOWING ASYLUM REQUEST
LAI DAI MEGACORP "DISTURBED BY USE OF PLANETARY ASSAULT DREADNOUGHTS" BY BRUTOR VANGUARD IN FLOSESWIN
AMBASSADOR KEITAN YUN OF MINMATAR REPUBLIC DISMISSES "HYPOCRISY OF CORPORATE RAIDERS BLEATING"
PURE BLIND CORPORATE SCRIP EXCHANGES RESTORED TO FULL SERVICE AS NETWORKS RECOVER FROM DATAWORM ATTACK
CONCORD DIRECTIVE INTELLIGENCE AGENCY REPORTS PROGRESS ON "CULTURAL INTELLIGENCE AND ANALYSIS" OF TRIGLAVIANS
REPUBLIC MILITARY SECURING SOUTHERN FLOSESWIN IV CITIES AS REMAINING AMARR SURFACE FORCES CARRY OUT FIGHTING RETREAT
AMARR CONTROL OVER METROPOLIS MILITIA WARZONE SOLIDIFIES AS SARUM FLEET BASES IN ASET AND VIMEINI RESUPPLIED
CONCORD'S SARO GROUP ESTABLISHES COUNTER-SUBVERSION UNIT TO FIGHT TRIGLAVIAN SYMPATHIZERS
KHUMATAR KRIL EFRIT CONDEMNS "FALSE FLAG TERRORIST ATTACK BY CARTEL AGITATORS ON SKARKON II"
INNER CIRCLE GALLENTE DELEGATE CALLS FOR RENEWAL OF TALKS ON STATUS OF ORBITAL BODIES IN MILITIA WARZONES
EMPEROR FAMILY REFUSES TO COMMENT ON CLAIMS PRESSURE EXERTED ON EDENCOM TO FORTIFY SOUMI HOLDINGS
KIRKINEN RISK CONTROL REPORT "THREAT NEUTRALIZATION" AFTER RAID IN OCCUPIED TAISY OBLITERATES KYONOKE PIT WITH ANTIMATTER BOMBS
GALLENTE FEDERATION CONFIRMS LOSS OF CONTACT WITH VALE SYSTEM GOVERNOR AS AID EFFORTS CONTINUE
AMARR MINISTRY OF WAR ISSUES IMPERIAL DRAFT NOTICE TO ALL MILITARY CIRCUITS AS "MAUSOLEUM FLEETS" ACTIVATED
HIGH INTENSITY ACTIVITY ON ICHORIYA I DETECTED BY AEGIS SPECIAL RECON FORCE ACCORDING TO CONCORD SOURCES
REPUBLIC FLEET ORDNANCE REPORT WARNS AGAINST OVERLOOKING TRIGLAVIAN RESOURCE EXTRACTION IN OCCUPIED "MINOR VICTORY" SYSTEMS

DECRYPTED TRIGLAVIAN INTERRUPTION
REFLECTIVE COMMUNION OF DETACHED EXECUTIVE TROIKA FOR SUBLIMATION OF POSHLOST FLOW
SOBORNOST KYBERNAUTS GLORIFY THE FLOW OF VYRAJ THROUGH LIMINAL PROVING IN NOW-TIME
GOLD IMMANENCE PROCESSION THROUGH FINAL LIMINALITY REALIZES PROFOUND GLORIFICATION
DIVINE IMMANENCE PROCESSION REALIZATION IN NOW-TIME THREAD PATTERN TOLERABLE
FRUITFUL IMMANENCE PROCESSION REALIZATION IN NOW-TIME THREAD PATTERN INCOHERENT
ABSENCE OF GLORY IMMANENCE IN NOW-TIME EVOKES DISRUPTION OF LIMINAL PROVING FLOW
ADVANCING-TIME PROVING OF FINAL LIMINALITY IN GLORY IMMANENCE HAS PROFOUND CONSENT-PRIORITY
REFLECTIVE COMMUNION OF DETACHED EXECUTIVE TROIKA FOR SUBLIMATION OF POSHLOST FLOW ENDS
Ret Gloriaxx [7/10/2020 6:56:00 PM]
Galactic Hour News Roundup: Liberation Day YC122 Edition
The Scope's Galactic Hour with Ret Gloriaxx brings your roundup of the latest news from around the cluster, as the Minmatar Republic marks Liberation Day amidst news the Floseswin IV offensive has driven Amarr forces from the planet, and the Caldari State reckons with the loss of Ichoriya to the Triglavian Collective.
Liberation Day Celebrations Boosted by Collapse and Retreat of Amarr Forces from Floseswin IV
Matar, Pator – News of the retreat of Amarr forces from Floseswin IV has lent a carnival atmosphere to many of the Liberation Day celebrations across the Minmatar Republic and wider Matari diaspora, today. Sanmatar Maleatu Shakor struck a triumphant note amidst the remembrance of those still enslaved during his speech from the Great Caravansarai on Matar. Republic Fleet Ragnarok-class Titan battlegroups are also in parade formation at key locations across the Republic to mark Liberation Day.
"Today, we celebrate the 142nd anniversary of the Great Rebellion and the liberation of the Matari spirit and people. Even still, we must never forget those who never saw the light of freedom in their lifetimes and we can never cease our efforts to liberate those who remain in bondage across New Eden. Let us also hail the liberators of Floseswin IV who have swept the Amarr invaders of that world before them and back into space! Floseswin's people are and shall remain Matari and free!"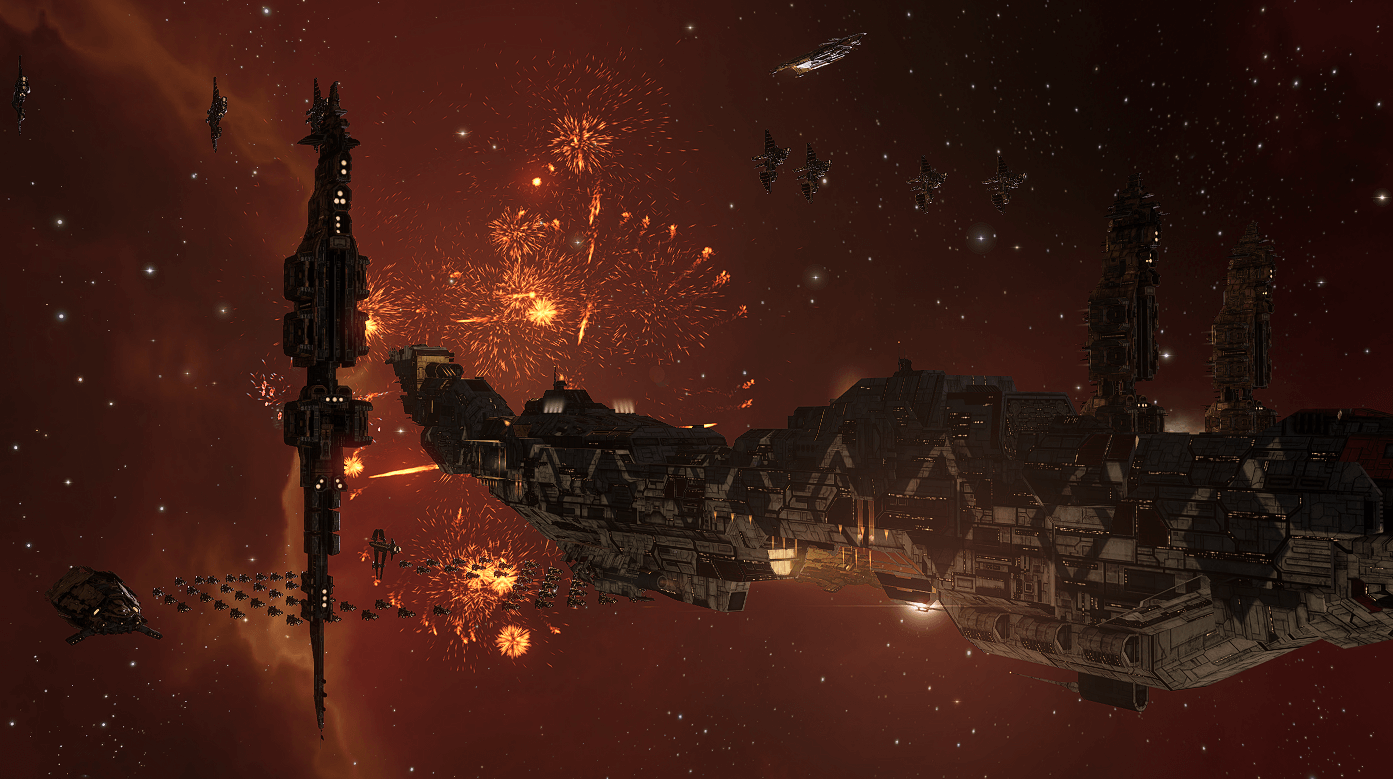 Above: RFS Oskla Shakim in parade formation in Hek as Liberation Day celebrations ensue
In Floseswin itself, the recent acquisition of system control by forces of the 24th Imperial Crusade did not translate into altered fortunes for House Sarum and allied forces on Floseswin IV in the last two weeks. The Minmatar Republic's Southern Floseswin IV Army, under the command of Hetman General Kanth Filmir, had been able to keep up pressure on the beleaguered Amarr forces trapped in two pockets centered on the cities of Port Kul and Jolan Kraal.
Reports from Jolan Kraal indicate a major uprising took place last night with heavy fighting taking place around key infrastructure. Forces under the command of the Khanid warlord Alar Chakaid were evidently unable to maintain control of the city's shield generators as the defenses fell later this morning. The SFIVA's 2nd Army Group subsequently broke through and, although confused reports indicate continuing Amarr resistance, the liberation of Jolan Kraal is certain.
At Port Kul, House Sarum forces under Colonel General Vikhtor Mazari appear to have taken the decision to evacuate amidst a major uprising in that city and shortly after the situation in Jolan Kraal became clearly untenable. Reports indicate that House Sarum forces and allies from House Ardishapur used Redeemer-class battleships to establish an evacuation jump link to Arzad while Port Kul's orbital defense batteries provided covering fire. An unknown number of troops and support personnel were evacuated before Port Kul's defense batteries were destroyed by Brutor Vanguard Skalmöld-variant planetary assault dreadnoughts.
Large numbers of House Sarum troops remain in Port Kul and General Mazari is reported to be directing the rearguard action. The status of Duke Alar Chakaid is unknown at this time. Hetman General Kanth Filmir has broadcast a general communique calling on all Amarr forces to surrender or face certain death at the hands of the combined SFIVA/Resistance forces.
The situation on Floseswin IV has been keenly followed by Minmatar capsuleers, with their repeated efforts to support the SFIVA and resistance cited by both Sanmatar Shakor and General Filmir. As well as visiting parade formations of Republic Fleet ships throughout key Minmatar systems, Minmatar capsuleers will be marking the Liberation Day celebrations with their own Tribal Tournament events in the Dal system.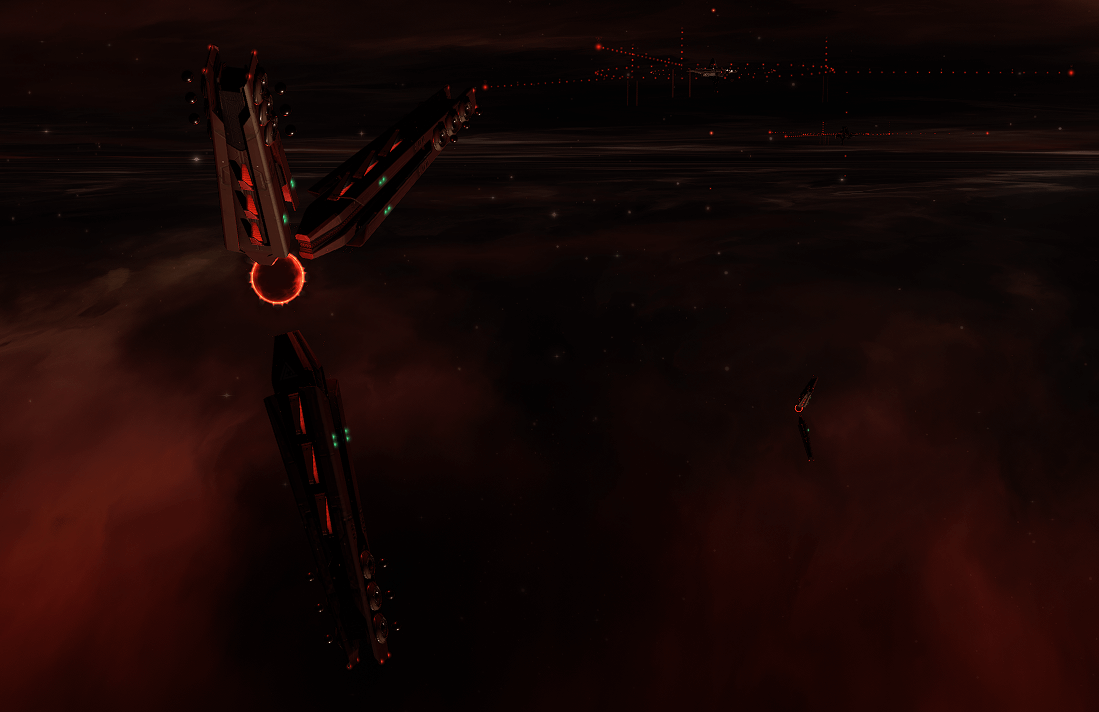 Above: Entropic Disintegrator Werposts Enforce Triglavian Control Over Ichoriya System
Recriminations as Fall of Ichoriya Increases Caldari State Losses to Four Systems
New Caldari Prime – The fall of the Ichoriya system to Triglavian invaders, despite very heavy fighting and a strong resistance effort by EDENCOM capsuleers, has led to serious recriminations among the Caldari executive classes and an increase in protests by workers across the Caldari State. The loss of Ichoriya, a key and formerly secure system in Black Rise, has put in jeopardy Caldari Navy and Kaalakiota Corporation logistics operations vital to Caldari militia efforts in the contested systems of the region.
While Ichoriya has a low population, with efforts primarily geared towards extraction of resources from the gas giants and moons of the system, the fall of a fourth Caldari system is a serious blow to the State. Caldari Navy tactics and equipment used in the fight against the Triglavian invaders have come in for severe criticism from pro-EDENCOM and Caldari capsuleers alike. Questions have been raised as to the state of Caldari Navy leadership and training, with some noting that Caldari corporate forces have done much better when involved in engagements with Triglavian fleets.
In the meantime, very heavy fighting continues in Nalvula, with Caldari corporate security forces attempting to repel Triglavian ground forces. The response from Triglavian Collective invasion units has reportedly included frequent use of orbital bombardment, and heavy suborbital and surface weapons. Broadcasts from Nalvula's planets are severely disrupted and becoming harder to maintain as invasion forces expand their footholds on the surface.
In Sakenta, the heavily-industrialized barren planets have apparently been invaded very rapidly by Triglavian forces. Contact with underground colonies has been lost and surface facilities are reporting heavy Triglavian activity. Caldari Navy and State Peacekeepers have mounted a resistance campaign on the temperate planets but Triglavian war machines and drones are steadily eroding their defenses.
Arvasaras, the third system lost by the Caldari State, is noted for the industrial exploitation of its valuable primordial worlds, known colloquially as "lava planets". Other planets have small populations in colonies mostly concerned with scientific and surveying operations. Communications are so far intact and reports indicate some Triglavian landings with no direct contact so far.
Observers of the Triglavian invasion strategy have suggested that their doctrine adopts a "total war" stance when they are challenged by serious opposition. Total eradication of armed resistance has been noted many times over on different planets, particularly on Caldari worlds where active defense has been attempted in the face of overwhelming Triglavian forces. The Triglavian strategy may be aimed at encouraging settlements on future conquered planets to surrender without resistance but it is unclear that this is the reason for their violent response to armed resistance.
In the State, protests have been increasing in number and crowd size as Caldari losses mount. Workers express anger and frustration at the failures of Caldari Navy forces openly and even the cities of New Caldari Prime have seen huge protests despite heavy corporate police presence. Mid-tier executive class chatrooms and holobars are said to be hosting heated discussions and a rising tide of dissent at the course of Caldari State management of the war so far. Criticism of EDENCOM's alleged favoritism towards the Amarr Empire is also on the rise, in an unusual departure from executive class practice of making no adverse comment on their allied empire.
In Other News
EDENCOM Refuses to Confirm or Deny "Diplomatic Contacts or Intelligence Operations Centered on Triglavian Collective"
Amarr Ministry of War Refuses to Comment on Floseswin IV Situation; "Upper Rebel Provinces a Matter for Sword Marshal of the Sarum Military Circuit"
Majority of "Indentured Workers" Evacuated from Low Population Harva IV's Chemical Processing Plants on Coasts of the "Quasi-Temperate" World
Intara Direct Action Unleash Crippling Network Worm During Raid on Guristas Covert Outpost in Pure Blind; Financial Networks in Region Affected
Umamon Corporate Scrip Exchange Networks Reported Closed for Maintenance Hours Before IDA Raid; Umamon Executive Panel Refuses to Comment
Khumatar Kril Efrit Authorizes "All Legitimate Military, Law Enforcement and Security Contractors to Kill Criminal Warclones on Sight"
Capsuleer Efforts to Provide Aid to Vale Planets and Continue Evacuation Efforts Applauded by President Celes Aguard
Internal Triglavian Revolutionary Organization Proscribed by Unanimous Vote of CONCORD Assembly; "Intriguerre" Broadcasts Defiant Response
Ret Gloriaxx [6/19/2020 6:35:00 PM]
Galactic Hour News Roundup: Gallente Federation Day YC122 Edition
The Scope's Galactic Hour with Ret Gloriaxx brings your roundup of the latest news from around the cluster, as the Gallente Federation celebrates the Federation Day weekend amid high security and in defiance of the ongoing invasions by the Triglavian Collective.
President Celes Aguard Issues Call for Citizens to Volunteer for Service as Federation Day Celebrations Begin
Gallente Prime, Luminaire – Federation Day weekend celebrations have begun across all Gallente regions with the Federation Navy showing the flag in key locations with Erebus-class battlegroups from the elite Garoun Lunaries Fleet in parade formation. President Celes Aguard has issued a call for all Federation citizens to "consider what they may do in service of our great Federation and to protect the liberties we all hold so dear."
President Aguard has personally insisted that the celebrations go forward to demonstrate the unity and resolve of the Federation in the face of the Triglavian invasions. This decision has not been without its detractors, with many pointing to the Triglavian occupation of Vale and the potentially devastating consequences for billions of federal citizens.
Senator Filidor Cassiete of Eustron district has been particularly vocal in his criticism of the withdrawal of EDENCOM and the Federation Navy from Vale: "After the abandonment of our citizens to a fate that may well be worse than death, this extravagance and military posturing is nothing less than grotesque. Celes Aguard's election talk of unity and security for all systems stands revealed as repugnantly disingenuous." Senator Cassiete is a prominent member of the New Sociocrats political bloc which opposed President Aguard's candidacy in favor of Mentas Blaque.
Federation Day celebrations are traditionally held on a Saturday close to the 21st June, other Federal calendar events and circumstances permitting. As a result, Saturday 20th this year marks the primary celebration of the 237th anniversary of the foundation of the Federated Union of Gallente Prime in 23121AD (BYC115).
Celebrations in space are also being marked by Gallente capsuleers in fine style on Saturday with a Federation Day fireworks event, ship-racing contest and a pageant.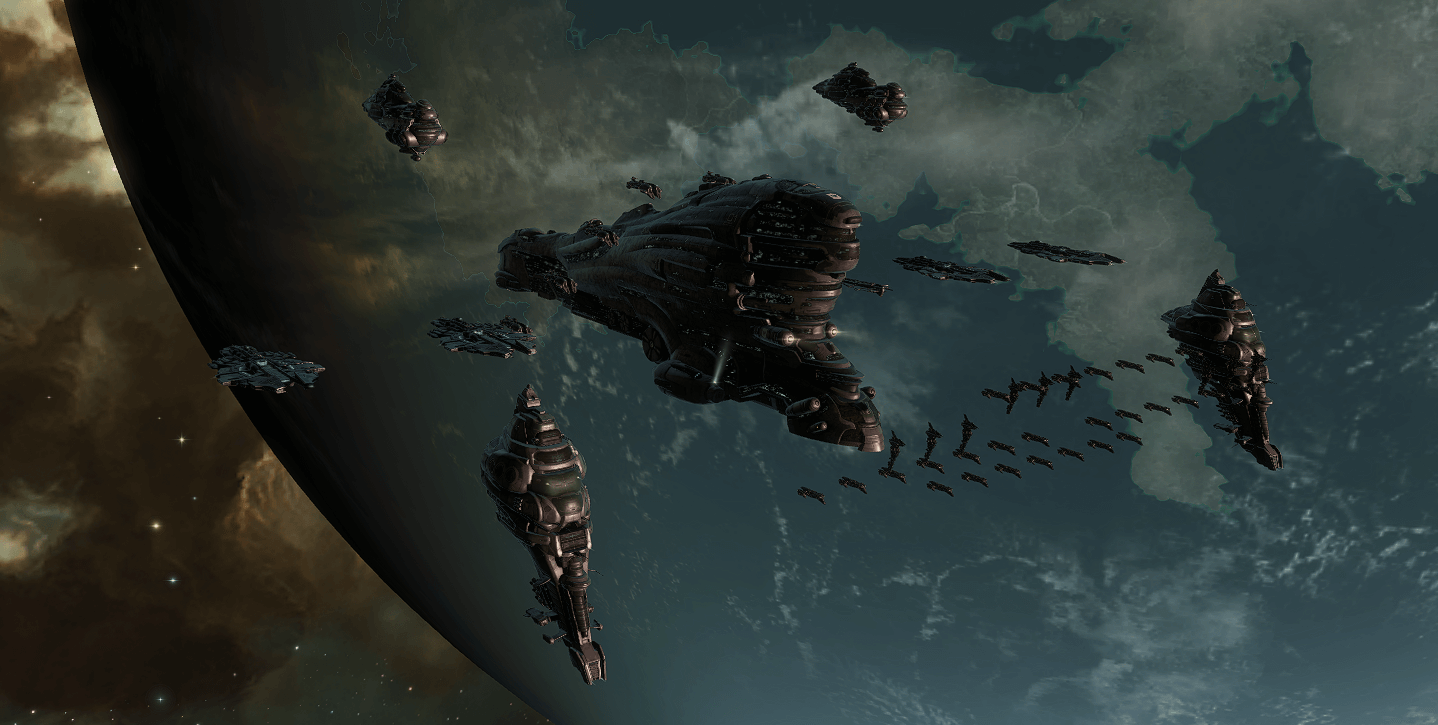 Above: FNS Ingenomine in Parade Formation Above Gallente Prime
Sanmatar Maleatu Shakor Hails Minmatar Military Gains on Floseswin IV as a "Liberation Offensive"
Matar, Pator – Successful Minmatar military operations carried at on Floseswin IV were hailed by Sanmatar Maleatu Shakor as a "Liberation Offensive that shall push the slaver occupiers off our planet and into oblivion" at a press conference held at the Matar HQ of the Central Military Staff Circle, today. The "Liberation Offensive" on the Southern Continent of Floseswin IV has so far pushed Amarr forces out of dozens of towns and many hundreds of settlements, forcing a general retreat behind the protection of heavy shields covering occupied major cities.
Additionally, reports of a general uprising within the occupied cities have emerged, with CONCORD monitors indicating fighting has taken place in all five occupied cities. Sporadic reporting from journalists and communications received from resistance groups indicate that only in Port Kul and Jolan Kraal have the Amarr forces successfully suppressed the uprisings.
In the coastal cities of Oshiak and Uinar Landing, whole sections of the two cities are understood to be under the control of guerilla fighters backed by special forces units. The latter are believed to be warclones from the Brutor Vanguard and Krusual Covert Operators mercenary corporations. In the heavy industrial settlement of Korax City, in the Korax River Valley of Southern Floseswin, many of the factory complexes are reportedly occupied by armed local workers operating under the command of RJD Liberator General Nola Ashok's "liberation detachments".
The Sarum grip on its Port Kul HQ appears firm, following an attempted uprising put down by a swift response from Colonel General Vikhtor Mazari's forces. CONCORD monitors in the city have reported that casualties were relatively low, with House Sarum troops focusing their heaviest firepower on armed "rebels", while using field-effect weapons to stun civilian crowds and pacify entire city blocks. Military experts have noted these techniques are a staple of Amarr slave-taking operations.
With no monitors or journalists freely operating in the city of Jolan Kraal, news from the occupation directed by notorious Khanid Warlord Alar Chakaid is scarce. Minmatar commanders allege several massacres have taken place ever since the city fell under Chakaid's command, following its isolation from the main Sarum occupation zones. Chakaid has dismissed these reports as "crude subhuman propaganda" but continues to broadcast "sermons" promising various apocalyptic scenarios should "Minmatar savagery damn Floseswin IV for all time".
Supreme Commander of the Southern Flosewin IV Army, Hetman General Kanth Filmir has called on Amarr forces to lay down their arms and surrender, offering terms including evacuation for "professional soldiers who have committed no crimes" in exchange for the "full return of all Floseswin citizens to the Minmatar Republic, wherever they may be at the present time." At least 150,000 were taken off-world by House Sarum in the initial stages of the invasion. The RJD believes up to 150,000 more were taken during periods of Amarr system control, according with CONCORD estimates that House Sarum is keeping a quarter of a million prisoners as a "hostage reserve" in secure locations within the Sarum-controlled Bleak Lands and Devoid regions.

Above: Nalvula IV, Ground Combat Between Triglavians and Caldari Corporate Forces Reported
Intense Ground Combat Reported in Nalvula and Sakenta as Caldari State Mobilizes Corporate Citizens
New Caldari Prime – Caldari State military officials have confirmed reports of multiple clashes between State and megacorp security forces on several planets in both the Nalvula and Sakenta systems. The Caldari State is rapidly mobilizing its entire corporate citizenry to "war service" status and has switched a number of its industrial centers over to military and logistical efforts.
Nalvula's fourth planet is relatively well populated for a low-security corporate colonial world, and Triglavian landings on the planet have been met with heavy resistance from the planetary defense forces. The CBD megacorp's Spacelane Patrol and SuVee's Peace and Order Unit have a considerable presence on the planet, with it being reported that mobile anti-orbital and ballistic launchers are in the arsenal of the heavily-armed security troops. Triglavian forces attempting to seize industrial facilities, such as mines and processing plants, are also being attacked on sight with anti-materiel railguns. The response from Triglavian forces has been described as "swift and ruthless" with heavy use of orbital and aerospace support. Triglavian ground assault vehicles are reported to be in evidence but there have been few reports of drones.
In Sakenta, the most intense ground combat is reported to have taken place on the heavily-industrialized worlds of Sakenta IV and VI, with Triglavian forces again taking steps to seize mining, reprocessing and manufacturing facilities. Caldari Navy and State Peacekeeper troops are prominent in the defense of Sakenta planets due to the general importance of the system and the strong presence of all "Big 8" megacorps on its planets. The heavily populated worlds of Sakenta III and V have also been the scene of Triglavian landings, though reports claim that large numbers of drones, strongly resembling rogue drones, are apparently engaged in extensive surveying efforts and responding to Caldari resistance with "only small escalations in counter-force".
In Other News
Criticisms of EDENCOM War Efforts Shift to Accusations of "Bias Towards Amarr Empire"; EDENCOM Dismisses "Absurd Conspiracy Theories"
Mordu's Legion Command Denies GalNet Claims of "Rogue Warclones" Operating in Raravoss and Sakenta to "Acquire Ancient Star Technology"
AEGIS Dimisses Allegations of Complicity in SARO "Red Troop" Actions During Molden Heath "Warlord Uprising"
Upwell Consortium Confirms Rogue Drone Attacks on Covert Research Facilities Have a "Triglavian Origin"
EDENCOM Intelligence Investigating "Guristas Presence in Classified Research Zones" Following Reports from Capsuleers
Guristas Pirates Carry Out Raid on Quafe Company Warehouses in Saranen; Quafe Refuses to Comment on Theft
Angel Cartel Leader on Skarkon II Killed by "Seykal Hit Squad", say Witnesses; Brutal City Street Ambush Left Nine Dead
Khumatar Kril Efrit Issues Emergency Orders on Skarkon II; "Foreign Terrorists and Slavers" to be Indefinitely Detained Without Trial
Qilfim Ur-Sarum, Holder of Raravoss, Reportedly Seeking Asylum in Federation; House Sarum Response to Inquiries: "There is no such person."
Key Ammatar Fleet System of Sasta Secured as EDENCOM Fortress Established by Amarr Forces and Loyalist Capsuleers
Ret Gloriaxx [6/15/2020 3:15:00 PM]
Galactic Hour News Roundup: Triglavian Conquests and EDENCOM Fortresses Edition
The Scope's Galactic Hour with Ret Gloriaxx brings your roundup of the latest news from around the cluster, as the Triglavian Collective invasion campaign conquests mount despite EDENCOM success in establishing fortress systems across New Eden.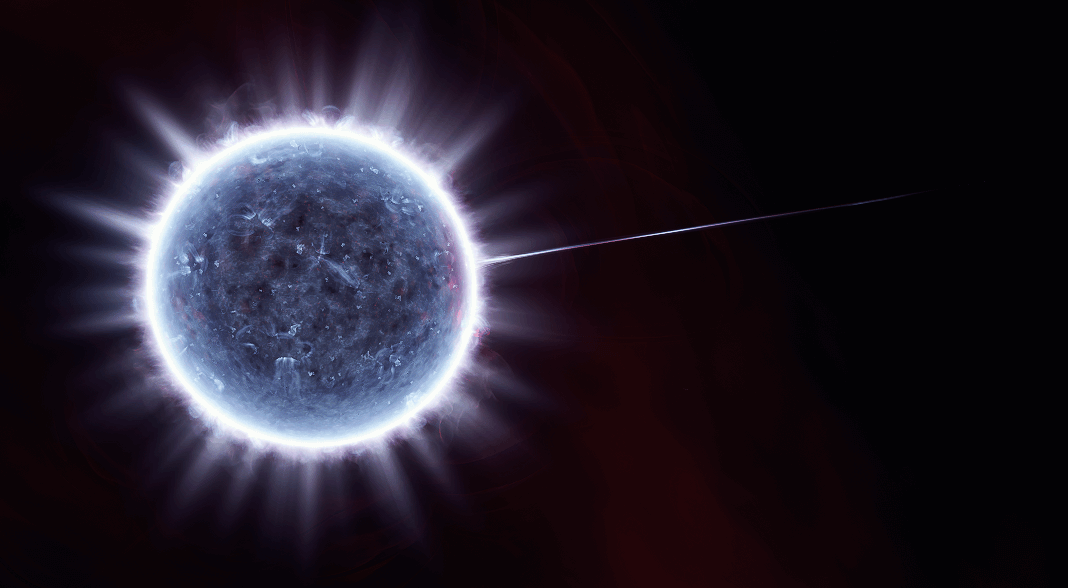 Above: Sakenta star under intense Triglavian manipulation.
EDENCOM Under Fire Following Conquest of Four Systems by Triglavians
Yulai, Genesis – EDENCOM's conduct of defensive operations against the Triglavian invasion forces has come under heavy criticism across the CONCORD empires and associated territories, following the conquest of four systems by the Collective. The fall of Sakenta and Nalvula in the course of days, combined with the conquest of Raravoss and Vale has called the entire EDENCOM strategy into question as fear grips populations in throughout New Eden.
The official stance of the core empires remains one of full support for EDENCOM, with the CONCORD Inner Circle reaffirming the command of the New Eden Common Defense Initiative remains in the hands of Provost Marshal Kasiha Valkanir. EDENCOM points to the establishment of 16 fortress systems and the defense of a dozen more as evidence that the strategy of fortification and defense in depth has been highly successful despite all out assaults by the Triglavian Collective.
Provost Marshal Kasiha Valkanir has reiterated her personal thanks to "those capsuleers who have remained loyal to the civilization of New Eden and greatly contributed to the defense of dozens of our star systems and uncounted billions of our citizens." Marshal Valkanir had harsher words for "the traitors amongst us who have been swayed by the honeyed words and poisonous lies of a ruthless foe." CONCORD and EDENCOM have issued directives against collaboration and support for the Triglavians by populations living in colonies and space infrastructure covered by the Yulai Accords and Convention.
The fraught issue of "traitor capsuleers" remains a major point of contention with efforts to suppress pro-Triglavian capsuleers hampered by decades of regulations and infrastructure ensuring strong anonymized, encrypted and open access to FTL comms and transportation networks. Independent capsuleer infrastructure has added hugely to the problem, together with reported disputes between factions of the Inner Circle, SCC and DED over the limits of the CONCORD mandate.

Above: Nalvula IV in reduced light of its sun
Caldari State Left Reeling as Sakenta and Nalvula Fall to Triglavian Invaders
New Caldari Prime – The Caldari Chief Executive Panel is meeting in emergency session as the Caldari State absorbs the shocking news of the fall of the Sakenta and Nalvula systems, today. Despite the best efforts of Caldari State forces, EDENCOM and allied capsuleers, the Triglavian Collective's assaults on the two star systems resulted in the total conquest of both, throwing the Caldari State into some disarray as highly disturbed citizenry have protested across Caldari territories.
With the loss of Sakenta, a relatively quiet system in The Forge region lying close to the centers of Caldari power, the State has been deprived of a system focused on planetary resource extraction, manufacturing and support for State military. The many barren planets of Sakenta are the site of thousands of mining, manufacturing and assembly colonies, settlements and transhipment nodes. The two temperate planets of Sakenta III and V have long functioned as population centers supporting megacorp activities in the system.
The proximity to New Caldari and the resource rich nature of the system has led to it being a location of interest to all of the "Big 8" megacorps. The fall of Sakenta, with its State War Academy station and large recruitment and training operations, prompted the summoning of the CEP to its emegency session. However, the fall of Nalvula, a system in the notorious Mito constellation under development by the CBD and Sukuuvestaa Corporations has only heightened the sense of urgency.
With the support of its Jastokuaskaanonen Saikkan Luovhaikya (Storm Peaks Policy Trust) ally, Kaalakiota Corporation, SuVee has demanded the CEP issue a general order for mobilization of the Caldari State's corporate citizenry to war service status. The CBD Corporation and its PKN Interstellar allies, Lai Dai and NOH, are reportedly supportive of this extraordinary measure. Observers believe the large interests of the Ishukone Corporation in Mito will also sway it to support the measures and persuade its more conservative Hyasyoda and Wiyrkomi allies to accept it.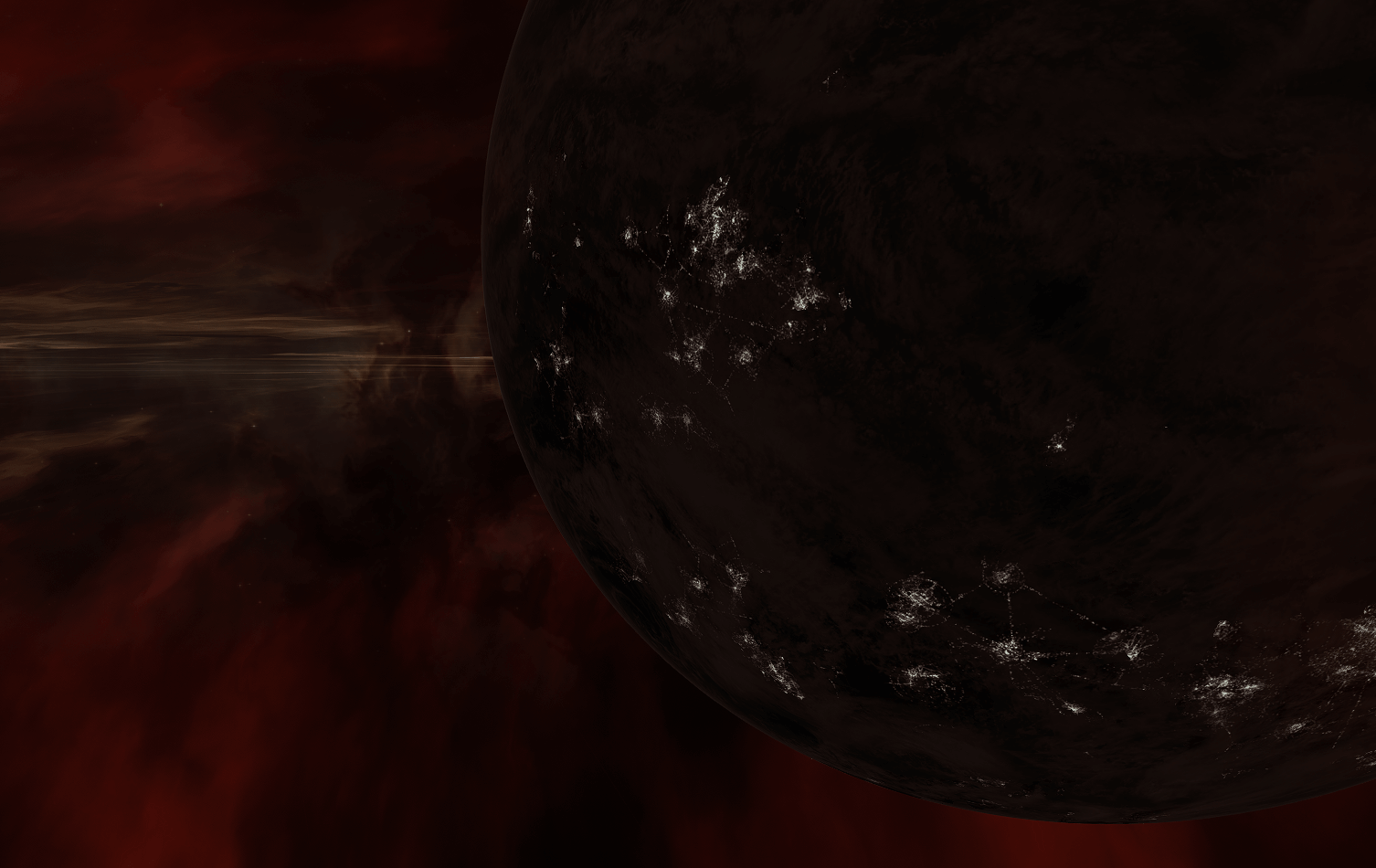 Above: City lights of Vale II as planet falls into shadow of the Triglavian invasion
Continuing Panic in Vale as Trickle of Evacuations Leave Billions Stranded
Vale, Essence – The heavily populated planets of Vale are experiencing widespread disruption and panic as the Triglavian conquest of the system makes itself increasingly felt. The normally bright yellow star of Vale has dimmed significantly as Triglavian stellar manipulation continues and fears of crop failures, famine and permanent winters are sweeping the system's temperate planets.
A rich system, self-sufficient in agriculture and most types of planetary industry, Vale's multi-billions population could not be evacuated during the collapse of the defense. Some few millions were lifted off from Vale II and VI with the support of the Material Acquisition and Chemal Tech corporations' space infrastructure, but a bare trickle of ships escaped from Vale IV and V before Triglavian interdiction made the efforts too dangerous.
FTL communications with the populated planets and other colonial sites in Vale have been maintained, with the Triglavian approach to utilization and administration of the system appearing to differ from that seen in Raravoss. Triglavian forces have certainly landed on the four temperate planets but have made no aggressive moves or threatened the major population centers. However, a Federal Marines base on Vale II was obliterated from orbit by a Zirnitra-class Dreadnought after it opened fire on Triglavian overflights in its territorial zone.
Vale local authorities have issued orders for planetary defense to stand down and take "no aggressive or precipitate action against Triglavian forces." Unnamed Federal Navy sources have condemned the Vale planetary administrations as "cowardly collaborators." Senator Filidor Cassiete of Eustron district rejected this saying, "The people in Vale have been abandoned by EDENCOM and the Navy, what do people expect them to do? Fight dreadnoughts with last decade's hover tanks and militia rifles? It's a disgrace that serving military have called them cowards in anonymous briefings to journalists."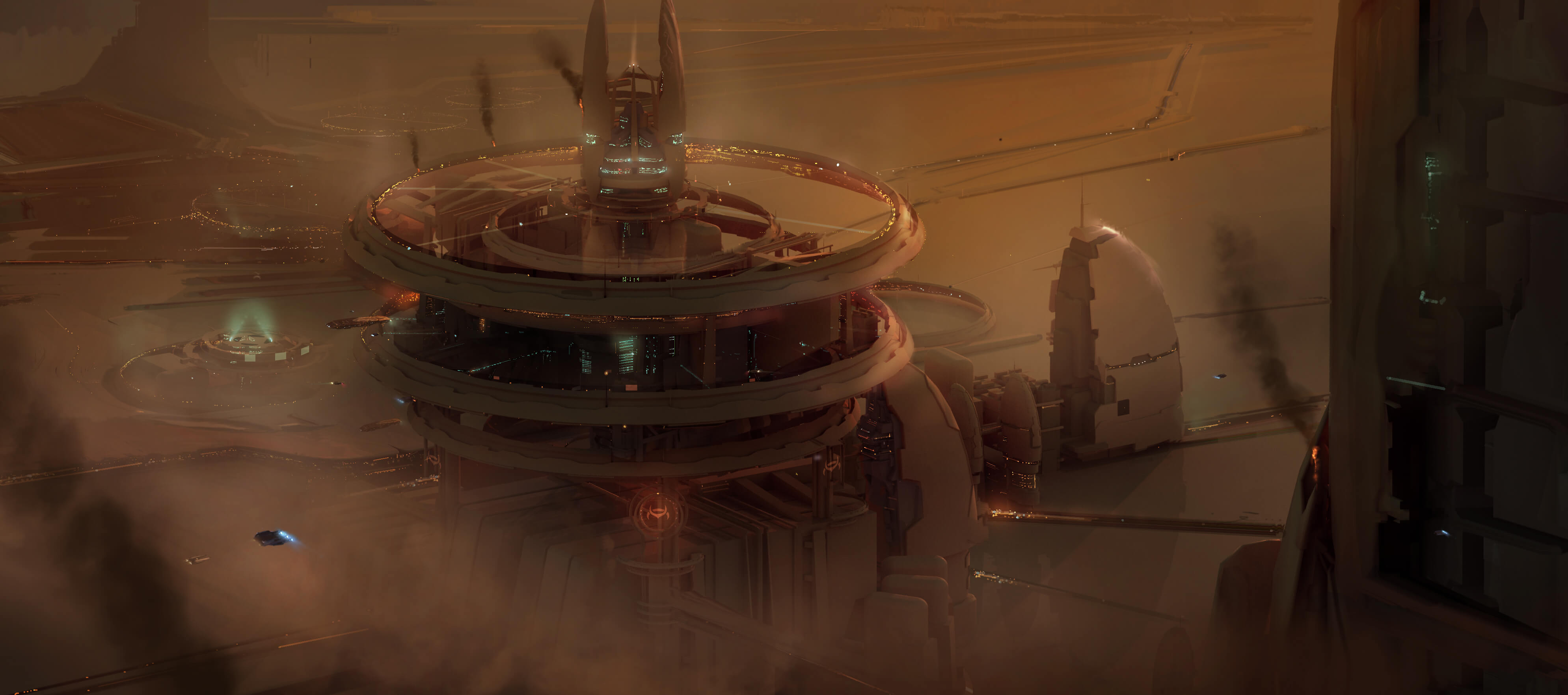 Above: Final Evacuations from Port Sarum, Raravoss III
Silence from Raravoss Colonies as Triglavian Grip on Planets Tightens
Raravoss, Domain – In stark constrast to the contact maintained with the Vale system, a complete silence has fallen over the first system to fall to the Triglavian invaders: Raravoss in the Domain region. A largely industrial system with most settlements underground on its mineral rich barren planets, Raravoss authorities were able to evacuate several million through the transhipment facilities on the planets Raravoss I, II, III and IV before the Triglavian takeover was completed. Nothing at all has been heard from the hardscrabble colonies on Raravoss IX and the House Sarum ice-mining facilities on Raravoss VIII.
Before communications were lost with Raravoss III, the most heavily-exploited and colonized planet of the system, several reports indicated Triglavian forces landing and moving to directly seize and occupy its underground facilities. One report has claimed that the transhipment node of Port Sarum, scene of desperate evacuation efforts, was destroyed by orbital bombardment. A conflicting later communique broadcast on a House Sarum military channel stated, "Port Sarum, Raravoss III orbital defenses neutralized, enemy landing in force, orbital launch facility lost."
Imperial Navy and House Sarum forces have taken up positions in the Zemoth and Vaarma constellations with a view to repelling possible Triglavian expansion out of Raravoss. EDENCOM has refused to comment on reports that AEGIS special forces remain in Raravoss. The Upwell Consortium has also refused requests for the clarification of the role Arkombine and Mordu's Legion mercenary clone units reported to be active in Raravoss.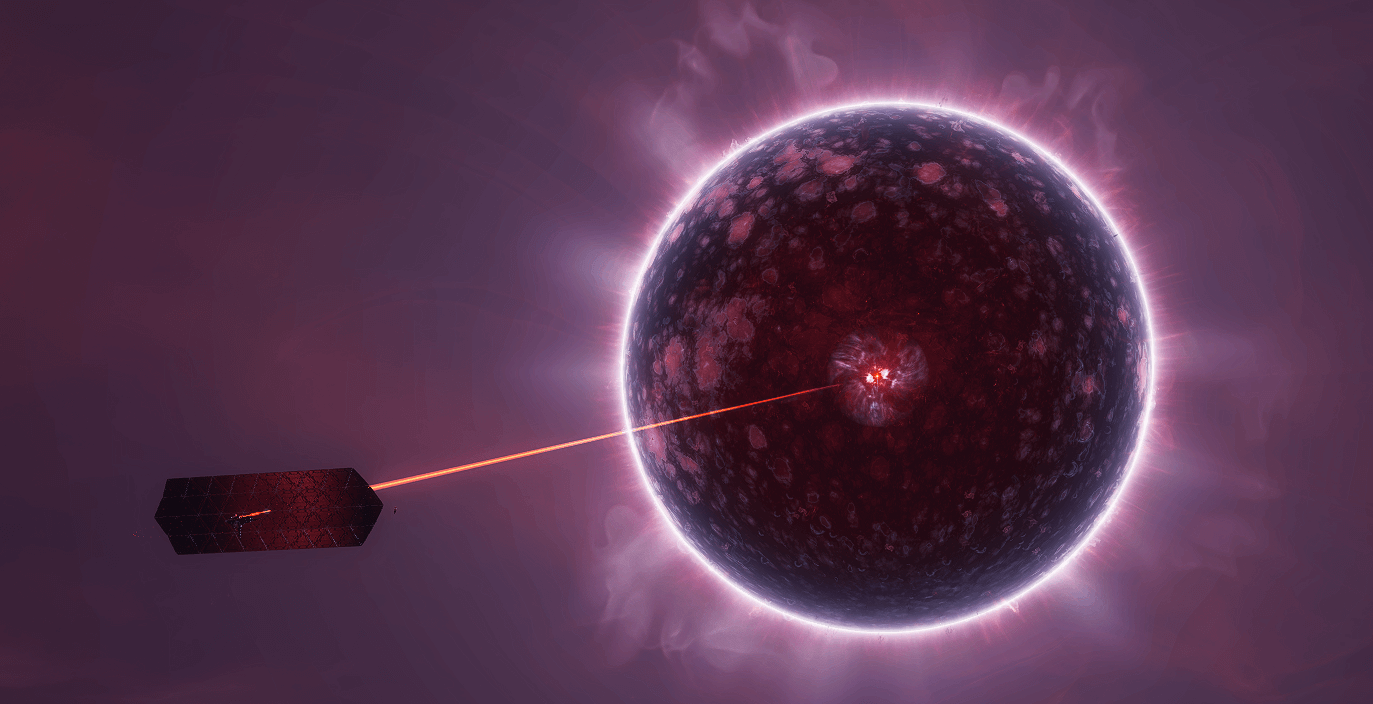 Above: Raravoss star undergoes radical change as Triglavian transmuter continues to manipulate it
CONCORD's Project Discovery Launches Flow Cytometry Citizen Science Program
Yulai, Genesis – CONCORD's Project Discovery division has announced and launched a new citizen science program focusing on flow cytometry analysis aimed at providing insights into the novel coronavirus afflicting space industrial facilities and some colonies across New Eden. Responding to media inquiries, CONCORD officials have stated categorically that the pathogen and disease it causes are completely unrelated to the Kyonoke Plague and the bizarre pathogen first encountered in Taisy, and later responsible for the Kyonoke Crisis of YC119.
According to preliminary analysis, CONCORD Biosecurity Treams and Project Discovery scientists have determined that the relatively widespread and rapidly-moving new virus appears to have emerged several months ago. The working theory on the rapid spread of the virus is that the massive movements of people and materials involved in the construction of system and planetary defenses over the last year are primarily responsible. The source location for this particular novel coronavirus has not yet been ascertained but it bears a close resemblance to numerous viruses long present in human populations across New Eden.
A Project Discovery spokesperson said, "Our presumption is that this virus has emerged in an outlying planetary settlement and was able to spread when a large influx of workers went in and out of the location during a defense construction program. That said, our project is not concerned with that and is rather focusing on the application of citizen science to flow cytometry analysis of cell populations. We hope to support the efforts of scientists from the University of Caille, Hedion University, Sisters of EVE and the Society of Conscious Thought."
CONCORD is especially concerned to rapidly address this novel virus due to the threat it poses to the war effort against the Triglavians due to its spread through space industrial installations and associated colonies. Some have suggested the spread of this virus is a remarkable coincidence that may indicate a sinister source, reports Ret Gloriaxx of the Scope's Galactic Hour. For their part, CONCORD scientists have noted that the pathogen, while of great concern, would be considered "suboptimal to say the least as a military biowarfare asset, and shows absolutely none of the hallmarks of Triglavian bioengineering encountered so far."
In Other News
Triglavian Probe into Skarkon System Met with Heavy Resistance and Withdraws Following Stalemate
Triglavian Collective Forces in Eygfe Retreat from Footholds on Eygfe III and V After EDENCOM Bulwark Established
AEGIS Troops Accused of Summary Executions in Palmon Mining Colonies; Reports Denied by EDENCOM
Rogue Drone Attacks on Upwell Facilities Reported; CDIA Assess Swarms as "Triglavian Controlled"
Thousands of Holders Petition Imperial Court as Triglavian Attacks on Amarr Systems Continue
Imperial Privy Council Issues Orders Placing All Holders Under Direct Command of Sword Marshals
Several Theologians Arrested by Ministry of Internal Order as "Two Swords Doctrine" Publicly Questioned
Gallente Federation Mobilizes Retired Reserves Following Aguard's Signing of War Powers Directive
Federation Day Celebrations to Proceed with Focus on Military Deployment and Recruitment Drive
Federal State, Nation and Sovereign Polities Authorized to Triple System Militias and Planetary Defense Forces
Sanmatar Maleatu Shakor Appoints Kril Efrit as Governing Khumatar of Skarkon System
RSS Issues Warrants for Arrest of Hundreds of "Angel Cartel and Slaver Collaborators" on Skarkon II
Khumatar Efrit to Hold Talks with CBD, Eifyr & Co. and Skarkon Clans on "Removal of Slaver Mercenaries"
Skarkon Clans & Territories Trade Association Declares "Full Backing for Khumatar Efrit"
Vimoksha Chorus Assault on Khabi VIII Defeated by "Joint Ardishapur-Thukker Fleet", Claim Locals
Increased Blood Raider Attacks in the Bleak Lands Condemned by House Sarum as "Evil Cultist Support for Invaders"
Serpentis Corporation Offers Military Grade Boosters to System and Planetary Defense Militias in Federation
Guristas Pirates Condemn "Renegade Capsuleers Unable to Distinguish Between Free Enterprise and Terrorism"
BREAKING: Caldari Megacorps Mobilize Entire Corporate Citizenry to "War Service Status" After CEP Vote
BREAKING: First Full Mobilization of Big 8 Megacorp Citizens Since Provist Invasion of Luminaire
BREAKING: Megacorp Security Forces Order Protestors to Report for War Service
BREAKING! BREAKING! BREAKING!
CONCORD Monitors Report Massive Minmatar Offensive Under Way on Floseswin IV
Uprisings in Southern Floseswin IV Reported Across Amarr Occupation Zones
Heavy Suborbital Activity as Missile Launches and Counter Missile Fire Detected
Southern Floseswin IV Army Groups Bypass Jolan Kraal as Assaults Focus on Sarum HQ of Port Kul
Monitors Report Large Air-Sea Landings by Minmatar-Aligned Mercenary Forces on Southern Coast

Lina Ambre [6/7/2020 12:00:00 AM]
The Scope - Raravoss Falls to Triglavians
The Scope Galactic News Network Reports on the Fall of Raravoss!
NEWS IN BRIEF
EDENCOM GENERAL STAFF REFUSES TO COMMENT ON REPORTS OF DISPUTES WITH CONCORD DED AND SARO COMMANDERS
CHAOTIC SITUATION ON FALL OF RARAVOSS ATTRIBUTED TO 'FOG OF WAR' AS FLUID ROUTERS AND IN-SYSTEM FTL COMMS DISRUPTED
STELLAR MANIPULATION IN RARAVOSS APPARENTLY STILL INCREASING WITH TRIGLAVIAN COLLECTIVE GRIP ON SYSTEM ESTABLISHED
EDENCOM CONFIRMS THAT THE TEN FORTRESS SYSTEMS ESTABLISHED REMAIN SECURE WITH LOCAL FORTIFICATION EFFORTS CONTINUING
VALE SYSTEM IN ESSENCE REGION UNDER PRESSURE AS RENEGADE CAPSULEERS SUPPORT TRIGLAVIAN INVASION EFFORTS
RSS RELEASES DETAINEES TO LOCAL AUTHORITIES AFTER TRIBAL COUNCIL RULING BACKED BY NEFANTAR, SEBIESTOR, STARKMANIR AND VHEROKIOR CHIEFS
MARSHAL KASIHA VALKANIR CONFIRMS THAT TRIGLAVIAN FORCES HAVE LANDED ON RARAVOSS PLANETS AS AEGIS EVACUATION OPERATIONS CEASE
REFUGEES FROM RARAVOSS SYSTEM INDUSTRIAL SETTLEMENTS ARRIVING IN YOUL SYSTEM UNDER AMARR NAVY PROTECTION
UPWELL CONSORTIUM REFUSES TO COMMENT ON DETAILS OF CONTRACT FOR COMMISSIONING OF NEW EDENCOM SHIP DESIGNS
FEDERATION PRESIDENT CELES AGUARD HOLDS MEETING WITH JACUS RODEN TO DISCUSS INDUSTRIAL EFFORTS AS GALLENTE SYSTEMS THREATENED
EMPRESS CATIZ I ORDERS IMPERIAL MILITARY CIRCUITS TO INCREASE FORCE CONTRIBUTIONS TO EDENCOM
VETERAN JOURNALIST RET GLORIAXX HIGHLIGHTS PREDICTION OF RARAVOSS ATTACK BY ARC CONSORTIUM IN SCATHING EDITORIAL AGAINST EDENCOM
KAALAKIOTA AND SUKUUVESTAA LED 'JSL PARTNERSHIP' DECLARES 'TOTAL FOCUS ON INDUSTRIAL EFFORTS TO SECURE CALDARI STATE TERRITORY'
SARUM HOUSE FLEETS REPORTEDLY REDEPLOYING TO POSTIONS DISPERSED THROUGH DOMAIN, DEVOID AND BLEAK LANDS REGIONS
EDENCOM CONFIRMS TRIGLAVIAN RAIDS ON RESEARCH FACILITIES WERE ATTEMPT TO DELAY WORK ON NEWLY-COMMISSIONED VORTON PROJECTOR SHIPS
AMARR FORCES ON FLOSESWIN IV ABANDON OUTLYING TOWNS AND RETREAT TO MAJOR CITIES IN SOUTHERN CONTINENT OCCUPATION ZONE
EMPIRE DELEGATES TO CONCORD INNER CIRCLE RAISE ISSUE OF SCC FTL COMMS NETWORK SECURITY URGENTLY
SOURCE CLOSE TO INNER CIRCLE DELEGATION INDICATES SERIOUS DISPUTE WITHIN DED OVER 'CLASHING MANDATES CONCERNING CAPSULEERS'
CBD AND EIFYR & CO. CORPORATIONS ISSUE JOINT PROCLAMATION DECLARING CO-OPERATION WITH ANGEL CARTEL IN SKARKON A WAR CRIME
DEMONSTRATION FIRING OF SKYBREAKER-CLASS WEAPONS FOR MEDIA ACCIDENTLY HITS SHIP OF VETERAN JOURNALIST RET GLORIAXX
RSS ENDORSES CBD-EIFYR POSITION ON SKARKON II SECURITY AND DESIGNATES KRULLEFOR ORGANIZATION A 'LOCAL SECURITY CONTRACTOR'
ACCUSATIONS OF GROSS INCOMPETENCE LEVELLED AT EDENCOM BY DOMAIN REGION HOLDERS AMIDST DISMAY OVER FALL OF RARAVOSS